The Fun and Games Are Over
The Fun and Games Are Over
2015 Pro Worlds Doubles and Field Events Wrap-Up
Monday, August 3, 2015 - 16:13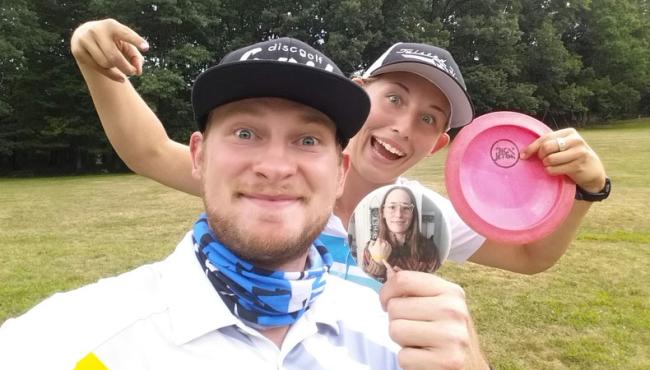 The 2015 PDGA Professional Disc Golf World Championships are now less than 24 hours away and you can feel the excitement building up with each passing minute. The weekend flew by, bringing an end to the Pro Worlds Mixed Doubles Competition on Saturday and the Pro Worlds Field Events on Sunday. Before we get swamped with the chaos that is the 2015 Pro Worlds tournament itself, we have some new World Champions to congratulate!
Mixed Doubles
Mixed Doubles is plain and simple, good old fashioned fun. Especially when it's Bring-Your-Own-Partner and not random draw. Deer Lakes was chosen as the venue for this year's Mixed Doubles event, requiring a vast array of different types of shots at different levels of power both on the tees and in the fairways. The 18 holes of Deer Lakes measure in at just over 8650 feet from the blue tees (longest) with a total course par of 66 that includes two Par 5 and six Par 4 holes. Yet somehow, the exhausting Blue Tees layout of Deer Lakes is still the second SHORTEST of the four courses being used this week.
Even though there's a Mixed Doubles world title on the line, all 25 teams that came out to compete had every intention of having a good time, win or lose.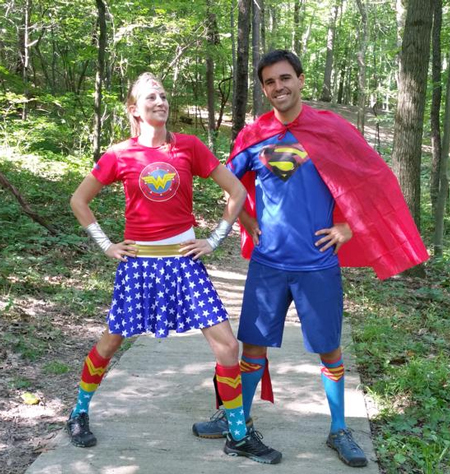 Round 1 was played as a modified version of Best Shot Doubles. The main difference between standard Best Shot and the Mixed Doubles modified version is that both partners may throw from the tee, but at no time may a single partner's tee shot be used for three consecutive holes. So, if one partner's tee shot has been used for two consecutive holes, the other partner's tee shot MUST be used on the next.
Melodie Bailey #34751 and Martin Hendel #39469 turned in the hot round for the Best Shot round, finishing with a 53, 13 under par. Right behind them were Shasta Criss #28597 and his partner Shauna Buzzingham #38569 (Team Sha-Sha) one stroke back at 54, followed by and tied with Nikko Locastro #11534 and Jessica Weese #50656 for the 2nd place spot. The six of them would be joined on the lead card heading into Round 2.
Round 2 is where things get much more difficult, as the teams would now be playing a modified version of Alternate Shot where the men tee off on all the odd numbered holes and the women tee off on all the even numbered holes, regardless of whomever was the one to make the putt on the previous. Alternate Shot is always more difficult, as mistakes by one teammate can never be overwritten by the other.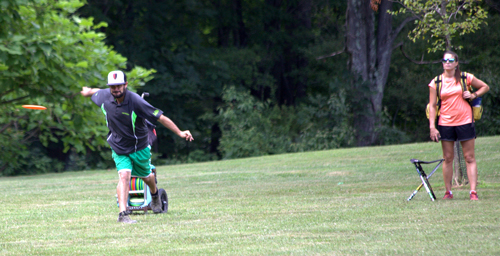 With a slew of teams just a few strokes off the lead going into Round 2, there was simply no way to predict the outcome. As the round progressed, live hole-by-hole scoring started to paint the picture. Paige Pierce #29190 and Jeremy Koling #33705 were shredding the course, quickly moving up the ranks and eventually to the lead. They finished the round bogey free, a truly incredible feat on its own during Alternate Shot, and managed an incredible 10 birdies while doing so.
Their score of 56 for the Alternate Shot round was untouched by any other team. Starting the round two throws back from the leaders, they finished as the 2015 Pro Worlds Mixed Doubles Champions with a margin of victory of six! The next best score after their 56 was a 62, shot by two teams: Valarie Jenkins/Nate Doss & Holly Finley/Michael Johansen.
Field Events
The 2015 Pro Worlds Field Events were held concurrently with the FlyMart at Moraine State Park on Saturday. Moraine State Park is enormous, gorgeous, and filled to the brim with activities other than disc golf to do. It was wonderful to see so many new faces exposed to the sport especially in a way that showcased just how fun the sport can be for people of all ages and skill levels.
Long Drive Competition
Those that made the effort to get up early on Saturday morning had a chance to watch the biggest arms in disc golf crush drivers at the 2015 Pro Worlds Long Drive Competition. Competitors compete in their respective divisions and are given five attempts to not only throw as far as they can, but also land the drive in a designated "inbounds" area. Although some accuracy is involved, keep in mind that the designated landing area is huge, spanning 200+ feet from the left side to the right side.
For two and half hours, players stepped up and gave it their all. All eyes and camera lenses were on former distance world record holder David Wiggins Jr #24437 and current world record holder Simon Lizotte #8332 as they made their attempts. Jaws were dropped as Wiggins let go of what would end up being his longest throw, and the longest overall for the entire day.
His perfect 360 form and years of experience put his longest drive at an astonishing 594 feet. It was easily the winner, beating out Will Schusterick #29064 and Avery Jenkins #7495 by nearly 60 feet. Avery and Will ended up tying for second place having both thrown 537' as two of the last few competitors to take to the tee.
Long Drive Competition full results »
David Wiggins throwing 594 feet in the long distance competition at the 2015 2015 PDGA Pro Disc Golf World Championships

Posted by Tony Inzana on Monday, August 3, 2015
Putting, SkillShot, and Mini Golf
Although there are three different field events outside of the Long Drive competition, one name can pretty much sum up the results. That name is none other than 2008 PDGA Pro Worlds Champion, Dave Feldberg #12626.  
Dave started out as the early leader in the putting competition, scoring 24 points out of 54 possible on the difficult course set up and run by disc golf's own Sharon and Leeroy Jenkins. It seemed as if no one would catch him, as even renowned putting champion Jay "Yeti" Reading #15864 could only manage a score of 22.
Dave continued to dominate, edging out Simon Lizotte by a single throw in Mini Golf and again taking down Lizotte in the SkillShot Competition presented by E.D.G.E. with an impressive low score of 193 points. In SkillShot, the lower the score the better, and there's no one better at SkillShot than Dave Greenwell #962. Even Greenwell couldn't best Dave's score of 193, he did get as close as possible, also finishing with a total score of 193. Being in separate divisions, both the Daves will take home titles of 2015 Pro Worlds SkillShot champions.
Just when we thought Feldberg was going to walk away with a three-event sweep, Ricky Wyoskci #38008 showed up to issue an official sweep denial. Wysocki, known for being a tremendous putter, turned in the same score of 24 in the Putting Competition as Dave. They'll be competing in a playoff at the Players Picnic on Friday evening with a brand new putting course set up so that their friends, family members, teammates, and fans can come out and watch a new putting champion be crowned.
Putting, SkillShot, and Mini Golf full results »
There's a lot more to come for the 2015 Pro Worlds here in Pittsburgh, PA. So stay tuned, disc golf world!