Fling: FPO Recap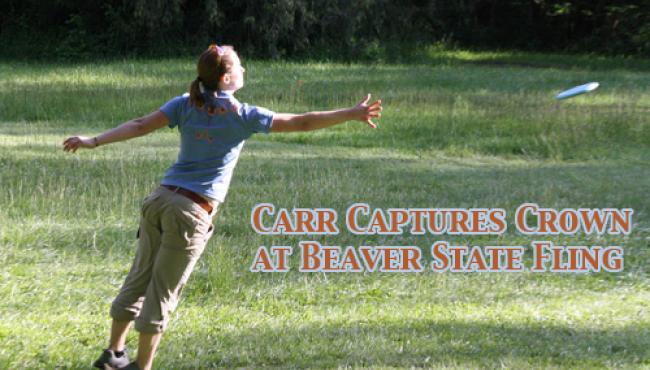 Carr Captures Crown at Beaver State Fling; Paige Pierce Finds Favor at Milo McIver to Finish Second
When Liz Carr came off the 16th green at the Milo McIver East Course during Sunday's final round at the 2010 Beaver State Fling, she was not going to let the six she just carded deter her from giving it her all during the last two holes.  She was still pursuing Des Reading, who had a one throw advantage, as well as trying to hold off the over-achieving teenager from Texas, Paige Pierce, whose 911 rating belies her true disc golf talent. 
As a testament to "it's not over until it's over," Carr regrouped, got up-and-down on the next two holes, and took advantage of Reading's late round misfortune to outlast the rest of the women's open division for her second PDGA National Tour title of the 2010 season.  Her one throw win over Pierce concluded a weekend of competition in the women's division, where parity was evidenced by a seemingly endless of shufflingat the top of the leaderboard.  The talent throughout the women's divisions is certainly on the rise. 
Pierce, the high schooler from Plano, Texas, ended Friday's round with a three throw cushion before yielding to Reading, who then yielded to Carr after Saturday.  OnSunday, Reading once again climbed back to the top of the leader board,but Carr and Pierce were not far behind. 
"Paige told us she had been frustrated by some of the tight, woodsy courses she had been playing recently," explained Val Jenkins after Sunday's finals.  "But we told her to just hang in there and wait for Portland.  We knew these courses would better fit her game." 
And fit they did.  Pierce was one of a handful of Texans who are becoming rising stars in disc golf.  Liz Lopez (Dallas, Texas) captured the 2008 PDGA Rookie of the Year award.  Bradley Williams (Austin, Texas) took Ken Climo into a playoff last weekend at the Masters Cup NT event and finished fourth at the Fling.  And Pierce is following up her third place finish in the Advanced Amateur division at last year's World Championships with an impressive rookie season on the 2010 PDGA Tour.  All these players join the already renowned Des and Jay Reading (Wimberly, Texas), as well as Hall of Famer John Houck (Wimberly, Texas), as the rising tide of disc golf ambassadors from the Lone Star State. 
Ironically, Carr attributes her success this year on the National Tour to playing less.  "I'll go home now and will not throw a disc for a few days to give my body a chance to rest," Carr said smiling widely.  "I plan on having year's like this every year," admitted Carr.  "But I feel like I am picking my spots much better this year, and it is really paying off." 
Liz Carr will strengthen her position atop the Woodchuck Drive for the Championship National Tour points series with this win.  The PDGA National Tour will next visit the land of 10,000 lakes, where the Minnesota Majestic will launch June 25-27 in the Twin Cities.