First Class Final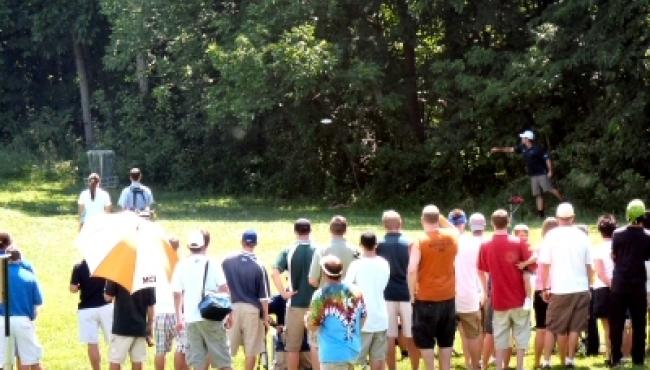 David Feldberg and Valarie Jenkins Win First Class Challenge National Tour
---
Another cool and cloudy start for today. But the temperature and the action got hot as the sun broke out for the Finals. Valerie Jenkins continued her stellar play, making the Finals more of a victory lap than a battle. Des worked hard to get three back in the morning, closing the gap to six going into the Finals. But Val got two back in the Finals, finishing with a comfortable 8 throw win. Berlogar earned a solid third, making her way into the Finals gaining three more on Tschiggfrie at Walnut Ridge in the morning.
David Feldberg managed to avoid the 'Meltdown at Walnut Ridge' on the top card and shot a 49, which again was the only sub-50 round of the morning. Climo managed to get what appeared to be a slight early release problem back on track by the sixth hole but still had a few uncharacteristic blips the rest of the way along with his usual array of awesome shots. He made it into the Final 9 by one throw over Eric McCabe who threw the second best round of the morning with a 50.
Avery Jenkins had a nice start with a beautiful sky forehand park job on hole 2 for his first deuce. His wheels never really came off but the tires suffered some damage here and there. His frustration was mounting with a few 'almost in' long chain outs then some barely off redirects, each making a one throw difference in his outcome. Orum started with a 40 foot deuce from the schule on hole 1 then had a bad break on hole 4 with a lost disc where 20 people tried to find it. He 'pured' his re-tee but then missed the 12-footer ending with a 5. He followed that with 4 on five followed by a great long putt for a 2 on six which almost got his ship righted. But then he missed longish, but makeable putts on 8 and 9 which boosted his frustration level. Perhaps pressing a little on the next several holes lead to some additional trouble and he finished with an unofficial 955 rated round.
Meanwhile, the second card was playing well with everyone at or below 54 equivalent as the round progressed. Cale Leiviska and Tanner Duncan earned their way into the Final 9 with local favorite, Tanner, not having played in the top group all weekend. The Final 9 was a primarily a battle for second with the other three players 5 or 6 back of Feldberg. Feldberg deuced the first three holes staking claim that first place was going to be out of reach for the others. The other three each got one deuce on the first three holes. The only scoring swing in the next five holes was Climo's critical missed putt on the sixth hole if he wanted to catch Duncan and Leiviska, both one ahead of him at the time.
The last hole was a 450 foot safari hole from hole 2 tee to hole 3 basket. Both Tanner (turnover) and Cale (hyzer) ripped beautiful drives to within 25 feet. Climo also had a great drive slightly farther out but that wouldn't be enough unless the other two 3-putted and he made it. Climo missed. Tanner made his putt followed by the roar of the large home crowd of 200 or so spectators. Cale then stepped up and made his followed by polite applause, thus keeping their second place tie. Dave won back-to-back NTs taking home $1660 this week. The weather and courses were great in Des Moines. Let's hope the temps aren't too hot in KC at the Worlds starting next weekend.
Links