Eyes On The Swine
Eyes On The Swine
With Major aspirations in tow, an American expat cooks up Thailand's first A-Tier
Thursday, February 1, 2018 - 02:00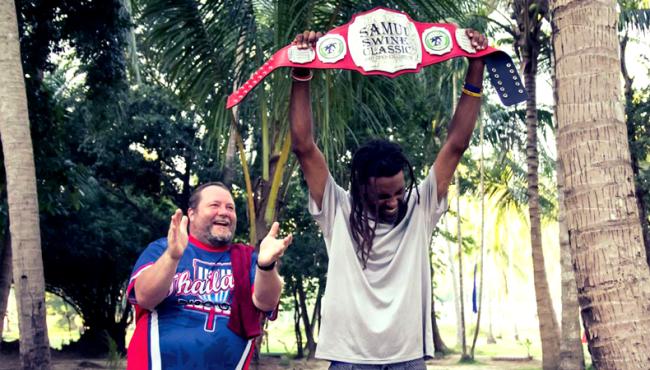 Flashback to 2003: Beyoncé was (still) lighting up the airwaves, The Lord of the Rings: Return of the King triumphed as box office royalty, and Nigel Mills was parked at a comfortable job in Santa Monica, California. Born and bred in nearby Venice Beach, his days at powerhouse video game developer Activision found him working on titles like Tony Hawk's Pro Skater 2x, where Mills served as the inspiration for a hidden character: a donut-scarfing, kick-flipping cop named Officer Dick.
But when fortunes in his department turned sour, Mills grew disenfranchised with the gaming industry and sought an escape. He found refuge in the Southeast Asian bliss of Thailand, where he had only intended to holiday for a month before extending his stay threefold. And when the time came to head back to the United States, he knew he wasn't long for his home country.
"I said, 'I'm not gonna go back to making video games,'" Mills said. "'I wanna move.'"
Though he was determined to relocate, he still had plenty of time to spare when he returned to the Golden State. So when a friend suggested they go play disc golf, he was game. By his third time out he was already sporting a DX Roc and a tote bag, and he rarely left the confines of Huntington Beach Central Park, El Dorado Park, and the legendary La Mirada Regional Park until he packed his bags for his new adventure.
"I ended up playing for three months straight," Mills said. "Didn't play any tournaments, didn't know anyone, didn't know anything. And I moved to Thailand with a full-blown, three-month golf addiction. You know how crazy it is in the beginning."
But when he finally set foot on his new island stomping grounds, there wasn't a tee pad or basket to be found. "I looked around at all these coconuts, and I'm like, 'Someone's gotta have some land,'" Mills said. "'I could go play a course.'"
It's with that same spirit that the 45-year-old expat tackles this weekend's task: running Thailand's first A-Tier, the Samui Swine Classic V. Sporting a field of 105 players – including touring professionals Philo Brathwaite, Gregg Barsby, Paige Pierce, Jeremy Koling, and Nate Perkins – the event serves not as a culmination of Mills and the country's disc golf journey. Instead, it's just the beginning.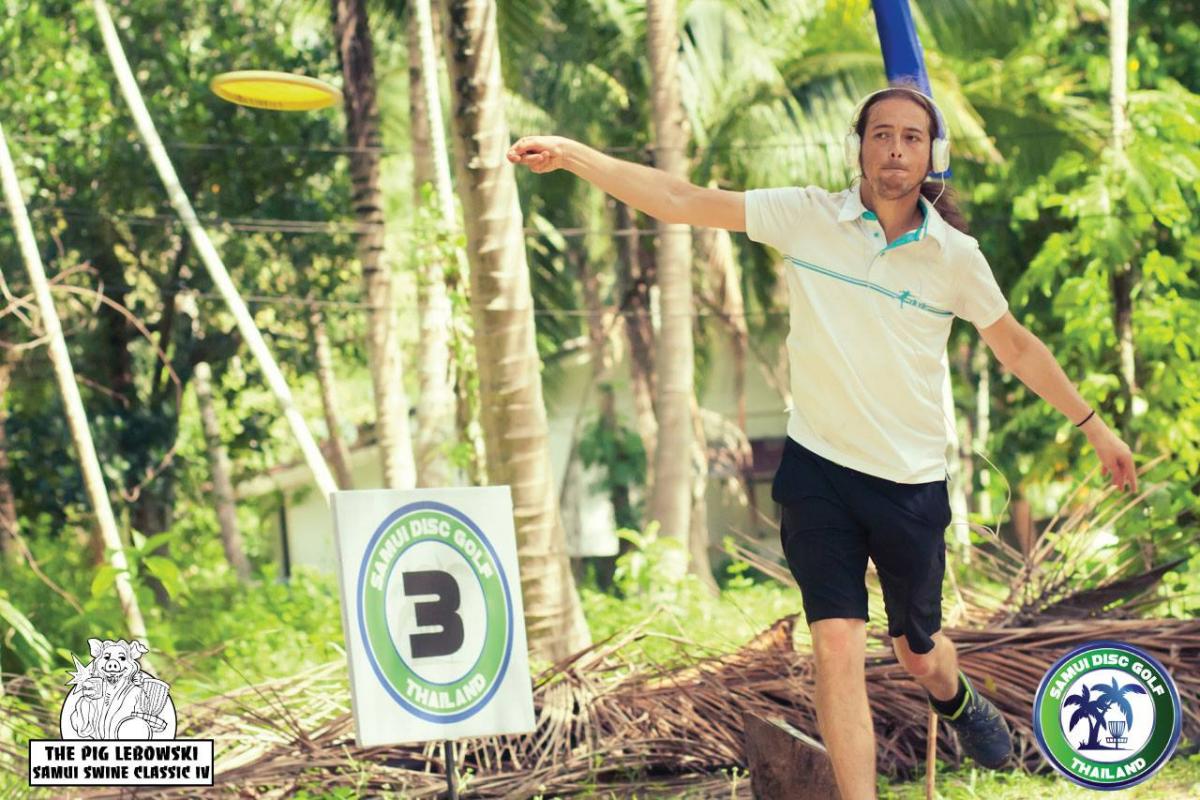 Located in the Gulf of Thailand, the island of Koh Samui is a roughly 90-square mile dot of land in the Surat Thani province. It's the second most popular tourist destination in the country behind Phuket and a simple 65-minute flight from Bangkok's Suvarnabhumi Airport. For those seeking a more frugal adventure, a 17-hour sojourn via rail and ferry will set you back less than $50, and upon arrival to the island you'll be greeted by pristine beaches, lush rainforests, and precisely two disc golf courses.
One of those tracks is Mills' Samui Disc Golf, a nine-hole venue in Maenam. This current iteration opened in 2013 and sports homemade 24-chain baskets, but it's actually Mills' second crack at a course on the island. His previous venture, which carried the same moniker, lasted from 2004 to 2006 in the seaside town of Bophut Beach, but the rent on the property made the prospect unsustainable. Still, Mills never gave up hope on the project, and when he moved his home and his business, Nigel's BBQ, to Maenam, he hit the jackpot when his new landlord started to clear the terrain behind her property.
"I thought she had maybe 20, 30 meters behind my house," Mills recalled. "She had maybe like three acres. So I was like, 'Well, we need to put a small nine-hole course in there.' My wife was like, 'The business didn't work the first time. What are you thinking?'"
Mills' efforts, though, paid dividends – albeit slowly. "For the first six months, it was just me and like two other guys playing," he said. At the time there had only been five PDGA events in Thailand – the annual Sanpatong Open ran from 2009 to 2013 in the country's northern mainland – and the nation boasted only four active members. But Mills started a local league and, in large part due to positive tourist reviews on Trip Advisor, word of his course started to spread. He welcomed 11 players to the first Samui Swine Classic in January 2014 – another American expatriate, Joe Vetne, won the Open division; his 17-year-old son Tee is now Thailand's highest-rated player – before the 2015 version grew to a roster of 29. The third go, 2016's Samui Swine Classic III: Pork Fiction (with each tournament comes a movie-themed pig pun, in keeping with Mills' pit skills) swelled to 51 players, and last year (The Pig Lebowski) that number grew to 69. It also marked the first time household names hit the event, as Mills was able to recruit Nikko Locastro to make the trip. The Missouri native brought Brathwaite, Barsby, and two-time PDGA World Champion Ricky Wysocki with him, and the crew mixed educational clinics between their sight-seeing and tournament competition. It doesn't hurt that a B-Tier, the Hyzenbrownie Open, takes place on the other side of the island a week before the Classic. "Now the secret's out of the bag," Mills said.
It isn't just U.S. players who have helped promote the event, though: Finnish players make up a strong contingent every year, and Mills' course and BBQ have acquired a modicum of fame on the country's disc golf message boards. "I have one guy from Finland who's come for all five tournaments," he said. "That's a long commitment to come all the way out here, but they get six weeks off a year, and it's cold. I definitely plan the tournament for this time of year because we have great weather and other places don't."
The mix of cultures, plus the island setting, was something that appealed to Barsby, who is back for his second shot at the Swine after a third-place finish in 2017. Though there is work to attend to on the course, he's also taken in the nightlife, checked out a coffee shop that also has a zip line, and was particularly fond of the carved soaps that are sold at the various street fairs.
"Obviously we all want to play really well and we're all competitive, but, in essence, I think it's a great vacation and kinda gets us away from the rat race, if you will, of playing tournaments in the States," Barsby said.
Brathwaite, the defending Samui Swine champion, used similar terminology – he called the tournament "a working vacation" – and made note of the locale's laid-back atmosphere.
"The difference is that the environment here is kinda paradise, you know?" Brathwaite said. "It's tropical, you're in another country with a lot of other things to offer...A bunch of tourists walking around, everybody's in a good mood, everybody's on holiday. This place thrives on tourism, so everybody's really nice and friendly and usually pretty accommodating. There's a lot of positives to coming down here."
And that doesn't even get into the golf they'll be playing. In addition to an enhanced nine-hole layout on Mills' property, he has also rented the private island of Koh Som – daily cost: $1,700 – and set up another nine there. Competitors will take two cracks at Mills' course to make up their 18 today, then hop on fishing boats Friday morning for the 15-minute trek to yet another slice of nirvana.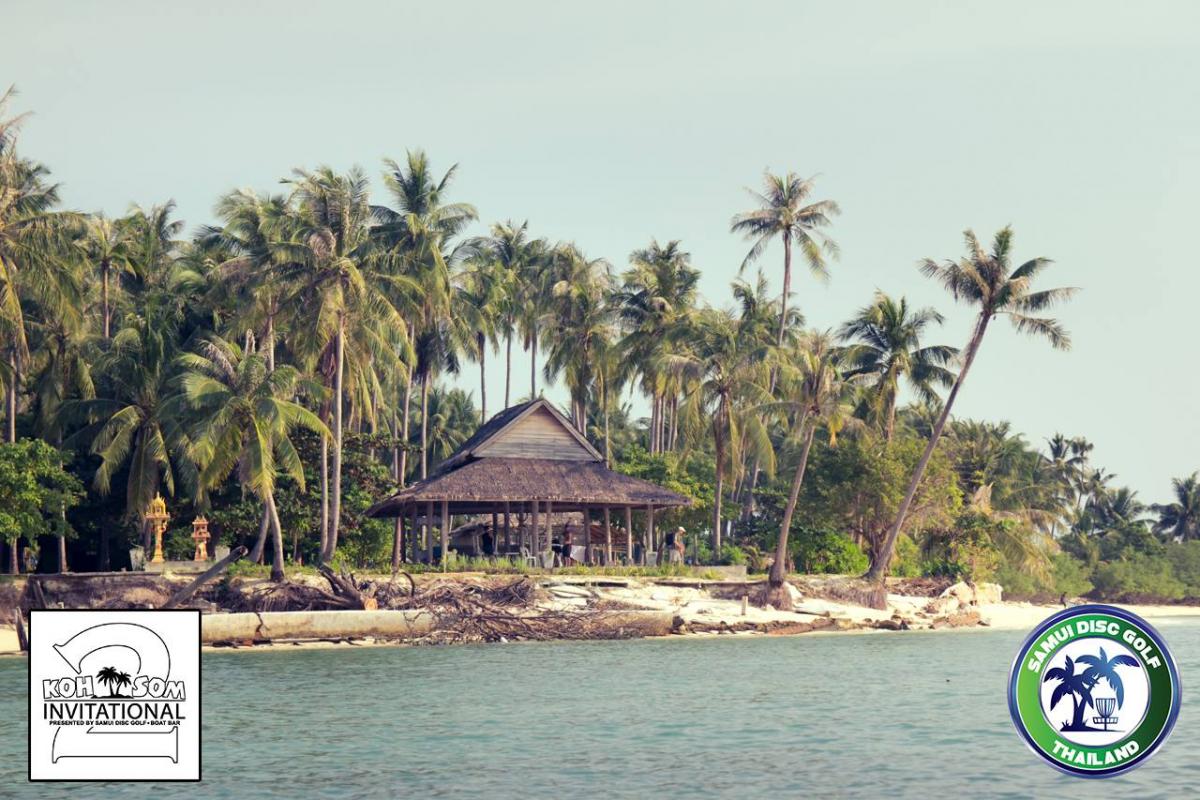 "There's no power, there's no roads – there's nothing," Mills said of Koh Som. "People will swim by hole 1 and, if anyone goes OB, pick up their disc for them."
"Pretty much we're the only ones there," Barsby said. "And that should be ridiculously amazing."
***
As the event enters its fifth year and has now gained A-Tier status, the natural inclination is to venture a guess at what's on the horizon for Thai disc golf. According to PDGA International Director Brian Hoeniger, who is on the ground at the tournament, the lack of publicly available space in Thailand is a hurdle to the sport's growth. The country doesn't have the same style of regional parks in which many American disc golf courses thrive, so it will take people with private land – and dollars – to create more of an infrastructure for competition. "The players who are going to mostly be here – it's going to depend massively on the expatriate population," Hoeniger said.
Mills has already been doing his part, and he has aspirations for even more: In his perfect world scenario, he wants to strike up a partnership with local brewery Singha, which owns the scenic Santiburi Samui Country Club, and eventually host a PDGA Major at the venue.
"I would love to turn it into the Thailand Open, with a charity aspect," Mills said. "...I'm gonna start trying this year to see what kind of feedback I get."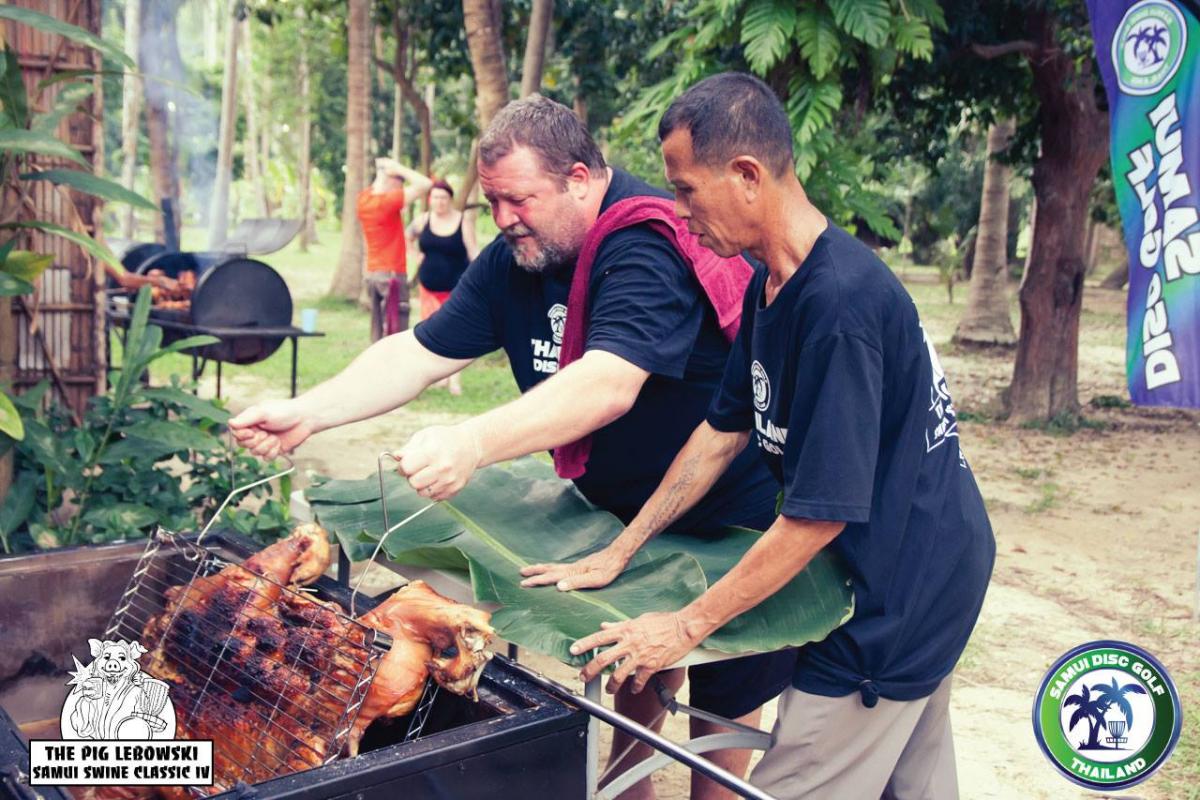 Though it might be a few moons down the road, Hoeniger did not rule out the possibility of a higher caliber tournament on Koh Samui: "If you had access to a quality ball golf course who said, 'You guys have this facility for the entire two-week period' – the course has been designed a year in advance...and the PDGA went over and looked at it and said, 'This is great...we approve' – then you can see, in that scenario, it happening."
Both Barsby and Brathwaite were amenable to the idea but mentioned that an event of that nature might mirror one like the Aussie Open, which relies heavily on international players making the journey overseas. Mills said the lower costs in Thailand – this weekend's Open winner will pocket roughly ฿27,000, or $800, which can cover multiple weeks of lodging – made the appeal to travelers an easy one.
"I think the word's getting out that it's a good trip, it's a good time," Brathwaite said. "Obviously, the golf is fun. Us touring pros are obviously gonna have the best chance of winning, but the competition's really between us. It's just a lot of fun, you know? I think it's totally possible."
Until then, there are pigs to be barbequed -- Mills' $3 pulled pork sandwiches are made fresh daily with swine from his farm just up the road -- and golf to be played. Mills said the local community is up to about 40 players, and active PDGA membership in 2017 was up to 26. That's up from 16 in 2016, and a far cry from the single membership in the country in 2012. And while he is not solely responsible for the growth, Mills' jovial, welcoming nature has provided the seasoning as Thai disc golf continues to cook.
Comments
Follow the progress of disc golf in Thailand on the Disc Golf Assoc. of Thailand Facebook page. Pics and videos from all courses and tournaments in Thailand from the first Samui Swine Classic in Jan 2014 up to Nikko's victory at Swine V just yesterday.