Ethiopian Open Marks Africa's First PDGA Tour Event
Ethiopian Open Marks Africa's First PDGA Tour Event
University student a key player in bringing disc golf to the country
Thursday, February 15, 2018 - 15:02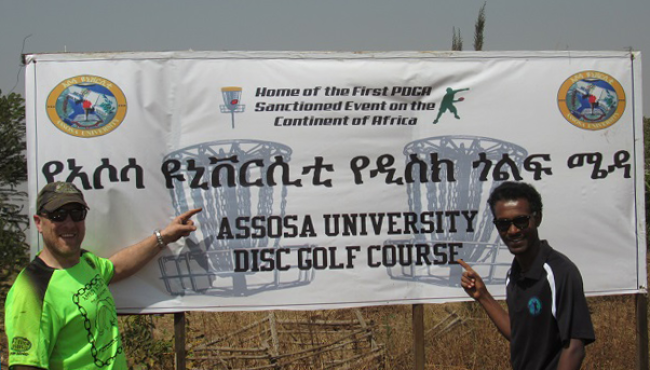 Tenastillign! ("Greetings!" in Amharic)
Ethiopia is not a country one might immediately associate with the sport of disc golf. This rugged, biblical land is much better known for its ancient Christian civilization; the rock-hewn churches of Lalibela; a fiery and unique, but delicious, national cuisine; its stunningly beautiful salt of the earth peoples, and the two millennia-old Solomonic Dynasty which ended with the overthrow of Emperor Haile Selassie in the 1970s. On a sadder note, periodic famine has devastated parts of this East African nation when the rains failed once every generation or so. Massive afforestation efforts and the huge and unfolding Blue Nile Dam project – the aim of which is to increase the country's capacity in both electricity and water – are diminishing Ethiopia's vulnerability.
Indeed, it is here that the first PDGA Tour event ever held in Africa, the Ethiopian Open, will take place this Saturday.
The development of disc golf in Ethiopia is the brainchild of Yohannes Desalegn, a 23-year old social media genius and business student at the University of Assosa. Desalegn was introduced to our beloved game several years ago by a Finnish player and quickly got hooked. He has since taught disc golf to thousands of school kids and recently convinced university decision-makers to assign enough land for an 18-hole course and allot the funds to manufacture baskets. Desalegn's ebullient personality and inability to understand the word "no" have landed him a PDGA Marco Polo Grant, donations of discs from dozens of players around the world, and sponsorship from Innova Discs.
But perhaps the most meaningful contribution has come from John Luetzow Watertown, Wisconsin, who has made it his mission to support Desalegn. Luetzow conducted a GoFundMe campaign that raised $3,500, sent Desalegn discs by UPS, designed the Ethiopian DGA logo, and brought duffel bags full of event discs, minis, and banners to faraway Assosa for this week's festivities.  
A handful of players have traveled from overseas for the chance to be crowned the first Emperor of the Ethiopian Open. The United Kingdom's Derek Robins will be competing in his world record 28th country. South Africa's top player, Jon-Pat Myers, has arrived from Johannesburg hoping to learn from and convince his local authorities to allow him to replicate what Desalegn has achieved. They will vie for the top spots in the Open division but will be hard-pressed to overcome the event favorite, Finland PDGA Country Coordinator and 979-rated pro Tapani Aulu. Also competing in MPO are the top two local Habesha players, Zelalem Fiseha and Suleman Mohammed, whose games only lack consistency.
The Amateur divisions will largely consist of Assosa University students and soldiers from the nearby military base, where another nine-hole course will soon be installed. However, based on his solid forehand game we saw during practice today, Zambia's Elem Katambo will be hard to beat.
Friday will feature a seminar introducing the game to local ministry officials and the media, followed by a demonstration clinic by the pros. Tournament action takes place on Saturday, with a three-hour break from the midday heat sandwiched between two rounds.
Stay tuned as we bring you more coverage from the Ethiopian Open and celebrate this historic occasion with all those fortunate enough to be here. 
Comments
Wow......totally AWESOME
This makes 6 Continents, doesn't it?
Just South America still lacking?