Flying Finn Crowned Emperor of Ethiopian Open
Flying Finn Crowned Emperor of Ethiopian Open
Sunday, February 18, 2018 - 22:24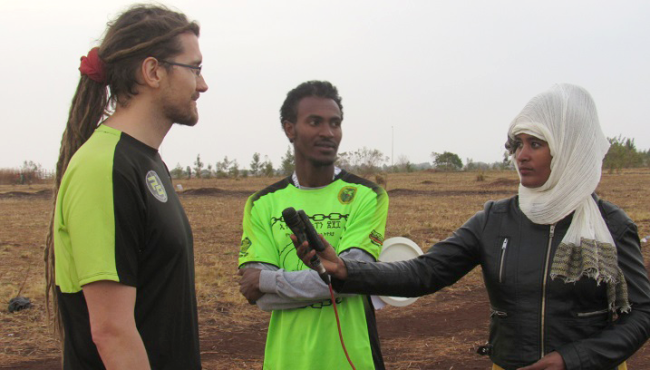 Coming out of hibernation and the long Scandinavian winter, Tapani Aulu brought his A-game to the Ethiopian Open, playing betam betam tiruno World Class rated golf at the first ever PDGA Tour event in Africa. Aulu shredded the 1599 meter / 5250-foot long Assosa University course twice, shooting rounds of 43 and 44, and carding 21 birdies, 15 pars, with nary a bogey; in fact, he only lost the box for 1 hole all day. The Finland PDGA Country Coordinator's versatility was on full display as he launched equally crisp forehands and backhands off the tees, and hit dead center chains with putt after putt, to take home the title.
Chicago-an Kevin Derrick carded a solid 48 in the afternoon to grab 2nd and accept his first pro cash. South Africa's top player, smooth throwing Jon-Pat Myers, rounded out the top three. Ethiopia's #1 disc golfer, Suleman Mohamed, sat 2nd after 18 holes on the strength of a solid bogey-free six do, but struggled in the unseasonably cooler temps and rainy conditions in the afternoon.
Elem Katambo, who hails from Choma, Zambia, was hands down the best Amateur competitor; he finished the festivities at 2 under par. PDGA member Eshetu Alemu finished at the head of the 15 strong Ethiopian players Recreational division, carding a division best 59 in Round 2 to come from behind and take home the trophy.
A sense of historic occasion prevailed all day long, with the traveling pros reveling in the opportunity to teach the locals the basic rules of play and the subtleties of how to drive, approach and putt. Co-TD Yohannes Desalegn was a gobez host all week and even succeeded in attracting national media coverage. His fellow organizer, John Luetzow, of Watertown, Wisconsin, who has made developing disc golf in Ethiopia his personal crusade, was a most humble and immense benefactor to the event.
To all of them, to Assosa University, to Innova Champion, and to the many local businesses and disc golf enthusiasts around the world who sponsored holes and contributed to the event's success we can only say betam betam ameseginallu (thank you very very much)!