Course Record: Part Deux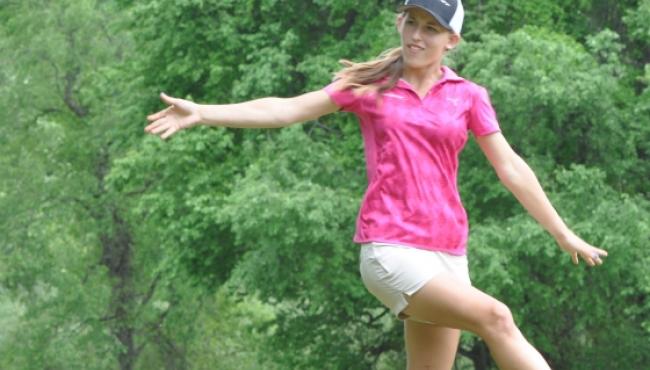 Day 2 of the Discraft Great Lakes Open kicked off today once again on the infamous toboggan course here in Milford, MI. The forecast was predicting rain and even thunderstorms, but thankfully today ended up being precipitation free and sunny for the most part. What that ended up translating to was a whole lot of birdies from every division, and a new course record (...again).
If for some reason you thought Ricky Wysocki's course record breaking round of 11 under par yesterday was a fluke, you were wrong. Wysocki is playing right now with an injured right calf that is causing him a lot of pain, and he still managed a bogey free, 12 under par, course record round. He did miss a birdie putt from about 25' at one point during the round, but perhaps only to show that he is in fact human.

To say that Wysocki is on a hot streak is an understatement and quite frankly, referring to the way he plays as a hot streak in general, should almost be considered minimizing the truth. He's not on a streak at all. He's just really....really....ridiculously good at disc golf. He excels in every aspect of the game to the point where it is literally shocking to see him make a mistake. Forehands, backhands, upshots, putting, etc. It doesn't matter what obstacles you throw at him or how difficult the shot might seem. He nails it.

Wysocki will start the final round tomorrow with a 6 stroke lead over Garrett Gurthie after "Double G" shot an impressive 9 under par today that bumped him from 4th to 2nd. His drive on hole 3 was nothing short of mind blowing. Hole 3 is a 915' downhill dogleg right par 4. Off the tee, his disc landed safely in the center of the fairway about 120' away from the basket. Do the math. That's just plain crazy.
Paige Pierce and Sarah Hokom started the day tied for 1st place, and that's how they would finish the day as well. Catrina Ulibarri and Swedish player Ragna Bygde joined them on the lead card this afternoon. Paige and Sarah battled the entire round, trading the lead several times. Pierce took advantage of her ability to out-drive the competition when she could. Her birdie on hole 17, which is often parred or even bogeyed by players in other divisions, is just one of many examples. Hokom might not have the distance that Paige does, but she made up for it with big putts and accurate drives and upshots.

They both finished the round at 1 under par which puts them 5 strokes ahead of Catrina Ulibarri who sits in 3rd. Des Reading will join them on the lead card for the final round, 6 strokes back from Ulibarri. Pierce and Hokom will duke it out again tomorrow for the gold. However, on this course you can't count out Ulibarri either. A 5 stroke swing is in no way out of the question.

The wind should be a huge factor tomorrow as it is expected to be a steady 15-20 MPH. Overstable discs will fill the sky and the players' bags for the final round of the #DGLO. Follow the action live on Twitter via @PDGAlive and the live scores on www.pdgalive.com. It should be, and we can only assume will be, another exciting finish for this, the 5th event of the National Tour Elite Series.