Gavin Rathbun Earns the Title in 3-Way Playoff at USADGC
Gavin Rathbun Earns the Title in 3-Way Playoff at USADGC
Monday, June 6, 2016 - 10:16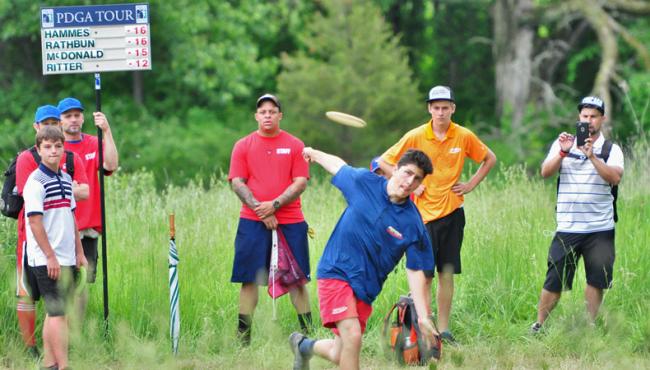 We couldn't have asked for a more exciting finish to the 2016 United States Amateur Disc Golf Championship (USADGC), although we certainly wouldn't have minded more favorable weather. With lightning delaying the event for nearly an hour in the early stages of the day, all we could do was cross our fingers and hope for smooth sailing throughout the afternoon.
Two players emerged from Rounds 1 and 2 as the leaders, shooting the same score each day before heading into the final round on Sunday as the co-leaders: 18 year old Gavin Rathbun #60436 of Oswego, Illinois and 17 year old Adam Hammes #57365 of Minocqua, Wisconsin.
After turning in the lowest score of the entire field on Saturday, 15 year old Izak McDonald #49631 of Lockport, IL would join them. His eight under par (54) was matched by no one else the entire weekend, unofficially rated at 1021.
If the name Izak McDonald doesn't ring a bell, it should. As a 14 year old, he finished in 2nd place at the 2015 USADGC and later finished 2nd at the 2015 Am Worlds, both times losing to another teenage sensation, Anthony Barela #44382.
Last but not least, 17 year old Logan Ritter #44974 of Hudson, Ohio would round out the lead card on both Saturday and Sunday, starting both days tied for 3rd place. Logan's finest hour came on the 18th hole on Saturday, where a 100 foot birdie putt sealed his place on the lead card for the final round, finishing at seven under par (55), unofficially rated at 1012.
Long before the leaders were set to tee off, storm clouds were moving in. When the lightning detectors went off at 10am, the air horns were sounded and the course was cleared. Although short-lived, the storm left a lot of the dreaded Toboggan course wet and muddy, with slippery tee pads as an unwanted bonus. Rain randomly came and went throughout the day, but the thunder and lightning never returned.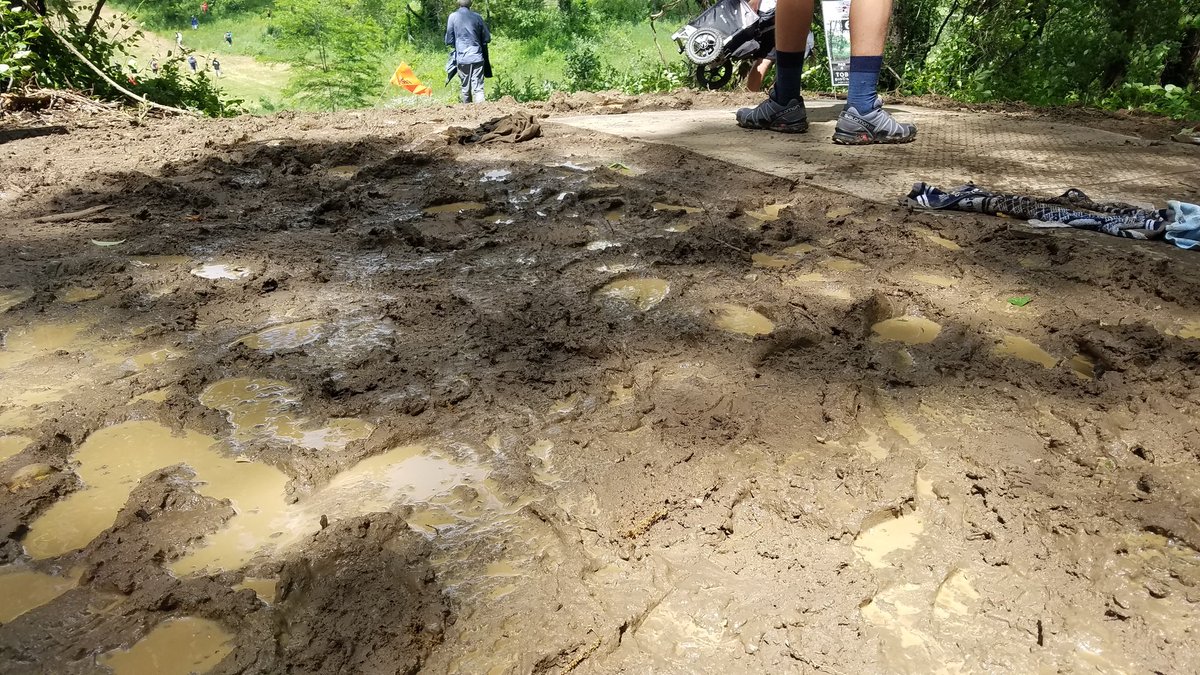 Gavin and Adam began the round with the same scores for Holes 1-3, but a double bogey by Adam on Hole 4 put Gavin ahead by two. Hammes wasn't shaken, as he quickly tied it up again with three straight birdies on holes 6-8, with 7 and 8 being two of the harder birdies on the course.
Izak was holding his own, making sure to keep within range of the leaders. An impressive solo birdie on Hole 10 left him one off the lead, the same place he had started the day, tied with Logan. Impressive might be an understatement, as Hole 10 was only birdied 16 times throughout the entire weekend, in a 128 player field.
By this time, Logan's 4th place position had been overtaken by another 17 year old, Dylan Lhotak #41076. Growing up in Lockport, IL with Izak, Dylan has developed a great all-around game, including enormous power off the tee matched by only a very fortunate few.
Great par saves for Rathbun and Hammes. Tap in birdie for Izak. 4 holes to go! #USADGC pic.twitter.com/3S7jFNp1Kb

— PDGA Live Scoring (@pdgalive) June 5, 2016
The lead continued to change, and heading into the last few holes there was simply no way of knowing who was going to rise to the top. Izak ran off back-to-back-to-back birdies on Holes 13-15, meaning he was now tied with Gavin going into Hole 16, leading by one over Adam.
16 is one of the shortest on the course, playing slightly downhill to a green protected by shrubs and trees. Izak had the box after his birdie on 15, but his drive on 16 went into the shrubs with no real chance to birdie. He would have to lay up for par. Gavin followed with a forehand off the tee and parked it to inside of 20 feet. After watching Gavin take the forehand route, Adam decided to follow his lead. "I'm gonna do the same thing," said Adam, changing his mind and his driver on the tee. It was the right choice, as he was also parked inside of 20'.
Adam quickly nailed the putt, and everyone started heading to 17's tee, knowing both Gavin and Izak had basically drop-ins for birdie and par, respectively.
We were wrong. Gavin's putter hit chains dead center, and then the pole, which caused the putter to ricochet backwards just enough for the wind to catch and knock it to the ground. Gavin was shocked, and tapped in for par, knowing Adam had once again tied it up.
Izak rushed his tap-in par putt, as it was 10 feet at the most, and he missed. With that miss, Izak was now in second place at -17, one off the lead, with only two holes to go. To add to the pressure, Dylan Lhotak had just finished his round at -17, shooting his second straight 55 (-7).
The long par 4 of Hole 17 favors the big arms, and there is no bigger arm at the event than Gavin Rathbun. His drive was perfect, throwing at least 500' and landing in front of the uphill slope that leads to the green. An early release on his upshot left him with a tricky birdie putt, throwing from inside of tall weeds and shrubs. Despite the monstrous drive, he would eventually take a par.
Adam settled for par as well, after his second throw left him with a 50' blind jump putt on the hill. He missed, but not by much, and finished with a tap-in par of his own.   
Izak was way out left of the fairway and 400' short and downhill of the green. In what has to be one of the best second throws in the history of that hole, Izak powered a driver across two fairways, up the hill, and we watched in amazement as it faded perfectly into the circle. Izak nailed the birdie putt. We were left with a 3-way tie at -18 as we walked up to the last tee.
Izak gets the solo birdie and ties it up again! One hole to go! #USADGC #TobogganDGC pic.twitter.com/MjB5ttaS83

— PDGA Live Scoring (@pdgalive) June 5, 2016
With the gallery lining the toboggan run fairway of the uphill par 3 of Hole 18, the players teed off. Gavin once again had the best drive and the only real putt for birdie. Izak and Adam hit the trees linig the right side of the fairway and were forced to lay up for par.
With all eyes on Gavin, he let go of a 60' chance to win, but missed left and short. Adam hit a beautiful putt from the circle's edge to seal his spot in the playoff and Izak tapped in. Gavin, Adam, and Izak were just as excited as the gallery as they made their way over to the tee of Hole 1 for the playoff.
Hole 1 is a steep downhill par 3 with the basket tucked away off to the right, far enough that it can't be seen it from the tee pad. Izak and Adam both played backhand anhyzers down the hill, into the gusting wind. Izak's disc turned over far too soon, leaving his driver nowhere near the green, surrounded by shrubs. Adam's line was on point, leaving him with a putt outside the circle from 45-50 feet.
Gavin opted for the forehand route, knowing he would need to crush it for a chance to win. "I threw the forehand every day on Hole 1, and I was always short," said Gavin. "So, I added a few steps to my run-up and went for it."
Based on crowd noise, Gavin had the best drive! #USADGC #TobogganDGC pic.twitter.com/19BiIW0oiD

— PDGA Live Scoring (@pdgalive) June 5, 2016
The forehand drive was a thing of beauty. Holding a straight line all the way down the fairway, it then began to fade hard to the right towards the green. It was one of those throws that, even though you can't see the basket from the tee, you just know it is perfect. And it was. The disc ended up hole-high, 15 feet from the pin.
Adam's 50 foot birdie attempt fell short, as Gavin paced around nervously, waiting to putt. "I used to pace around like this before wrestling matches," said Gavin. "It was the most nervous I've ever been for a 15 foot putt."
Nervous or not, he tapped in, and just like that the playoff was over and Gavin Rathbun became the 2016 United States Amateur Disc Golf Champion. At the age of 18 and having just graduated high school in December of 2015, without ever competing on the Toboggan before, he had pulled off an incredible feat.  
Congrats to all of the competitors at the 2016 USADGC, and thank you to all of the players that helped with live scoring day in and day out. With over half the field being live scored every day, it definitely made for a much more exciting event to watch.
Lastly, thanks to the dozens of staff members and volunteers that make this amazing event happen every year. It's always one we look forward to, and it always will be.