Less Risk, More Reward at the 2016 USADGC
Less Risk, More Reward at the 2016 USADGC
Friday, June 3, 2016 - 20:15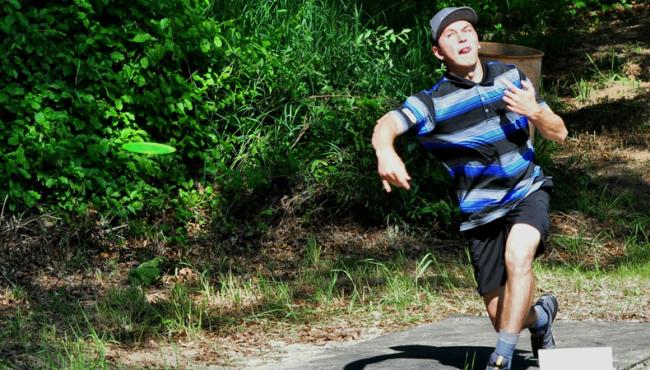 Round 1 of the 2016 United States Amateur Disc Golf Championship (USADGC) made one thing very clear - course experience doesn't necessarily matter. All three of the competitors that are sharing the lead heading into Round 2 tomorrow have never played the Toboggan outside of a couple of practice rounds prior to the start of the event. Despite the course being incredibly difficult and unforgiving, players far less familiar with the course than others rose to the occasion, finishing their rounds at seven under par (55), unofficially rated at 1012.
Age doesn't seem to be much of a factor either, as 11 of the top 15 after Round 1 are between the ages of 15-19, including two 17 year olds and an 18 year old on the lead card tomorrow afternoon. Kids these days…
Play Safe, Play Smart
So, how exactly does someone go into a course as famously challenging as the Toboggan with only a few hours of practice and still come out on top of the leaderboard? The answer is surprisingly simple for most – playing safe.  
 "I never play courses like this. The only comparable course to this that I've played was Timber Ridge from Am Worlds last year, where I shot well (finished 4th in Advanced)," said 18 year old Gavin Rathbun #60436 of Oswego, Illinois.  "My game plan after my practice round was to club down and hit all my lines. I really wanted to flick as much as possible. I relied heavily on it and played safe all day. I need to get more birdies on the front to improve, and make sure I get all of the easier par 3s."
Another leader, Adam Hammes #57635, at just 17 years old took to the course with a slightly more aggressive approach, but it worked. "There are a lot of tough holes, but the course is pretty self-explanatory," said Hammes. "I threw some not-so-good tee shots, but my putting made up for it. I just tried to 2 all of the holes that I knew I could. I didn't lay up on drives and I went for the green, which rewarded me with easy pars on the longer holes. I was pretty happy with the round. I could have shot one or two better, but it's…whatever."
Coming in during the latter half of the day was Michigan's own Brandon Oleskie #84911. And wouldn't you know it, his game plan was too play cautiously as well. "I was playing safe. Safe golf, all day," said Oleskie. "I just wanted to get a good drive to a nice, open upshot to the green for an easy three. I'm not unhappy with any part of my round. My putting was off just a little bit to get started but other than that, I played great all day."
Although tied with two others, just two strokes off the lead, 17 year old Logan Ritter #44974 will join the lead card tomorrow due to having the lowest PDGA number. Ritter got off to a great start, taking an eagle on the steep uphill par 5 Hole 3, something only accomplished by one other player all day. He continued playing well, finishing with four more birdies and only one bogey.
"I've definitely gained a bit of distance compared to last year, but it's more that I've gained distance with accuracy," said Ritter. Ritter's best round last year was a 59 (Round 1), and he's already improved upon that by two strokes right out of the gates this year.
The chase card and the cards below them are all easily within range for "moving day" tomorrow. The weather forecast for Round 2 predicts very similar conditions to what we saw today; zero percent chance of rain, sunny, and light wind. Perfect conditions plus a field with minimal score separation should make for a very exciting Round 2!
Live scores for 10+ cards will be up and running all day on pdgalive.com thanks to help from players, caddies, and gallery members. Follow @pdgalive on Twitter for lead and chase card updates, pictures, and videos as the best of the best amateur disc golfers take on the Toboggan once again for Round 2!
Photos from Round 1 are available for viewing and/or downloading on the PDGA Flickr page.
See you on the Toboggan tomorrow!