Colorado Kids Steal Sin City Spotlight
Colorado Kids Steal Sin City Spotlight
McMahon, Freeman one shot apart heading into LVC final
Sunday, February 25, 2018 - 12:02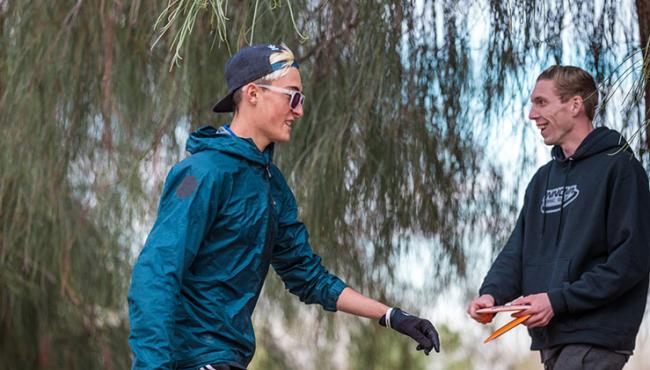 HENDERSON, Nev. – Eagle McMahon and Joel Freeman stood feet from the 18th basket on the Adidas Terrex course on one of the rare patches of green grass in this parched desert landscape. The sun had just set on the third round of the Las Vegas Challenge, and the two Colorado natives could not help but be in awe at their current standing.
"I can't believe that Joel – from Colorado -- and me are first and second right now," McMahon said. "That's so ridiculous."
"That's pretty sick," Freeman concurred as he high-fived his fellow statesman.
And as the two scanned the leaderboard and discovered that they were separated by only one shot heading into today's final – McMahon leads with a 26-under par 155 after a 13-under par scorcher Saturday, while Freeman continued to surprise with a 9-under par lead card showing to bring him to a 25-under par 156 total – Freeman made sure to keep the celebration going.
"That deserves another high five," he said.
The pair will try to keep the Rocky Mountain vibe in high supply during today's LVC final, but they'll be chased by stiff competition: Simon Lizotte flew 12 spots up the standings by matching McMahon's hot round – unofficial round rating: 1073 – and is tied for third place with Paul McBeth, who moved up seven slots with an 11-under par 51. The pair has work to do on the Innova course, as they sit five shots behind McMahon with 21-under par totals.
Before trying to hold off the pursuit, though, Freeman and McMahon took more time to reminisce. Freeman, 23, recalled with joy the first tournament the duo played together – 2014's Lunacy VI, a C-Tier in Longmont, Colorado, that took place before Freeman even had a PDGA number – and how he actually jumped out in front of McMahon, who was 15 at the time.
"He sucked, and I tied for hot round first round," Freeman said, turning to McMahon. "He was on, what, second or third card? At a C-Tier?
"I was like – I remember the first conversation we ever had," Freeman continued. "It was me coming up to Eagle and saying, 'Oh I know you're better than anyone here. You'll come back.' And then he ended up beating me."
"On the last hole," McMahon said.
Freeman, a 1010-rated player from Greeley, may not be the most likely candidate for a final round lead card appearance on the PDGA National Tour, but he doesn't lack experience. The LVC is his seventh career NT, with last year's 39th place showing at the Gentlemen's Club Challenge his best showing, and he's been at the front of the pack here since Thursday. But he was leaning on some past experiences to help him handle any nerves that will accompany a final round tilt with three of disc golf's elite: At 2016 Pro Worlds in Emporia, Kansas, he landed in 11th place and on a card with McMahon, Will Schusterick, and Matt Orum, and he was not prepared.
"I felt so out of place, I was like, 'I don't belong here,'" Freeman admitted. "I freaked myself out. I couldn't make anything outside 10 feet, my arm broke. I couldn't throw a hyzer, even. I just got so nervous, and it was because I felt out of place."
"Last year at the Utah Open was the first time where I played on a card with Austin Turner, Eric Oakley, and Bobby Musick, and I was kinda getting a little jittery, a little nervous coming into the round," Freeman continued. "And then all the sudden I was like, 'You know what? I'm not out of place. I put in the work, I put in the time, you know? And I have a great skill set.' It was just a matter of convincing myself, 'I'm not out of place, I do belong. I earned this spot.' If not with the time I put in, with the score I put together. Regardless of how you look at it. I train hours endlessly trying to catch up with all the big names. I haven't felt that nervous [this week]. It's been really good."
McMahon is also no stranger to final round pressure. He has long been candid about the mental gymnastics required to push himself to a signature victory, especially after his late performances at the 2017 Aussie Open and Vibram Open. But McMahon came to Las Vegas with a refreshed mindset, he said earlier this week, and after round three was ready to embrace the chaos.
"I'm just throwing myself in the fire," McMahon said. "I just want to be at the top and give myself a chance. I have a game plan, I'm gonna stick to it and see what happens. That's it."
He also had his eyes on Lizotte's moving day performance and said the competitive nature of their friendship pushed him to a finish that featured five straight birdies to close the round.
"It's Simon, so if I hear he's doing well I have to try to outdo him," McMahon said. "That's just how we roll."
Lizotte has been playing with a back injury all week but said he was feeling better during yesterday's showing. He assaulted the numerous 500-foot holes at the Adidas Terrex course with relative ease, only slipping up with an OB green hit on hole 13 and a couple stray upshots down the stretch.
"I've been throwing in a couple painkillers and it's feeling way better now than day one," Lizotte said. "…I hope it's not just the painkillers that make me feel better. Hopefully it's actually getting better, but my drives were strong."
Forty percent of the field made the cut, with a few well-known players just squeaking into their Sunday tee times. Zach Melton tossed a 7-under par 55 to move up 25 spots, while Jeremy Koling's 3-under par showing took him to a 1-under par total and one stroke above the cut line. Indiana pro Paul Oman, who was under the line entering the round, fired off a 10-under par 52 to move into 42nd place and live to see another day.
"I tried not to let [the prospect of a cut] bother me too much," Oman said. "I had a really good card, everyone was really chill and really supportive of how I was playing, and I was trying to do the same thing for them. Just a casual round in Vegas. Finally got the weather we all traveled here for."
With play moving back to the Innova course, McBeth was looking to improve on a third-round showing that he called "chundery." He said he missed a few "weird putts," but that driving would have to be his forte if he wanted to make a comeback.
"I mean, I'm gonna have to be aggressive," McBeth said. "I think Innova plays to my strengths, I play well there. I didn't play great in the wind, at least down the finish [Friday], so look forward to correcting that [Sunday] and making a charge on that lead. Especially being on the lead card, I can put a little more pressure on the fellow players."
The Open lead card tees off at 1 p.m. local time, with real-time scoring and statistics available at UDisc Live.