Changing Lanes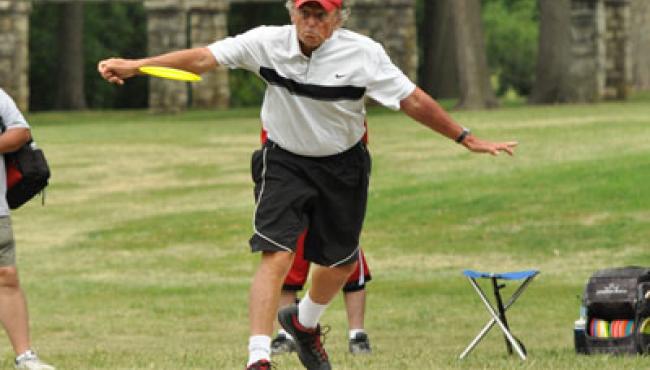 It was movement day at the 2013 PDGA Amateur and Junior World Championships in Emporia, KS. After the second day shuffle players have begun to get everything rolling. On this day in particular movement was not that common, as the leaders in most divisions held onto and extended their leads.
The big change noticed on the leader board happened in the Advanced Women division. Here the leaders battled all day resulting in Kimmy Jones of Anthem, AZ holding onto the lead by two throws. This was not an easy feat though as the day's rounds went back and forth until the last putt dropped in.
To start off the day Jones held the lead, but Colleen Thompson of Normal, IL played very well in the first round. Meanwhile Jones struggled all morning and steadily fell behind as Thompson charged forward. Thompson shot a solid round in the morning beating Jones by 7 throws. It gave her the lead by a five throw margin. Although this lead seemed large it quickly diminished.
Thompson struggled while finishing her second round. She held a comfortable lead with four holes left after hammering a rare three on hole five, a difficult par four.  From there she gave up seven throws to Jones in four holes and fell behind by two throws to finish. Four of these throws came from a very unfortunate series of events on hole nine. Thompson found herself in trouble off the tee and never recovered. She carded an eight for the hole while Jones earned herself a four. This late round swing set Jones in the lead heading into tomorrow and Thompson was left with a bad taste from the snowman.
With only two days of action left Jones and Thompson are in for a battle. Since there is only a two throw separation between them anything can happen. Another notable performance is that of Nicole Cazares of Houston, TX who sits just three throws from the lead and one throw from second place. This race is tight and anything can happen.
On the Advanced Men side of the tournament changes were made to the pools last night and reassignments were handed out. Our leader heading into the morning round has had momentum on his side for the past two rounds. This round was no different.
Steven Jacobs of Gurnee, IL built on his lead this afternoon shooting a solid -10 distancing himself from his closest competitor to a six throw lead. He played a flawless, bogey free round and set himself even closer to the victory podium. If he keeps playing with the quality and intensity that he has been, no one will be able to touch him for the rest of the week. He smoothly smashed huge shots, sank putts from inside and outside the circle, and never made a mistake. There are still three possible rounds left if he makes the finals and anything can happen in this division as well.
In the Advanced Masters division Keith Walker of Yukon, OK held his lead yet again and even added a throw to the total separation. He now holds the lead by six heading into round six and day four. If he continues this dominance no one will have a chance to catch him.
The Advanced Masters Women division was a different story. Here Michelle Jones of Macon, GA entered the day holding the lead by one throw. She played extremely well against her division and beat every person but one. This one throw differnce was all that was needed to tie the match up. First day leader Trina Lettig of Mesa, AZ worked her way back to the top of the leader board and now she finds herself tied for first with two more guaranteed rounds to go. Tomorrow will be the day for these women to make few mistakes and play smart golf in order to establish and grow a lead.
Another noted lead change happened in the Advanced Grandmasters division. Here Kansas native Tom Butler entered the day leading the division, but that quickly changed. Butler struggled to get going today and managed to lose his lead and find himself down by six when the sun set on the course. When the cards were turned in Ron Robertson of Saint Louis, MO pushed his way to the top. He now leads the division by two throws.
In the Grandmaster Women division SueB Lande of Laporte, CO still stands on top. Today she grasped that lead and held onto it. She is currently ahead by one throw.
The only other notable change happened in the Advanced Senior Grandmaster division as Charles Chung of Coweta, OK stormed the leader and shot the hot round in his division, jumping from fourth to first. He now sits three throws above second place and left the course this afternoon with a huge smile.
In the remaining divisions the leaders did nothing but extend their lead as the day went on. The stunner is Austin Pfaff of Fredricksburg, VA shot a smoking hot ten under at peter pan. This shot him out of reach for the field and gave him a huge 15 stroke lead heading into Friday. 
The Advanced Legends division was no different. Here Augusta, GA native Pete May never took his foot from the throttle. He is steadily leaving the rest of the Legends in his dust. He consistantly hit the fairway, made his putts, and threw a very solid approach game. May now finds himself sitting comfortable in the lead with a seven throw lead.
With leaders changing or running away with the race some divisions and tight races developing in other divisions, this Amateur and Junior World Championships has not disappointed. It has shown us the great players in nearly every division and has shown the world that even the kids came out to play.
Tune in to pdga.com tomorrow to check in on scores or watch the live scoring as it unfolds. Also be sure to check out the latest photos of the event on the PDGA Tour Flickr feed.