The First Crowning at Crown Point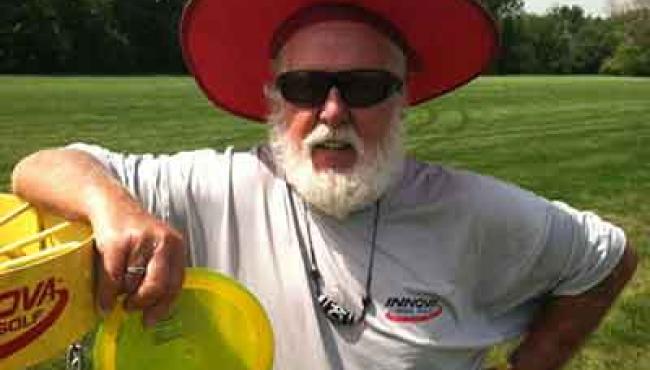 Another beautiful day of weather filled Crown Point, Ind. and surrounded the players of the 2013 PDGA Professional Disc Golf World Championships with high spirits. Friday represented the final day of the Worlds competition for the majority of players. For the rest, Saturday was more than just a dream it was becoming a reality.
With three days of tournament play under their belts and only Friday to go before semi-finals, it was the day to make a move or sit back and watch the world champions get crowned. Friday also represented the day to crown the very first 2013 World Champion. 
Since the Senior Legends only had three competitors there were no finals required. With the small division size and the age of its competitors they only played four rounds. Throughout these four rounds a winner was well defined. 
Raymond Carr is the 2013 Senior Legends World Champion. His solid play during every round had him well on top of the rest of his division, handily beating his closest competitor by eight throws. Carr nearly swept his division this year but his final round cost him the broom ceremony. At that point he already had the necessary lead to coast to a World Champion title. 
In the Open Men division the race continues. Paul McBeth continued to reign over his division as he battled his way through the day. He is playing some incredible disc golf  and is looking quite unstoppable. He has made very few mistakes throughout the week, and when he has made a mistake he has immediately recovered. 
Although he is playing such stellar disc golf there are still competitors very close behind. He is followed on the lead card by Nikko Locastro who is two back, Will Shusterick who is three back, and David Feldberg who is four back from the lead. This card is holding this event's most consistent top competitors and will be sure to put on a show. Every competitor on the top card has a great chance of posting a comeback and taking home the 2013 World Championship title.
The Masters division is also in the middle of a tight race, heading into Saturday. Here Barry Schultz and Ken Climo are pretty much in the lead outright. They hold a solid lead over the majority of their field after Friday's action.
The Open Women are facing a similar situation. In this division Valarie Jenkins stands alone on top. She has a two throw lead over her closest competitor and enters Sunday with a desire to win her fourth title. She is followed immediately by both Ragna Bygde and Paige Pierce who stand at 16 under par.
These Women are not the only competitors nearing the end though. The Master Women have developed quite the race heading into Saturday. Currently Annie Kreml and Barret White stand tied for first with a total score of four under this far. This tournament, they are the only masters women under par. They have the final nine left to determine the champion and soon a victor will be defined.
The Grandmaster Women division is led by Sandy Gast and heads into Saturday's finals with two people on the card. Their race is no longer close since Gast has placed a large margin of victory between herself and her closes competitor Kathy Hardyman. 
In the Senior Grand Masters Division Johnny Sias has been playing some incredible disc golf. He has lead the pack throughout the entire event and now stands four throws ahead of his closest competitor, Rick Voakes. His lead had been larger but Sias slipped during the final round on Friday and let Voakes gain some ground on his lead. Their semi-final round at 8 a. m. tomorrow may make a big difference in the crowning of the 2013 World Champion.
Disc golf can be any person's sport regardless of age or gender. This final group of competitors represents a field of players who are well beyond their prime yet they have been a very competitive group.  Peter Shive stands on top of this field with an amazing lead over his closest competitors. His lead over the rest of the pack is amazing considering the courses and the field of competitors present at the 2013 PDGA Professional Disc Golf World Championships. The Legends final round represents a chance for Shive to extend his lead and an opportunity for second place finisher Jack Gilmore to cut into Shive's lead.
Lemon Lake Park and Hidden Lake Park have played wonderful hosts to this amazing event. The weather in Northern Indiana could not have been better. This tournament is winding down to an end but Saturday brings the day of the most excitement and drama. Discs are sure to fly further, birdies are going to be more common, and champions will be crowned.
Be sure to follow on the day's action through the PDGA live scoring or check out the live stream of the rounds on discgolfplanet.tv. Also, be sure to check out the PDGA Tour feed on Flickr.