Bowling Green Amateur Championships Preview
One of the longest running events in the DGA/PDGA history is the Bowling Green Open, starting in April of 1978 and continuing each year in what has become a favorite destination for disc golf players each spring.
 Split into two events since 2000, an amateur weekend (April 3-4-5) and a professional weekend (April 25-26), the amateur event is considered the Daytona 500 of Disc Golf.  With upwards of 700 players, a week full of preliminary disc golf events, a dozen courses in the area to enjoy, and spring flowering trees, and once cut grass fairways in the mid-south,  this early season event is a must to test your game against the largest amateur fields on tour.
Hosted by the volunteers at the Bowling Green Disc Golf Club this year will include ten courses played by recreational, intermediate, and advanced amateurs from across North America.  The week kicks off with doubles hosted by various disc vendors during the week, and on Thursday night the Bud Light Lime putting contest at the clubs favorite pub (with chipping and putting course out back under the lights).  Players can check in any evening during the week to get their program, and with no players meeting, you can practice up to tee time Friday afternoon at 2pm.
PDGA Scoring/Registration Page 
The PDGA staff will on hand to handle scoring as well as doing the pre-seeding based on ratings prior to the event; players will know their course early in the week.  New this year is Manufactures Night Friday evening, where players will visit the major manufactures tables at the Plaza Convention Center to pick up players package discs, and ask the experts about products and services.  Also, in addition to a couple of bands there will be plenty of room for the indoor putting contest.
Gateway, Discraft, Innova, DGA, and Latitude 64 are all providing special release and custom stamped disc for the first 500 players registered, and all players will get a players' package with 5 disc and more.  So sign up early to insure the top package. A special arrangement for the area players that are not able to participate in the whole event:  a Saturday Trophy only round will be available with the players' package and party passes included. 
After the rounds on Saturday the famous Fly Mart and Players Party is back, with disc golf related retailers from across the country bringing new items, collectors items, clothing items, and more.  Described by some vendors as a feeding frenzy, if you can not find it here it likely does not exist.  The players' party at Nights of Columbus Hall will have a couple of new area bands, and an accuracy contest featuring a new release disc and baskets to win for each division.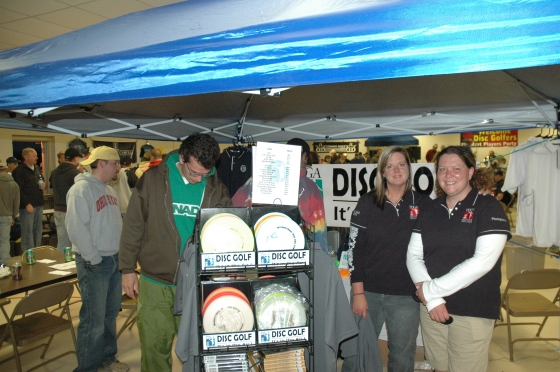 All players will still be in the running Sunday morning as each group on each course will play for a disc with in their foursome.  The top players in each division will compete in a final nine, set up behind the Convention Center on a ball golf course prior to the awards, which will include trophy baskets for the five largest divisions. 
Hotel information and constantly updated schedule of the week's activities are available at www.bluegrassdiscgolf.org/BG-Ams . 
Additional information:
Questions to Club Communications Officer – JD Hazel   [email protected] 270-799-4208
Sponsors and Fly Mart Club Services Officer – HB Clark   [email protected]  270-843-3313
TD and Club President - Rudy Davis   
Registration and Club Treasurer – Chuck Ridgeway
Course Prep and Parks Liaison Officers - Steve Newton and Jeff Soule
And the dozens of BGDGC club members working prior and during the event to be your host.