Beach Breaks Out, Lands On GBO Lead Card
Beach Breaks Out, Lands On GBO Lead Card
Pierce holds one-shot lead heading into final round
Saturday, April 28, 2018 - 00:36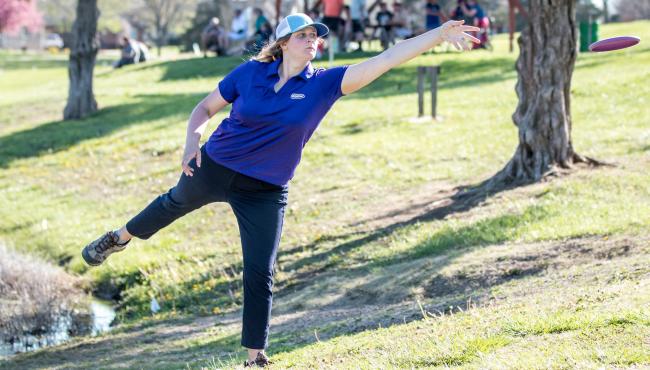 EMPORIA, Kan. – In a field stacked with disc golf's most prominent women's competitors, a young left-hander from Iowa stole the show Friday afternoon during the Dynamic Discs Glass Blown Open.
Nineteen-year-old Emily Beach tossed a 2-under par 57 at Jones East Park to jump into second place in her first career PDGA National Tour event. The Oklahoma-born pro trails Paige Pierce – who struggled mightily during a 2-over par performance, but still holds the overall lead – by one shot, while Sarah Hokom moved up five places on the leaderboard after her own 2-under par showing. She's tied for third with Lisa Fajkus, who moved to 1-under par through 36 holes, with Jessica Weese moving into the top 5 with an even-par total.
Beach, who sports a resume that includes a second-place finish at the 2017 Kansas City Wide Open and a handful of B and C-Tier victories, admitted that she was surprised by her performance thus far in the tournament. She came in with her 874 player rating hoping to finish somewhere in the middle of the pack, and instead has used a 90 percent circle 1 putting rate to stay in contention.
"This is easily the hugest FPO field I've played in and largest tournament I've ever played," Beach said. "…It's just a little shocking. I've been a lot more than what I expected in myself."
Beach has been playing disc golf for four years, but said she has been around the sport her whole life. Growing up she caddied for her dad and was always encouraged by female disc golfers in Oklahoma – she specifically mentioned world distance record holder Jennifer Allen as a positive influence – before relinquishing her participation in basketball and softball to dedicate herself to the sport.
Now, she's relying on a powerful, accurate game to hang with the best women in the world. Beach leads the field in parked shots for the weekend (28 percent) and is third in hitting circle 1 in regulation (33 percent). Her Jones East performance was markedly different from her round one tilt with Swope Park on Thursday, where she said she mostly played safe shots.
"Today [at Jones East] I felt really good, like I could really attack the course," Beach said.
Hokom, meanwhile, scrambled effectively and only carded one out of bounds shot on the day. Her ability to save par signified a drastic improvement over day one at Swope; there, she only converted on 43 percent of her scramble attempts, whereas at Jones she made good on 78 percent.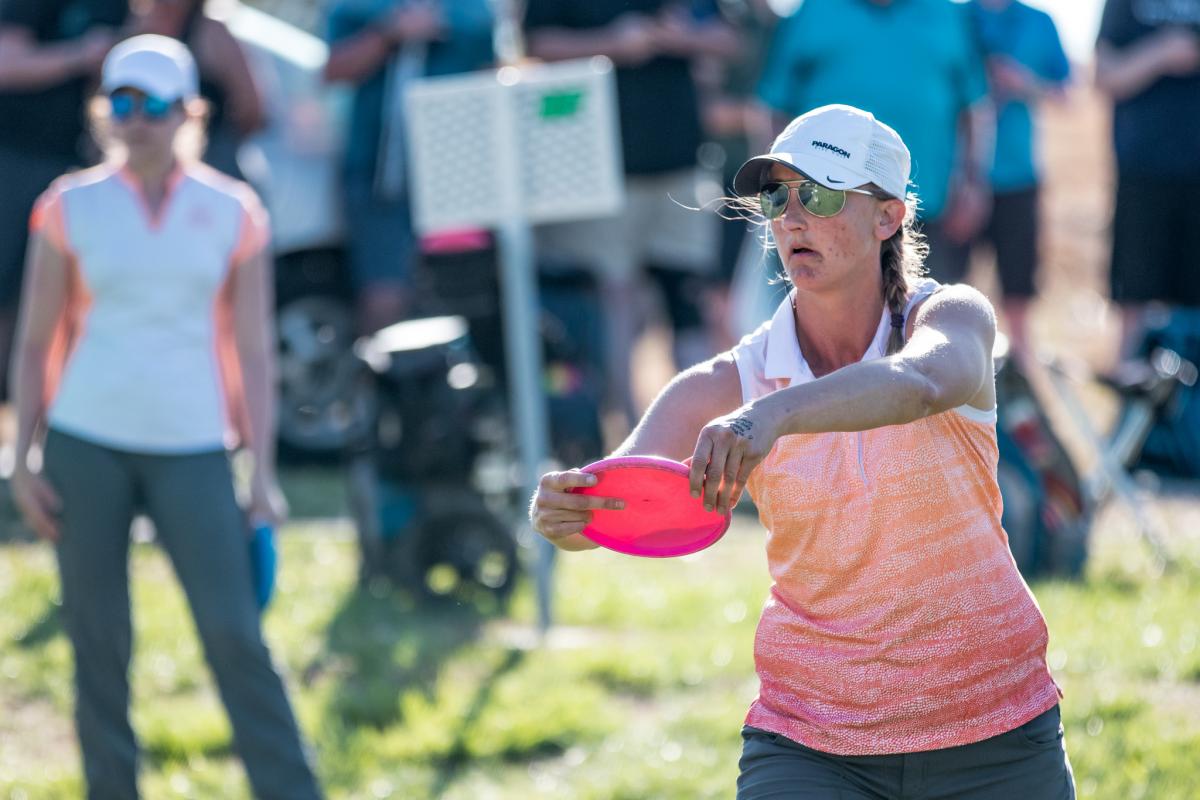 Pierce, who said after Thursday's round that she planned to dial up the aggression at Jones East, paid for her attempts at going big. Her three OB shots were more than the rest of the top 5 combined, and she only converted on 68 percent of her putts from inside 10 meters. She salvaged some strokes by landing three shots from beyond the arc, and then parked two of the last four holes to get back into the lead.
Elsewhere on the course, a couple of Oregon pros and an Emporia local rocketed up the standings. Four-time PDGA World Champion Valarie Jenkins moved up four spots and into an eighth-place tie with Andrea Eads, while Zoe Andyke climbed five places to sit in 10th. Paige Bjerkaas, who struggled on the putting green during round one, improved to 81 percent on the day and jumped into 13th place.
Now Beach will attempt to pull off the unthinkable: upsetting the world's top-ranked women's player in her first high profile event. She admitted that she would be nervous to start play at Peter Pan park Saturday afternoon, but that she wasn't going to just settle for being happy to be there. She wants to win.
"I'm kinda trying to stay cool and calm and collected the best I can," Beach said. "Still, something inside of me is screaming with joy."