AW2010 Preamble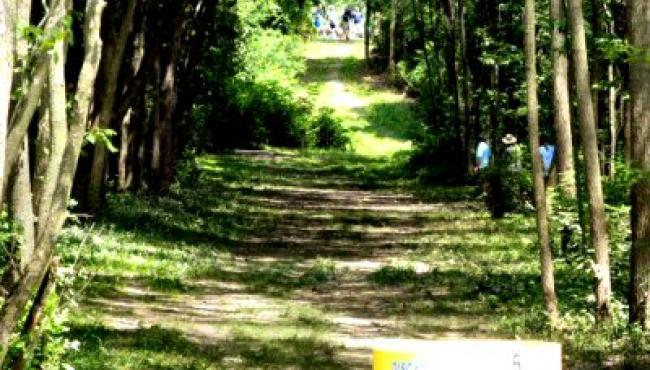 David Wiggins Jr & Andrew Coggins win Junior Doubles (MJ1)
Preliminary events are already underway for the 2010 edition of the PDGA Amateur & Junior World Championships in mid-Ohio while preparations are still in progress to get ready for the official start at the Player Meeting tonight. The courses are prepped, the schedule solidified, the banners ready, the staff has arrived, water jugs are filled, the player packs stuffed and the motels are full. All six courses in Marion, Bucyrus, Upper Sandusky, Tiffin, Galena and Delaware will be hopping starting tomorrow. Preregisterd attendance is 515 if all show up on their tees Tuesday morning.
The volunteer staffers are shown busily stuffing the player packs to be revealed today as players check in.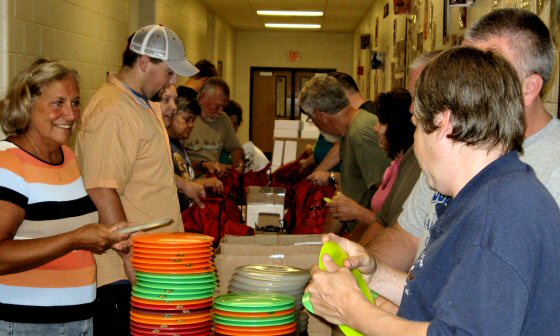 The Doubles event kicked off the festivities Sunday at Tiffin where 16 Mixed and 11 Junior teams played the Best Shot format. Then, they traveled 20 minutes south to Upper Sandusky to play Alternating Shot for the Am World Doubles titles. The team of Pawel Hanczaruk & Ania Knapinska came from three back with the best Alternating Shot round of 59 to nip Bruce Brakel and daughter Kiralyn to win Mixed by one.
Sixteen year old Kiralyn rips her upshot on the 540 ft, hole 7 at Upper Sandusky while Bruce and the third place team of Maija Morton & Reid Jenson watch.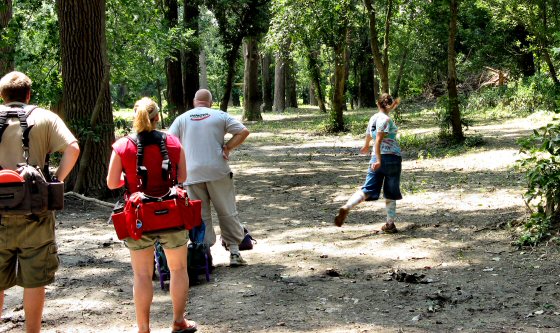 In the Juniors 13 & under division, Triston Covington & Andrew Kaluk scorched the short red tees at Tiffin with a Best Shot 41 in the morning and held off Nicholas Duran & Brock Dowell by three for the win.
Here's Nicholas holing out on #6 at Upper Sandusky during their comeback attempt.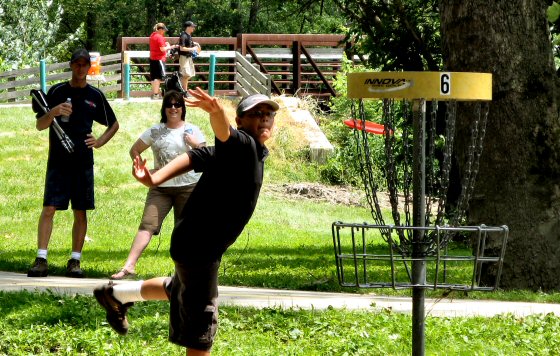 The youngest team of Harley Payne (11) & Bobby Bryant III (9) shown below gave a great effort against the two "older" teams in 13 & under.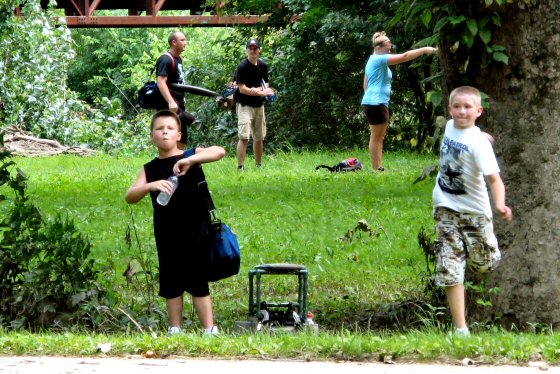 TD Ken Rollins in red is giving final instructions to staff, marshals and course TDs at the OK Cafe. We are ready to rock 'n' roll at the 2010 Am Worlds!