Am World Doubles Takes Texas by Storm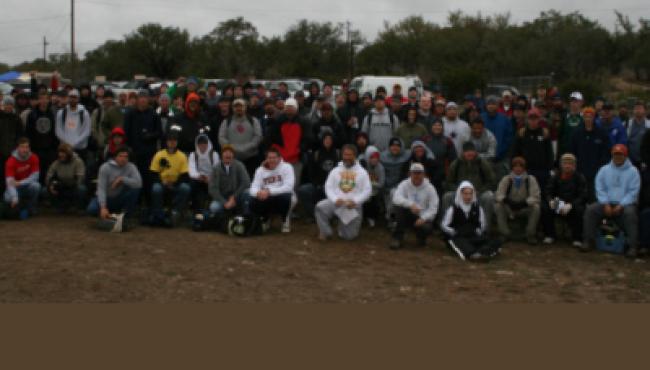 There was no dust to settle-- as both courses remained soggy -- and by the end of the final rounds, two of the five divisions were still undecided.
The Advanced Grand Masters came in first. Arizonans Jamie Leflang and Bob Michael had made up a stroke on the last hole of regulation to tie Austin's Mark McCrimmon and Dan Mueller. When the Intermediate cards came in, Travis Koehring and Logan Moody?s smoking 27 earned them a tie for first with fellow Oklahomans Scott Thompson and Weston Moody (of a different Moody family). The playoff format for this event has always been sudden death Best Shot, and so all four groups headed back out, with the sun finally shining down and the clouds finally drifting away.
Leflang/Michael and Koehring/Moody prevailed, each after just two holes.  They all claimed their first World Doubles titles, joining Kris Hartley and Randy Moreno, who held off the field by a stroke in Advanced; Paige Pierce (now a three-time champion) and Haleigh Shepard in Advanced Women; and Barry Pierce (of the same Pierce family) and Stuart Doing in Advanced Master.
By the time the awards ceremony came around, the skies were blue and cloudless, and the parched ground was almost dry again.  Nine players had claimed their first PDGA World Doubles title from the field of 210 players.  And two players had carded aces:  Mark Hill on Hole 7 of the Circ Hill course (different Hill family), and Jason Winkel on Hole 10 on the hill.
---
After more than a year of severe drought, residents of Central Texas were thrilled to finally see rain showers headed their way, and many prayers were finally answered. But anyone looking forward to the 2009 PDGA Amateur Doubles Championships immediately noticed a problem with the weatherman's plan. Those who were so inclined began praying for the rain to move through before the weekend. And it looks like their prayers were answered, too.
By tee time Saturday morning, the 206 players were enjoying dry but unseasonably cold weather at the Circle R Disc Golf Ranch in Wimberley. The rain had moved on, and so had the 80-degree days of the last several weeks.  The morning featured cloudy skies, soggy fairways, and temperatures in the low 40's. Randy Moreno and Kris Hartley seemed to enjoy the conditions just fine, jumping out to a four-stroke lead in Advanced. In Advanced Women, Tracy Petre and Tiffany Brogdon staked themselves to a three-stroke advantage over defending champ Page Pierce and new partner Haleigh Shepard. In the B Pool, Travis Koehring and Logan Moody held a one-stroke edge on the intermediate field.
In the C Pool, the early leads went to Arizonans Bob Michael and Jamie Leflang in Advanced Grandmaster, Californians Gregory Lewis and Gregory Velarde in Advanced Masters, and three teams in Intermediate: Weston Moody-Scott Thompson, Ben Cole-James Gauthier, and Mark Hill-Mike Glass.
This year's field includes players from California, Missouri, Arizona, Louisiana, Michigan, Washington, Arizona, Florida, North Mexico, Minnesota, and Alaska. All 103 teams will play a round of Best Shot, a round of Alternating Shot, and a round of Best Disc. Teams making the finals will play Best Shot, Best Disc, and Worst Shot.
PDGA Scoring: http://www.pdga.com/tournament-results?TournID=8398