Aced and Confused: 2015 Amateur World Doubles Champions
Aced and Confused: 2015 Amateur World Doubles Champions
Sunday, May 31, 2015 - 23:29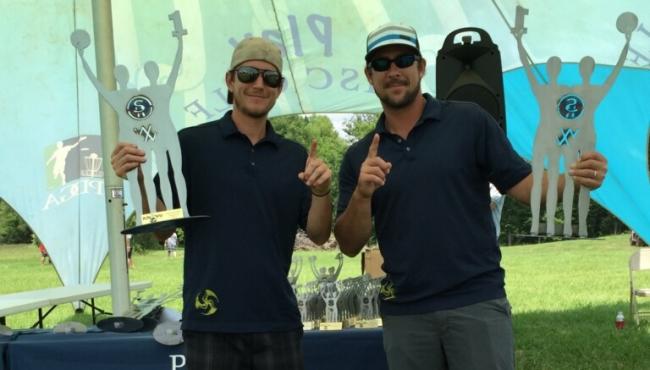 The 25th running of the Amateur World Doubles Championship came to an end today at the beautiful Selah Ranch complex in Talco, TX. After a rough start to the weekend weather-wise, the sun finally came out to shine down on the doubles teams for their last day of disc golf. The thunderstorms of the days prior meant that a full round would be played by all the teams this morning, instead of a final nine for the top teams in each division.
Aced and Confused, a team made up of Dylan Marez #35169 and Zach Doggett #34312, are no strangers to the four championship courses of Selah Ranch and Trey Texas Ranch. These two disc golfing buddies from Dripping Springs, TX are no strangers to playing those courses in unfavorable conditions either. The weather at this same event last year was disastrous, yet Dylan and Zach were still able to finish in third place.
This year they came back even more motivated. Going into the final round, they were tied with the North Dallas Baggers with only 18 holes of Alternate Shot remaining. All four players were shooting extremely well and neither could pull away from the other. Through 14 holes, they were still tied.
The long and difficult par 5 of Hole 15 would be the game changer.  Aced and Confused carded an impressive birdie, gaining three stokes on the North Dallas Baggers who took an unfortunate double bogey. There was no coming back from the damage it caused. Even with a bogey on 18, Aced and Confused were able to tap in for the win.
A huge thank you goes out to the team from Straight Line Discs. Without the dozens of hours of hard work, both on and off the course, this tournament would not be possible. They were able to keep everything on schedule and under control even with the weather forcing some major changes to the plans. And they did so with a smile and a positive attitude that helped keep everyone calm.
Full results from the 2015 Amateur World Doubles Championship are posted on the PDGA.com results page. Safe travels to everyone and we'll see you at Selah next year!