2019 PDGA Junior World Championships Underway
2019 PDGA Junior World Championships Underway
Record-breaking number of junior competitors make the trek to Emporia
Wednesday, July 10, 2019 - 11:14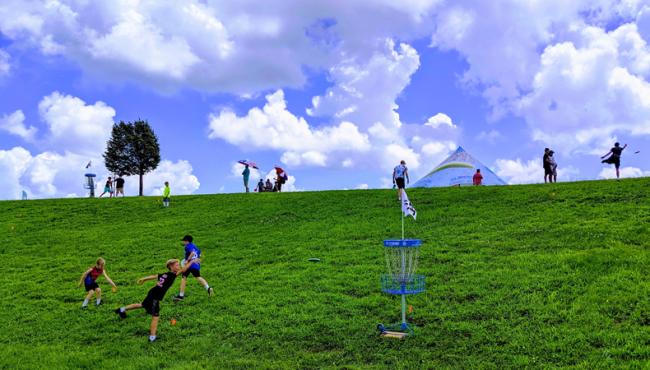 After a weekend of fun that included divisional doubles and field events, a record-setting number of junior competitors are now on the courses of the disc golf mecca that is Emporia, Kansas for the opening rounds of the 2019 PDGA Junior Disc Golf World Championships presented by Dynamic Discs. For the remainder of the week, 210 juniors representing eight countries will compete for the title of world champion across nine divisions ranging from 8 & Under to 18 & Under.
With such a wide range of ages and skill levels, many courses have to be used despite having a relatively small field. More courses means more work, as more course coordinators, spotters, volunteers, etc. are needed, not to mention the staff needed for the never-ending job of making sure there is plenty of water available on the course as the players battle for a week in 90+ degree temperatures. But this is Emporia, a town that embraces and supports disc golf like no other. The amount of people involved between the staff and volunteers is simply astonishing, giving the competitors an experience they won't get very often anywhere else in the world.  
Junior Worlds, much like the PDGA Amateur World Championships, is a brutal test of endurance and patience. Many of the divisions will be playing a total of five rounds over the next three days, and those that do well will still have to face a full semifinal round of 18 and/or an additional 9-hole final. Knowing and understanding that one bad hole or even a bad round early in the week is a key factor in finding success in the end. There is always, for most of the event anyway, a lot of golf left.
Dynamic Discs and the City of Emporia have once again made sure that the tournament is only part of the fun for the juniors on site, as there are seemingly endless activities available each night and dozens of local businesses offering discounts and packages for Junior Worlds competitors. Whether it's Kids Design Discs Contest at the Emporia Arts Center, Mini Disc Golf at the Bourbon Cowboy, Junior Worlds Night at the David Traylor Zoo, etc., there's always something to entertain the kids and their parents alike. They can even take a tour of Emporia State University with former ESU student and current PDGA Open Women's World Champion, Paige Bjerkaas.
It's going to be a long week so stay tuned for lots more coverage to come and don't forget to follow the hole-by-hole scores on pdgalive.com throughout the week.
Quick Links
2019 PDGA Junior Disc Golf World Championships