2019 PDGA Majors Announced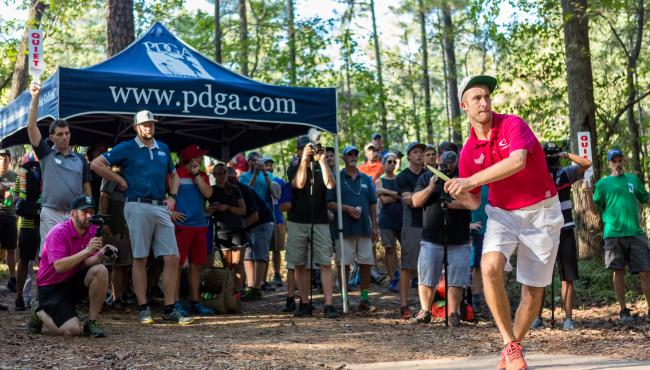 PDGA Major Events are the premier national and international competitions for the sport of disc golf each year, featuring the world's best disc golfers competing for World and National Titles in multiple skill, age, and gender-based divisions. These PDGA marquee events offer any city or town the chance to host an international sporting event in their community, drawing interest and attention to the location, and generating a significant economic impact for local businesses.
Hosting a PDGA Major is no easy task. Interest was shown from several involved local organizing committees (LOC), meaning the selection of these events was difficult as so many excellent bid packages were submitted. After much deliberation from the PDGA Staff and the PDGA Board of Directors, the Professional Disc Golf Association is pleased to announce the following 2019 PDGA Major Events. Drumroll please!
2019 PDGA United States Women's Disc Golf Championship
2019 Location: Spotsylvania, Virginia (10 bids received)
2018 Location: Lansing, Michigan
2017 Location: Johnson City, Tennessee
2016 Location: Sabattus, Maine
The USWDGC will be held in Spotsylvania, Virginia.  In yet another very competitive bid process for 2019, a fantastic proposal was presented by the Spotsy Disc Golf Club. 
Spotsylvania is the host to one of the largest Women's disc golf scenes in the World. The proposed TD for the 2019 event is Jeff Shattuck, with vast support from a stable of well-experienced TDs and organizers, including Bob Cannon (VA State Coordinator) and John Biscoe, the local Spotsy club, and also the Spotsylvania Tourism Department.  The proposed courses to be used in the event are private tracks at Cannon Ridge and Hawk Hollow, as well as the well-manicured Loriella Park. These courses provide myriad challenges, and are very highly rated by recreational players, as well as those with the competitive fire, and everyone in between. The proposed Host team has already begun installing new turf tee pads at each course, while also developing an extensive event schedule, chock full of fun and engaging side events for all competitors of the 2019 USWDGC.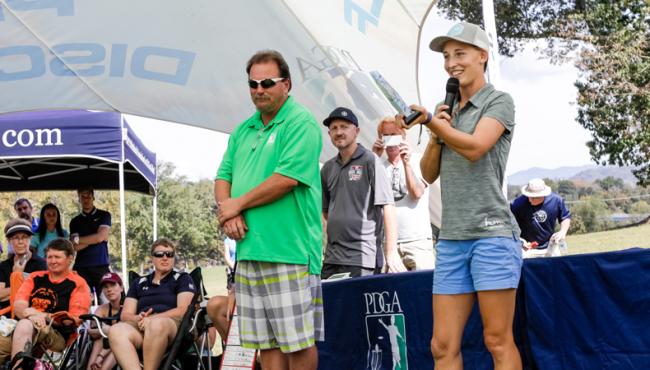 Not only will this event focus on Women's Disc Golf, but through a partnership with Empowerhouse, the hope is to also bring light to the struggle of domestic violence, extending a charitable arm to this important cause. Empowerhouse is a 501(C)3 nonprofit whose goal is to empower survivors of domestic violence and their children to believe in themselves and build new lives filled with dignity, respect, safety, and hope with a vision to create a diverse network of community members working together to promote safe relationships, homes and communities. The LOC has a hope to raise and donate $10,000 to this worthy non-profit organization on behalf of the USWDGC.
This is a new era for Women's disc golf, as female-only events and Tours have been popping up with regularity around the Globe. The addition of the PDGA Women's Global Event in 2014 and the October Women's Initiative has only strengthened female representation within the PDGA and sport of disc golf, so we are thrilled to be working alongside some of the leaders of this charge. In 2017 alone, the "Virginia Women's Series," developed by Carol Quinn, saw 249 players compete across seven events. This area is truly a mecca for women's disc golf, and we are thrilled to visit "Spotsy" in September 2019.
2019 PDGA Tim Selinske United States Masters Championships
2019 Location: Worcester, Massachusetts (3 bids received)
2018 Location: Crown Point, Indiana
2017 Location: Des Moines, Iowa
2016 Location: Stockton, California
The 2019 PDGA Tim Selinske US Masters Championships will be held in Worcester, Massachusetts and will be directed by the familiar Team at Maple Hill Farm, led by Steve Dodge, with vast support from the local disc golf clubs and Discover Central Massachusetts. Maple Hill is well-known as the host of the Maple Hill Open (previously Vibram Open). Some may remember the Marshall Street DG Championship (MSDGC), where the challenge extended across the street to include the Pyramids Disc Golf Course as well. Well, in 2019, competitors of the US Masters will be treated to a similar model to that of the historic MSDGC, offering play at both tracks.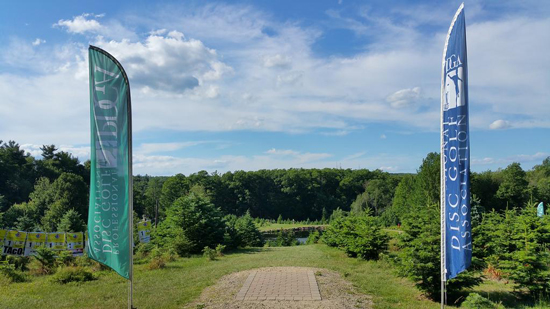 The event will also utilize a third course at Newton Hill Park in nearby Worcester. Maple Hill is widely known as one of the World's best disc golf courses, primarily seen on the PDGA National Tour and, more recently, the Disc Golf Pro Tour. Owned and operated by the Southwick Family, the Farm sits about 200 yards from another gem in the Northeast; Pyramids. Jason Southwick is opening his doors once again to the PDGA membership, and we couldn't imagine a better way to celebrate than to award this prestigious memorial event to the family on Marshall Street. If you have been, you know that the area is rich in disc golf and has some of the most well-maintained and scenic courses in the country. The competition will take place in early September 2019, and will offer qualified, age-based players the opportunity to play these two famous tracks, as well as enjoy the culture and diversity of Worcester and Massachusetts. We have no doubt that Tim Selinske himself will be smiling down on the players as another Major PDGA competition is hosted in his honor.
2019 PDGA Amateur Disc Golf World Championships
2019 Location: York County, Pennsylvania (6 bids received)
2018 Location: Charlotte, North Carolina
2017 Location: Quad Cities, Illinois / Iowa
2016 Location: Madison, Wisconsin
The Amateur Disc Golf World Championships will be held in and around York County, Pennsylvania and will be Directed by Pennsylvania State Coordinator Chas Ford with the support of a newly-formed event management company called simply "South Central PA Disc Golf, LLC". Assistance will be provided by the Gifford Pinchot Disc Golf Club (GPDGC) and York County CVB. South Central PA Disc Golf, LLC. was developed only recently with its primary goal being the execution and operation of a PDGA Amateur World Championship. With the inclusion of the surrounding Club officers and York County CVB come big ideas, and the idea to host a PDGA Major in South-Central Pennsylvania has been brewing for quite a while. The Championship will make use of many of the area's premier disc golf courses, and will offer an opportunity to not only show off the stout disc golf history of the Mid-Atlantic area, but also to put on display the area itself, which is only enriched by the inclusion of the surrounding communities such as Hershey (think chocolate), Gettysburg (think Civil War History) and Lancaster (think Amish Country), to name a few. Courses to be used will include those at Gifford Pinchot State Park, Codorus State Park, Muddy Run and also some new gems. Those who attend the event will quickly discover why this area has long been seen as a hotbed for disc golf activity. The 2019 Amateur World Championship will be held in mid-July.
2019 PDGA Junior Disc Golf World Championships
2019 Location: Emporia, Kansas
2018 Location: Emporia, Kansas
It was decided by the PDGA Board of Directors at the 2016 Fall Summit that the Junior divisions have been experiencing enough popularity and interest to warrant their own, stand-alone World Championship competition. In a proposal submitted to the BoD earlier in 2016, Doug Bjerkaas and Jeremy Rusco of Dynamic Discs in Emporia, KS. offered to play host to the Junior World Championships for a period of three years, at which time the event would undergo further evaluation and consideration to be bid out to other venues in the years following. This proposal was approved unanimously by the BoD. Therefore, the inaugural PDGA Junior Disc Golf World Championships will be held July 9-14, 2018 in Emporia, KS. and will be hosted by the superb event team at Dynamic Discs, and will follow suit July 7-13 of 2019.
2019 PDGA Professional Disc Golf World Championships
2019 Location: Peoria, Illinois (2 bids received, Open + Open Women only)
2018 Location: Smuggler's Notch, Jeffersonville, Vermont (Open + Open Women only)
2017 Location: Augusta, Georgia (Open + Open Women only)
2016 Location: Emporia, Kansas (All professional divisions)
The 2019 PDGA Professional Disc Golf World Championships will be held in and around Peoria, IL., and will be directed by Nate Heinold. Nate, along with vast support from the surrounding disc golf Clubs and CVBs, have garnered an international reputation for hosting top-notch disc golf events, including the Ledgestone Insurance Open, which has drawn nearly 1,000 players to the Peoria area for the last several years. The 2019 Pro Worlds will be held in mid-August, and will feature such tracks as the highly-acclaimed temp course at Lake Eureka, Northwood Park and Sunset Hills. Understanding the realized value and financial impact of the most recent iterations of the Ledgestone, it should be easy for players to see why Nate has big goals for this event. He is a TD that sees the devil in the details, and is always pushing to be the best, while providing safe and fair competition. We expect this crew to produce a phenomenal Pro Worlds to remember.
2019 PDGA Pro Masters Disc Golf World Championships
2019 Location: Jeffersonville, Vermont (1 bid received)
2018 Location: Kansas City, Missouri
2017 Location: Grand Rapids, Michigan
The Professional Masters Disc Golf World Championships will be contested in and around the Smugglers' Notch Resort in beautiful Jeffersonville, Vermont and will be hosted by famed TD Jeff Spring, with support from the resort staff, the Green Mountain Disc Golf Club, the Vermont Tourism Department, and a bevy of local businesses. This full-service resort offers a "one-stop shop" atmosphere, providing accommodations, ancillary event venues and options, four full restaurants, a grocery store, festivals, daycare and most importantly, two VERY impressive disc golf courses: Brewster Ridge and Fox Run. The courses are the perfect complement to each other; Brewster is a clean and fair wooded course, and Fox Run is a long, more wide-open course with breathtaking mountain views and manufactured OB. Basically, once you get to the property, you will not have to (or want to) leave, except to visit the two other great courses to be used in the event, mere moments from the gates of Smugglers' Notch.
If you have ever attended the Green Mountain Championship, then you are no stranger to the myriad social opportunities associated with an event at "Smuggs." This event promises to be packed with great disc golf as well as some enticing ancillary events. Typically an event only seen by elite professionals as part of the Disc Golf Pro Tour, this Team from Smuggs' and the surrounding areas welcome qualified, professional, age-based PDGA members to Vermont, and can't wait to provide the opportunity to enjoy New England disc golf in this beautiful community. The competition will take place in June 2019 and will be an event you won't want to miss!
Congratulations!
Please join with us in offering our congratulations and support to the host communities of these PDGA Major Events, as well as the other PDGA Majors that are held at the same locations each year, e.g. the United States Disc Golf Championship in Rock Hill, South Carolina, the National Collegiate Disc Golf Championship in North Augusta, South Carolina and the United States Amateur Disc Golf Championship in Milford, Michigan.
We look forward to another exciting year in 2019!