2014 Am Worlds - Let's Do This!
On Tuesday July 21, 2014 at 8:00am CDT the first discs will be thrown to start off one of the largest events in disc golf, the 2014 PDGA Amateur & Junior Disc Golf World Championships . The Minneapolis/St. Paul area is hosting the event this year with 620+ competitors in 14 different divisions playing on eight courses spread out over a period of five days. Whether you're a player, a staff member, or a volunteer, your effort for the remainder of the week should be applauded. As a competitor, the amount of mental and physical endurance it takes to finish at the top of your division is unmatched by any other amateur event all year. As a staff member, the amount of work leading up to this event is mind-boggling, and it will only get more stressful and exhausting as the week goes on. When it's all said and done, it will all be worth it. This is Am Worlds baby!
The Schedule
Competitors at Am Worlds will play 1-2 rounds per day on Tuesday, Wednesday, Thursday, and Friday. After Friday's action is complete, the field is cut drastically for the semifinals round on Saturday morning. When the semis are finished, another cut of the field is made leaving behind only those few players that have the honor of playing in the Am Worlds Finals on Saturday afternoon. The Finals will be held at Como Park, a temporary course, set up in a way that maximizes space for spectators that want to come out and watch.
Some divisions are so large, e.g. Advanced Men, that they have to be divided into different pools. With eight courses being used for the 620+ competitors, it's easy to see how complicated the task of scheduling can be. For more information, be sure check out the complete 2014 Am Worlds Schedule of Events.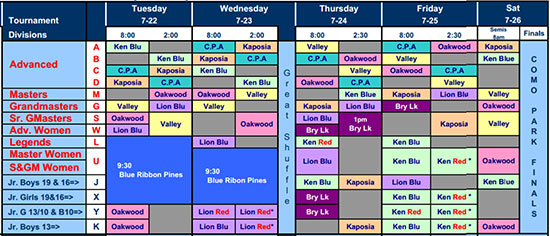 Download the 2014 Am & Jr Worlds Course Schedule & Assignments
The Courses
The Twin Cities has enough quality courses in the ground to match any metro region in the World and all 9 courses in play are within a half-hour drive from tournament headquarters at the Clarion Hotel in South St. Paul. The long tees on most courses were designed for the PDGA Blue (Advanced) Skill level and several also have a shorter layout with concrete tees. These courses are currently ready to host an Amateur & Juniors World Championship with only a few modifications or improvements required. Six 18-hole courses and one 24-hole course (tweaked to 18 holes) will be used this year. Each division will play at least four different courses during the six preliminary rounds before the cut for the semifinals. 
The Competition
As we all know, this is the PDGA Amateur World Championships. But what is an amateur exactly? One definition suggests that it means inexperienced or unskilled. Watch the finals on Saturday and you'll clearly see that definition disproven. Amateur as it pertains to the world of disc golf simply means that the competitor has never accepted money as a prize or payout at any PDGA sanctioned event.
But what about ratings? Isn't there a limit to how high your rating can be to compete in amateur events? Glad you asked…
Your PDGA Player Rating is in no way a determining factor as to whether or not you can compete as an amateur. A player rating has nothing to do with whether or not he/she ever accepted money as a payout. Ratings can affect what amateur divisions you can play in, but they can never affect whether or not you are in fact considered an amateur.
The Advanced Men division (MA1) is far and away the largest field, as usual. Of the 620 or so competitors this year, 46 percent of them will be competing in the Advanced Men's division. If a favorite had to be picked, Ronald Bieberitz #42564 would likely be the go-to based on his rating and his tournament history for the year. In 2014 alone, he's already racked up two 1st place finishes, 4th place in the Amateur Championship at Bowling Green, and 2nd place at the United States Amateur Disc Golf Championships. He's also the only competitor with a player ratings in the 990s, currently at 991.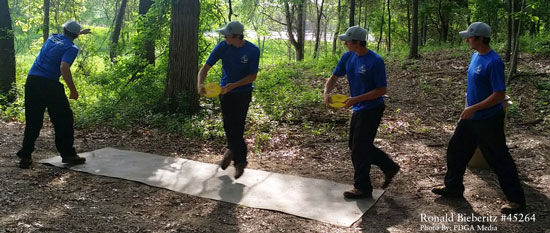 Bieberitz has a dozen players with ratings 970 and above to worry about, the most notable of which might just be Anthony Barela #44382. Not because Barela is 975 rated, but because he's just 14 years old and chose to play in MA1 instead of the age-based divisions he could have played in!
Speaking of youngsters, 15 year old sensation Nicholas Duran #28359 is seeking to win Am Worlds in what would be four different divisions now if he can pull it off. He's already won in 10 & Under (2007, 2008, and 2009), 13 & Under (2011), 16 & Under (2013), and now at only 15 years old he aims to take down the 19 & Under title. He'll have some serious work to do as Colin Bailey #52115, Nate Corder #44800, Triston Covington #44173, and Matthew Kashima #43528 all having ratings equal to or higher than Duran's 970.
The Advanced Women's division, much like the Advanced Men's division, has one player that would be considered the favorite based on ratings. Vanessa Van Dyken #62325 sits alone at the top with a rating of 895, the next closest women being Ania Knapinska #33679 at 880 and Samara Schrimsher #34889 at 871. The Advanced Women's division will be playing two rounds on the Lions Park Blue Course for their first day of the 2014 Am Worlds.
The majority of the remainder of the field comes from the Advanced Masters, Advanced Grandmasters, and Advanced Senior Grandmasters divisions, with 72, 70, and 39 players respectively. Check out the 2014 AM Worlds Results page for more information about each of the 622 competitors spread across the 14 divisions being played.
Coverage
Live coverage will take place via several different mediums throughout the week. Starting on Wednesday, live hole-by-hole scores will be up and running on PDGALive.com for at least the Advanced Men and Advanced Women divisions. As the week progresses and the lead groups from the different divisions began to pull away from the competition, we'll start adding more and more live scoring coverage. Rest assured that every single division will have live hole-by-hole scoring for the finals on Saturday July 26th.
Terry "The Disc Golf Guy" Miller #10738 and the rest of the SmashBoxxTV crew will be out all week providing live streaming coverage of the event on their YouTube channel. They'll be following the Junior divisions at Blue Ribbon Pines on Tuesday morning, with the rest of the week's schedule still up in the air. Like the SmashBoxxTV Facebook page and check in frequently for the most up-to-date information as to when and where they will be.
We'll also be providing live throw-by-throw commentary via @PDGALive on Twitter, which can also be seen in the feed on the left side of PDGALive.com. Follow @PDGA on Twitter and check out the PDGA's Facebook page for more updates about when and where that will be taking place.
We couldn't be more excited about the 2014 PDGA Amateur & Junior Disc Golf World Championships here in Beautiful Minnesota! We wish the best of luck to each and every competitor. We want to thank Tournament Director Mike Snelson #9537 and his huge crew of staff and volunteers for all the hard work they've done and all the hard work they still have to go. And of course, a huge thank you as well to all of the event's sponsors as well!
Photo credit: BlueRibbonPines.net