What it Takes to Win Worlds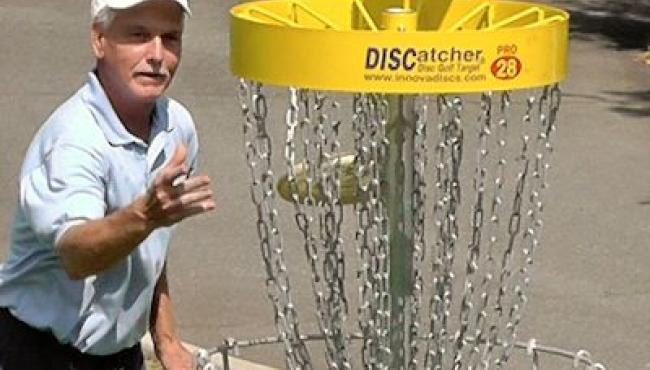 Lots of practice, tournament experience and, of course, shooting the best score in your division.
We prepared a chart showing some Pro Worlds stats for the division winners since ratings were created in 1999. Perhaps it will provide some guidance and hopefully inspiration for how well you might have to play to win your division this August or as you prepare for future Worlds as a pro. 
Open up the chart and check it out so you can play along during this discussion. The chart shows the rating the winner in each division had just before Worlds started, their average rating for their rounds thrown in Worlds and the difference in these two ratings. The rating of the player in their division who was the top seed going in is shown or the second seed is shown if the winner happened to be the top seed. This would indicate who, at least on paper, was their toughest competition.
In addition to Winning Margin, Field Size and Dollars won, the averages in several categories for the past five years are shown versus Pre-2008 to see if there have been any recent changes in performance.
Former Women World Champs Birgitta Lagerholm, Des Reading and Valarie Jenkins
Starting with the first page showing Open Women (FPO) and Open Men (MPO), there's some evidence that FPO has recently gotten more competitive at the top when we see four different winners in the past four years compared with 2 or 3 consecutive wins by three different women from 1999 to 2009. In MPO we know of the tremendous run by Climo in the 90s. But once we entered this century, only Barry Schultz had consecutive victories. Nate Doss is the only MPO to have won more than one title since 2005.
Another indication that field strength has increased is how much a player must play above their rating at Worlds to win. Scan down the Diff column which shows how much higher a player averaged at Worlds versus their rating before Worlds. Also look at the Recent 5-year and Pre-2008 averages for both women and men. At one time it was possible for a top woman to average lower than her rating and win. Not any more, at least since 2005. 
No man has shot below their rating to win Worlds since 1999. Doss broke through in 2005 as the lowest seed to win Worlds probably since before Climo's first title when seeding was only an estimate. Doss did it by throwing higher above his rating than any man up to that time. The winner of MPO has averaged 1051 in the past 5 years. Since no MPO has a rating over 1050 nor any FPO over 978, the winners of FPO and MPO this August will likely have to shoot above their rating.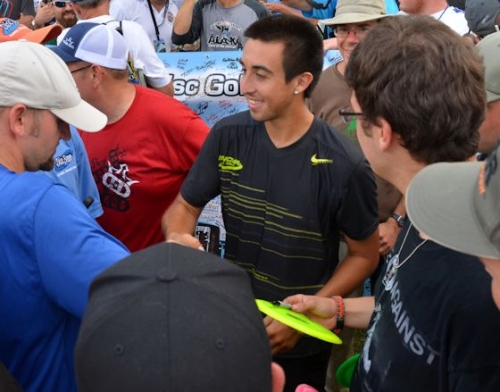 Defending World Champ Paul McBeth who threw highest rated round ever at 1132 in March
One interesting anomaly though is that Crown Point had the lowest FPO and MPO ratings for the winners in the past five years. Note that only the Gold course remains the same from 2010 so the other new and revised courses might change the outcome this time.
In scanning through the stats for the other divisions, the top seed hasn't been a lock to win the title in divisions with more than a dozen players during the past five years. The top seed in the small FPM division has been pretty certain to win by shooting their rating even though there have been five different winners in the past five years. Other than 2nd seed Barrett White who had to shoot above her rating to win in Crown Point (fairly close to home), the top seed has had a rating from 12 to 41 points higher than the 2nd seed each year of the past five.
The thing about ratings and Worlds is it's the toughest event each year to average higher than your rating. With six or seven rated rounds (8 to 9 in some earlier years), the law of averages will kick in over that many rounds and likely pull you back down if you have a hot start or help you bounce back if you start slow.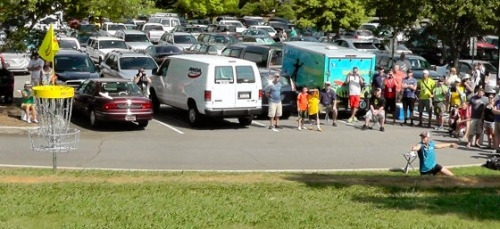 Defending World Champ Sarah Hokom with winning putt at 2012 Charlotte Worlds
Here are a few things that can help you beat the averages:
One is to practice to become better leading up to Worlds, not just play events. If you play your same game at Worlds and haven't tried to improve any elements, you shouldn't expect to average better than your current rating.
Two is to practice the courses at Worlds before it starts (no brainer).
Three involves a little luck where the Worlds courses suit your game such that your round ratings on courses like those at Worlds are already better than your overall rating which includes lower round ratings on courses less suited to your game.
2010 World Champions at Crown Point 
(top left to bottom right) Dr. Rick Voakes, Eric McCabe, Gregg Hosfeld, Jerry Robbins Sr., Don Dillon, Kathy Hardyman, Barrett White, Brad Hammock, Sarah Stanhope  Cunningham
These World stats might interest players who enjoy fantasy predictions. Here are the top seeds as of 7-25:
Women: Valarie Jenkins, Anni Kreml, Sandy Gast, Sylvia Voakes
Men: Ricky Wysocki, JohnE McCray, Jim Oates, Johnny Sias, Peter Shive, Carlos Rigby
I'm usually more successful at the track picking horses that show or place so I rarely try picking the winners. Based on the statistics for past five years, it would appear that just 3 or 4 top rated seeds among the 10 divisions might win. But which ones? Perhaps Kreml has the best historical odds with a 21 pt rating above 2nd seeded Barrett White. But then Barrett is defending Worlds she won there in 2010 as a 2nd seed.
So...
Well, make your guesses and join the fun watching the action at Worlds. If you're playing in Worlds, do what you can to play above your rating. I know I'll be trying hard as a rookie in MPS to even have a chance against those veteran top players. See you there.