Live Coverage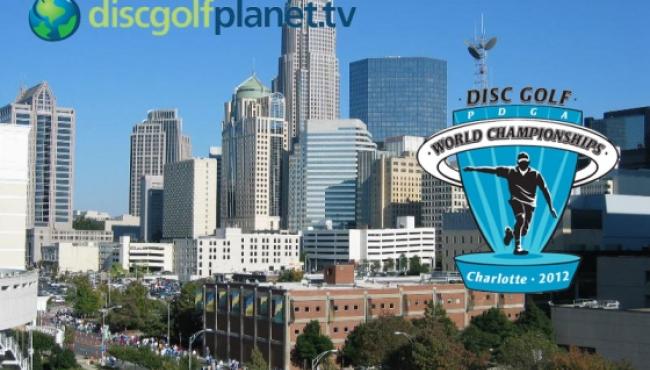 Though a record number of competitors are now flocking to Charlotte, North Carolina for the 2012 PDGA World Championships and the field sold out, the rest of the disc golf community will still be able to participate in the festivities by tuning into DiscGolfPlanet.tv.
DGPtv will once again be "Broadcasting the Best in Disc Golf" with plans to produce some 35+ hours of live Internet broadcasting throughout seven days of coverage.
"This is the biggest stage for our sport," explained John Duesler, Principal at Disc Golf Planet, "and we plan on matching the record setting field with the largest production team and widest amount of disc golf coverage we have ever offered to viewers from around the world."
Programming of the 2012 PDGA Worlds will begin on Sunday at 8pm with the putting competition held at the Renaissance Park tennis complex, where some early World Champions will be crowned. Monday features a Press Conference in the afternoon, and the 2012 World Championship Opening Ceremonies in the evening at The Blake Hotel starting at 6:30pm.
Throughout the rest of the week, the individual competitors in 24 divisions will take center stage. DGPtv plans on broadcasting a morning round starting at 9am Eastern and an afternoon round starting around 2pm Eastern from Tuesday through Friday. Then the entire day will be recapped during our World's Wrap-up show from 9:30pm to 10pm each night.
DGPtv will feature wall-to-wall coverage on Championship Saturday, when it will be on hand for the crowning of all 24 divisional World Champions as they putt out on the final hole of the week. The women's Open division Final 9 will begin at approximate 2:00pm, with the Men's Open Final 9 kicking off around 4pm on Saturday. The MPO Semi-finals will also be broadcast Saturday morning.
Exclusive coverage of the 2012 PDGA Disc Golf World Championships will be available via pay-per-view from DiscGolfPlanet.tv. There are four different price levels available, one for just about any budget. And if you sign-in now, you can begin celebrating the Disc Golf Worlds by watching the 2003, 2004, and 2007 PDGA Worlds shows, which are now available on the Video-on-Demand.
Disc Golf Planet's broadcast of the 2011 PDGA World Championships was seen by over 34,000 unique viewers in 147 nations. With the record-size of this year's event in Charlotte, the broadcast outlet is expecting another huge viewer-base for this historic event in Charlotte.