2008 National Tour Points Series Finale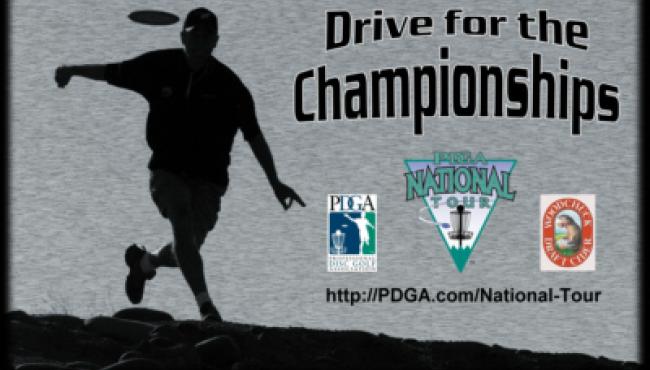 2008 National Tour Points Series
The Drive for the Championship - presented by Woodchuck Cider
The PDGA National Tour represents the top tier of professional disc golf events and was established in 2003 as a means of showcasing the sport of disc golf to the general public. 
The 2008 National Tour consisted of a series of nine events held across the country starting with the Memorial in Scottsdale, Arizona in March, and ending with the Vibram Open at Maple Hill in Leicester, Massachusetts in July. Competitors in these series events earned points based upon their place of finish, with the results of their top four finishes used to qualify for the inaugural Drive for the Championship, presented by Woodchuck Cider.
The Drive for the Championship consists of the PDGA Pro Disc Golf World Championships, the United States Disc Golf Championship (or) United States Women's Disc Golf Championships, and The Player's Cup. The top 30 Men and top 10 Women points leaders from the NT series are qualified and the series points from their four event qualifying total is carried forward and added to the three Drive events to determine NT cash bonuses and the title of PDGA Tour Champion for 2008.
Dave Feldberg holds a fairly comfortable lead in the Men's division thanks in large part to his world championship title and the very strong year he had in 2008. Coming off a huge USDGC win, Nate Doss looks to be the only one capable of catching Feldberg at this point, but he will need to finish at least 6 or 7 places in front of Feldberg at the Players Cup in order to capture the title. This will be a tough feat to accomplish as Dave is the defending Players Cup champion.
Valarie Jenkins holds a commanding lead in the Women's division with a 38 point lead over second place Angela Tschiggfrie. Valarie is having, what is without a doubt, her best year as a pro disc golfer having captured consecutive world championship titles.
Despite the large leads in the Drive for the Championship standings, there is still a lot of room for competitors to move up a few money spots so we can all look forward to some serious competition at the series ending, Players Cup on November 21-23 in Crystal River, Florida. Check PDGA.com for online coverage of the event, where we will be crowning the 2008 National Tour champions.
Current Standings (as of Oct. 28, 2008)
| | | | | | | |
| --- | --- | --- | --- | --- | --- | --- |
| Place | First | Last | PDGA | NT Points | Majors | Total Points |
| 1 | David | Feldberg | 12626 | 383 | 188 | 571 |
| 2 | Nathan | Doss | 11794 | 356 | 195 | 551 |
| 3 | Avery | Jenkins | 7495 | 376 | 158 | 534 |
| 4 | Steven | Rico | 4666 | 374 | 157 | 531 |
| 5 | Barry | Schultz | 6840 | 376 | 133 | 509 |
| 6 | Eric | McCabe | 11674 | 370 | 122 | 492 |
| 7 | Cale | Leiviska | 24341 | 338 | 127 | 465 |
| 8 | Paul | McBeth | 27523 | 324 | 130 | 454 |
| 9 | Geoff | Bennett | 24962 | 341 | 81 | 422 |
| 10 | Ken | Climo | 4297 | 255 | 161 | 416 |
| 11 | Josh | Anthon | 17946 | 247 | 147 | 394 |
| 12 | Jay Yeti | Reading | 15864 | 306 | 84 | 390 |
| 13 | Matt | Orum | 18330 | 198 | 170 | 368 |
| 14 | Steve | Brinster | 10628 | 245 | 109 | 354 |
| 15 | George R. | Smith | 4034 | 237 | 100 | 337 |
| 16 | Kris | Orrick | 20020 | 209 | 126 | 335 |
| 17 | Nikko | Locastro | 11534 | 204 | 112 | 316 |
| 18 | Adam | Olsen | 26100 | 283 | 16 | 299 |
| 19 | Will | Schusterick | 29064 | 244 | 52 | 296 |
| 20 | Chris | Sprague | 16425 | 220 | 67 | 287 |
| 21 | Philo | Brathwaite | 26416 | 243 | 30 | 273 |
| 22 | Kyle | Crabtree | 25596 | 229 | 39 | 268 |
| 23 | Paul | Ulibarri | 27171 | 228 | 26 | 254 |
| 24 | Kevin | McCoy | 9453 | 206 | 42 | 248 |
| 25 | Ken | Franks | 25447 | 247 | 0 | 247 |
| 26 | Markus | Källström | 13150 | 161 | 85 | 246 |
| 27 | Robbie | Bratten | 21541 | 198 | 0 | 198 |
| 28 | Kevin | Babbit | 11110 | 164 | 33 | 197 |
| 29 | Chris | Boro | 23490 | 164 | 0 | 164 |
| 30 | Scott | Rief | 26039 | 162 | 0 | 162 |
|   |   |   |   |   |   |   |
|   |   |   |   |   |   |   |
| Place | First | Last | PDGA | NT Points | Majors | Total Points |
| 1 | Valarie | Jenkins | 17495 | 400 | 195 | 595 |
| 2 | Angela | Tschiggfrie | 16594 | 369 | 188 | 557 |
| 3 | Carrie Burl | Berlogar | 13815 | 365 | 173 | 538 |
| 4 | Liz | Lopez | 31162 | 358 | 149 | 507 |
| 5 | Des | Reading | 15863 | 395 | 95 | 490 |
| 6 | Melody | King | 29858 | 328 | 66 | 394 |
| 7 | Courtney | Peavy | 18835 | 274 | 85 | 359 |
| 8 | Katy | Schreder | 25238 | 254 | 72 | 326 |
| 9 | Lesli | Brinster | 15638 | 227 | 68 | 295 |
| 10 | Kristine | King | 27725 | 227 | 0 | 227 |