You say Isaac, I say Izak
You say Isaac, I say Izak
Izak McDonald and Isaac Robinson Tied Up Heading into Semifinals
Saturday, July 16, 2016 - 08:19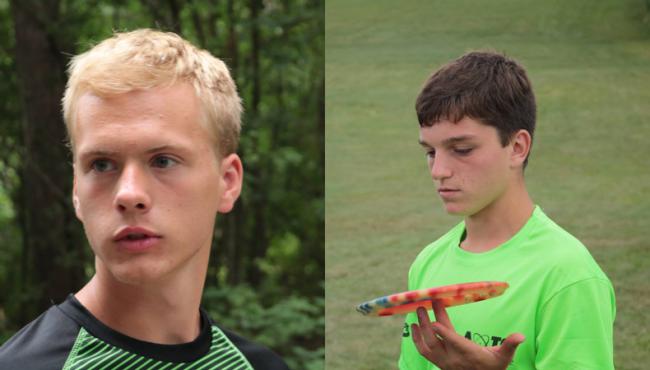 With a majority of the field being cut after the rounds came to an end at the 2016 PDGA Amateur & Junior Disc Golf World Championships yesterday afternoon, it was a sad day for many, but a very exciting day for a few. The competitors that did make the cut have already played 108 holes on five different courses here in Madison, Wisconsin, facing high temperatures and humidity, gusting winds, and occasional rain. Yet they push on, fighting for the coveted title of PDGA World Champion.
Speaking of World Champions, five of them were crowned yesterday. Five year old Logan Brooks #83848 of the Junior Boys VI division (6 & Under) and seven year old Virginia Polkinghorne #76009 of the Junior Girls V division (8 & Under) both tapped in for their uncontested wins at Bird's Ruins yesterday, playing with none other than 3x Professional Women's World Champion Paige Pierce #29190 as their non-competing marker.
It was truly amazing to watch. On the 18th hole, Logan let go of a forehand drive that faded out a bit early and went into the rough. As he walked up to his disc with his dad he turned and said, "I should have put more 'anny' on it." Wow. Just...wow.
Shortly after, two more Juniors were crowned. Anthony Anselmo #56579 had a landslide victory in the Junior IV Boys division (10 & Under) and Hope C. Brown #62397 pulled off a win by seven in the Junior III Girls division (13 & Under). Both Anthony and Hope were playing at Bird's Ruins as well, playing the full 27-hole layout.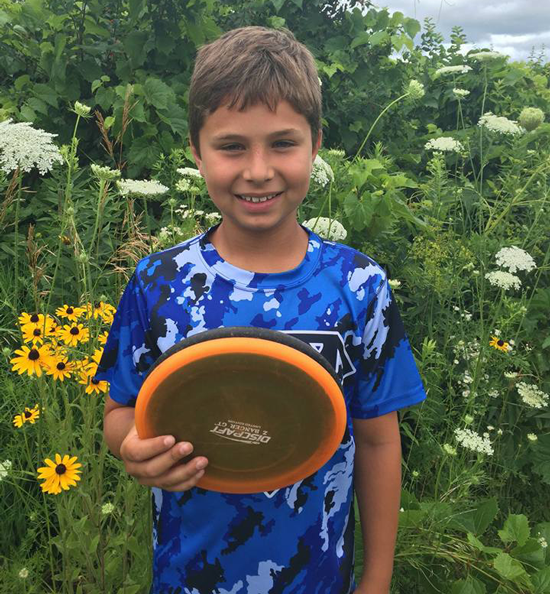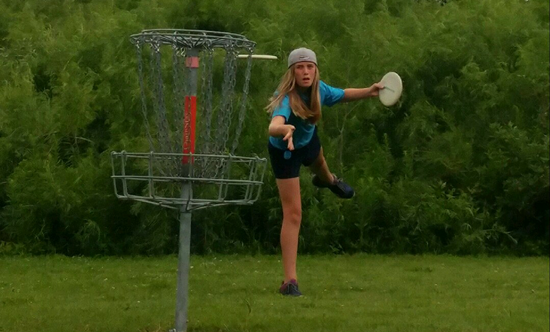 Last but certainly not least, we saw the fifth and final world champion crowned in the afternoon, as Donald Parker #30178 tapped in on his 27th hole to win by three and become the 2016 Advanced Legends World Champ. Congrats to all five of our newest PDGA Amateur & Junior Disc Golf World Champions!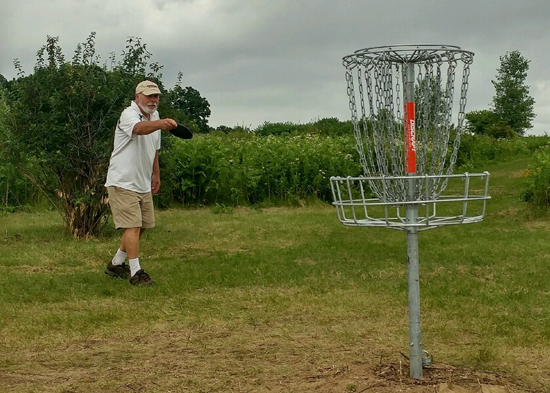 The Advanced players have put on quite the show this week, led by 15 year old Isaac Robinson #50670 for a majority of the rounds. He teed off as the leader yesterday afternoon at Elver Park with a three-stroke cushion between himself and two different players tied for second; Izak McDonald #49631 and Gavin Rathbun #60436. North Carolina's Chris Hawks #67596 rounded out the lead card, four off the lead.
At the beginning of the round, it seemed that Isaac Robinson wasn't about to let anyone gain any strokes. Carding birdies on Holes 1, 2, & 3, he quickly gained more ground on the field and extended his lead to four. And it didn't stop there. A birdie on Hole 9 to their pars and bogeys put him up by five as they headed into the back half of Elver Park.
The seemingly invincible Isaac Robinson finally fell victim to the wooded fairways of Elver on Hole 10, carding a double bogey while the rest of the players on the card took a par. The back nine would prove to be very troubling for Robinson, and all three of the players on the card started slowly chipping away at his lead.
It wasn't until the last three holes of the round that the momentum really started to swing for all four players. Gavin took two unfortunate back-to-back double bogeys on 16 & 17, while Chris finished bogey-par-par. Robinson picked up another bogey on 16 and would finish bogey-par-par to end the day.
When it was all said and done, Izak's par on 16 followed by back-to-back birdies to finish the round meant he had fought back to tie it up heading into the semifinals, coming from a deficit of five strokes in just nine holes.
The lead card remains the same today as it did yesterday, as does the fact that any number of players behind them have a shot at making the Finals. They'll be playing the very difficult 18-hole layout of Bird's Ruins this morning; a course where missing the fairway by three feet can easily mean a lost disc penalty stroke.
Isaac R with a birdie from the rough. We are officially half way through Round 5. Check out Facebook, we're live! pic.twitter.com/rWGsSSMgHy

— PDGA Live Scoring (@pdgalive) July 15, 2016
After an incredible round at Vallarta-Ast DGC (Token Creek) on Thursday, it was starting to look like Kristy Moore #56553 was going to run away with it, giving herself a lead of eleven over her next closest competitor, Sai Ananda #58303. However, Bird's Ruins got the best of Kristy yesterday afternoon, and Sai Ananda was able to make an extraordinary comeback.
As stated earlier, Bird's Ruins is a devious course. The holes aren't long, but they make up for their lack of distance with incredibly punishing rough, several fairways that are densly packed with trees, and a few water hazards and island greens. Sai carded eight birdies on the 27-hole layout to finish the round at two under par. Kristy's round of seven over par meant they are heading into the Semifinals just two strokes apart! They'll be joined by two Oregon women on the lead card, Jennie Cartwright #56145 & Lauren Butler #65489 and they'll be playing the 18-hole layout at Vallarta-Ast (Token Creek).
The Junior 19 & Under Boys have been battling all week as well, with Logan Fiske #67474 doing everything in his power to hold on to the lead. Nicholas Duran #28359 made a big jump in the rankings yesterday morning and continued his attack during their afternoon round at Capital Springs. Duran and Fiske are now tied for the lead heading into the finals, with Duran on a mission to do something that no other PDGA member in history has ever done; become the World Champion in every Junior division. The Juniors division Semifinals will be this morning at Vallarta-Ast (Token Creek). They too will be playing 18 holes, but from the long tees.
Almost every other division that is competing in Semifinals this morning are too close to predict exactly who will make it to the Finals this afternoon at Token Creek. There are heated races in Advanced, Advanced Women, Advanced Masters, Advanced Masters Women, Advanced Grandmasters, Advanced Senior Grandmasters, Junior I Boys, Junior II Boys, and Junior III Boys, all of which is going to make for a very exciting morning and afternoon!
Follow the scores on pdgalive.com, complimented by updates, pictures, and videos via @pdgalive on Twitter. And make sure to check in on the PDGA Facebook page this afternoon for information about the live video feed coming up this afternoon for the Finals.