2016 PDGA Amateur & Junior Disc Golf World Championships presented by Innova Champion Discs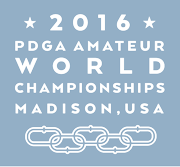 Event Info
Hosts
Mad City Disc Golf has a simple mission which is to expand and enhance disc golf and other flying disc sports in Greater Madison. The club's passionate members have been successfully carrying out this mission since 1991 and are very excited to be hosting this year's PDGA Amateur & Junior World Championships. Club president Seth Johnson is serving as the assistant tournament director.
Madison Parks became "pay to play" in 2013 and the improvements at Elver and Hiestand Parks have been dramatic.
Dane County Parks is home to Capital Springs and the Vallarta-Ast Disc Golf Course at Token Creek Park. The latter has long been regarded as a gold standard and all it takes is stepping onto the first tee to see why.
Village of Marshall Parks & Recreation quickly decided to get behind this event when it was awarded to us last May by adding nine more holes to its beautiful and challenging 18 Hole course – Bird's Ruins at Charles Langer Family Park.
Madison Area Sports Commission played a key role in bringing this event to Madison, but they have not stopped there. MASC has continued to bring an incredible amount of support to the table.
Glide Disc Golf is Madison's disc golf pro shop. Owner Mike Batka is serving as the tournament director. He has a long and successful track record as a tournament director and promoter.
2016 Am & Jr World Championships