Wysocki Shoots 1072-Rated Round, Trails McBeth by Two Heading into BSF Final Round
Wysocki Shoots 1072-Rated Round, Trails McBeth by Two Heading into BSF Final Round
Sunday, June 11, 2017 - 13:34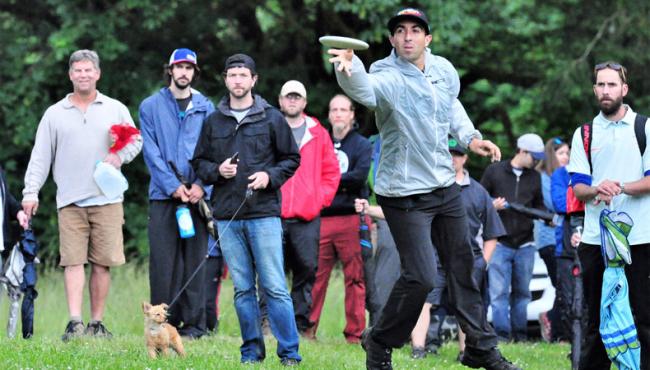 Well, here we are, once again heading into the final round of the Beaver State Fling (BSF) with a day full of drama and excitement right on our heels.
Playoffs?! Don't Talk About —Playoffs?!
It's been almost three years now since Portland hosted one of the greatest, if not the greatest, final round showdown in the history of disc golf. In front of a gallery nearly 1000 strong, Paul McBeth and Ricky Wysocki went head-to-head in what ended up being a five-hole sudden death playoff with the title of 2014 World Champion on the line. Now, with McBeth holding a narrow lead of just two over his rival, we can't help but wonder if we'll see the same sort of chaos again this afternoon at Milo McIver State Park.
Playoffs are a fairly common event here in Portland. The aforementioned playoff at the 2014 Pro Worlds was just one of many that came before and many to come. At the 2015 BSF, Paul McBeth defeated Will Schusterick on the third hole of a sudden-death playoff and one year later, at the 2016 BSF, Catrina Allen took down Paige Pierce with a huge putt on the first hole of yet another playoff.
With the scores as close as they are in the Open division and only one round on Milo East remaining, a playoff is certainly a possibility. Whether or not it's between Paul and Ricky, only time will tell. With Anthony Barela and Eagle McMahon joining them on the lead card both sitting just five off the lead and a dozen or so players within striking distance, it's still anyone's event to win.
Paige Pierce —Domination
In the Open Women's division, the possibility of a playoff is hardly a possibility at all. Paige Pierce has been playing mind-blowing disc golf; just plain ridiculous, really. With three rounds in the books, she now leads the field by 15 or more and has back-to-back-to-back 1000+ rated rounds, including a 1020-rated round yesterday on Milo East with a 57 (-4).
That 57 on Milo East, by the way, included two bogeys and a double bogey. Do the math and you'll see that means she birdied nearly half of the course, one that measures in at 8500+ feet with a par of 61. To put that in perspective, the Open division played Milo East in similar conditions during Round 2 on Friday. Both Nate Doss and Anthony Barela shot the same score of 57 that day and ended up on the Open division lead card for Round 3.
Paige is now sitting at the top of the Open Women's division leaderboard with 175 strokes total; a score that only 17 of the 80 players in Open have bested thus far. Assuming there are no catastrophic surprises during her final round on Milo West this afternoon, she'll walk away with her fourth win on the 2017 PDGA National Tour (undefeated) and her 13th win of the season overall out of 16 events.
Both the Open and Open Women's division lead cards tee off this afternoon at 12:30pm PDT at Milo McIver State Park to wrap up the 2017 Beaver State Fling presented by KEEN Footwear.
Tee times, results, hole-by-hole scoring for all divisions »