Wysocki Repeats In Jonesboro For First 2018 Victory
Wysocki Repeats In Jonesboro For First 2018 Victory
Montgomery lands breakout performance to tie for third place
Monday, April 9, 2018 - 09:33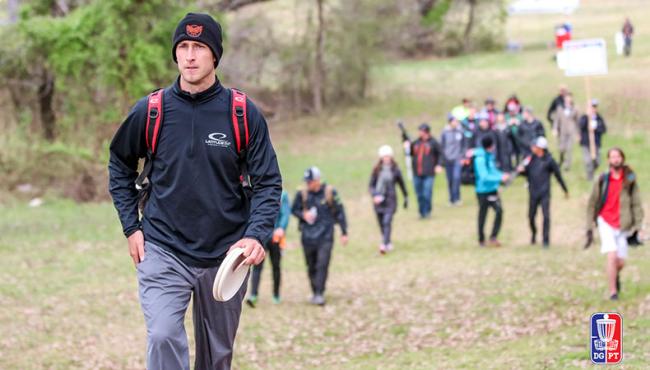 In order to find the last time Ricky Wysocki went until April without a victory, you have to go all the way back to 2010, when he won a one-day C-Tier on May 8.
He was about a month shy of his 17th birthday then, far from the seasoned veteran and consummate winner he has become in the ensuing eight seasons. And all the experience he gained between then and now was instrumental in putting his sluggish 2018 start in perspective.
"It's not like, 'Oh man, I'm never gonna win again,'" Wysocki said with a chuckle after repeating at the Jonesboro Open for his first win of the year. "…I know my personality and my skill set…There's a difference between someone who hasn't done it and [them trying to] do it. That's a different feeling, going out there and knowing I can do it…Breaking the ice is a lot harder."
Wysocki's second 10-under par 54 in as many days at Disc Side of Heaven found him racking up a 32-under par 160 total to cruise to victory. Garrett Gurthie notched his highest finish of the season in just his seventh start back on the professional scene with a 28-under par 164 second-place showing. Colten Montgomery and Eric Oakley tossed matching 9-under par finals to land in a tie for third place at 27-under, while James Conrad and Dave Feldberg tied for fifth with 25-under par 167s. 
Wysocki only carded two bogeys over the duration of the three-day event, the second fewest in the field behind Conrad's single stroke over par. In seven career rounds at Disc Side Wysocki has only scrawled eight bogeys on his scorecard, and he chalked that up to his long-standing ethos of "semi-aggressive" play.
"I think there's a lot of risk/reward holes. It's a lot about course management," Wysocki said. "The big arms, they get rewarded, but at the same time there's a lot of shots that really look enticing for a big arm to attack, but over a three-round event the 500 to 600 foot par 4s you can reach...most of the times I'm gonna make a birdie 3, where those guys could take a 2 or 4.
"Throughout a three-round tournament that aggressive play, it's not as consistent, is all," he continued. "My consistent game plan is really good out there."
That doesn't mean he didn't uncork some huge drives, but he was also right that they didn't necessarily pay off. His opening salvo on the 450-foot 1st, which plays uphill, went past the pin and he failed to convert on his 30-foot comebacker for deuce. The inauspicious start found him dropping to a knee to collect his thoughts.
"I told myself before the round I wanted to get off to a hot start to make a statement," Wysocki said. "…I let myself down [when I missed that putt]…It sucked, but I kinda just leaned down to kinda regroup."
The moment of calm gave way to three consecutive birdies, including a 50-foot connection for two after a pin-high drive on the 435-foot 3rd, to put him back in the driver's seat. But even as he controlled his card, a flurry of scoring from the chase group made the gap shrink. Oakley snagged five birdies on the front nine while Feldberg and Eagle McMahon, who ended the day in seventh place at 24-under, bagged four, and it was clear Wysocki wasn't quite in the clear. Still, he wasn't concerned.
"I play really well when I'm in control," Wysocki said. "I was in control of the score to beat, so I didn't pay any attention to [other scores]. I'm sure it looked like it was close, but the thing is – when you're in that position you've gotta execute…You never know what other people are doing."
He did have a front-row seat, though, to Montgomery's breakout performance. The 23-year-old Colorado pro has been on the road full time this season as part of his contract with Discmania, and he said the extended playing time has been instrumental in the progression of his game. He thrived in all of UDisc Live's accuracy measures throughout the weekend, coming in second place in fairway hits (84 percent) and circle 2 in regulation (78 percent).
"I've always felt like touring is always something I've wanted to do," the 995-rated Montgomery said. "I've always felt like if I got out there and got my name out there and got that experience I could compete with the best in the world. I've thrown a couple rounds this year that have also made me think, 'I can do this, I can hang with the best,' and then the next round I don't do as well…As nervous as I wanted to be during the round, I just kept telling myself, 'This is where you belong. You deserve to be here.'"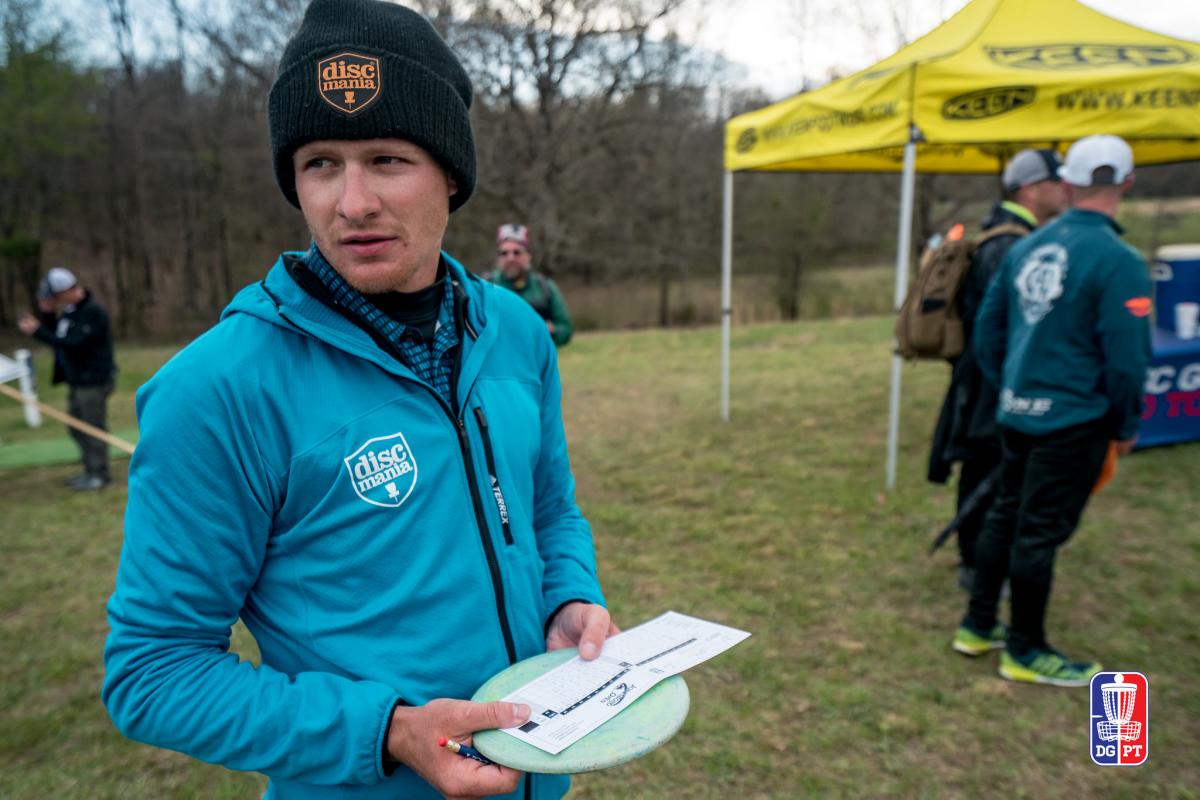 Colten Montgomery parlayed a final round lead card performance into a tie for third place. Photo: Alyssa Van Lanen / DGPT
That's a similar refrain that fellow Coloradan Joel Freeman espoused during his run to second place at the Las Vegas Challenge earlier this season. Freeman, who shot the hot round Sunday in Jonesboro with a 1069-rated 11-under par to climb into a ninth-place tie, admitted that the early-season performance got in his head a little bit as he tried too hard to recreate the performance. With that in mind, he was more than pleased with how he bounced back from a 2-under par showing on Saturday where he struggled to keep a positive attitude.
"It was really hard to do it mid-tournament," Freeman said. "That's the thing that I'm most excited about – I was able to do it from round two to round three. Hard to make that happen within the same weekend. If you're not feeling good about one round, it's easier to shoot back-to-back bad rounds and stay in that funk than to bounce back."
Gurthie, meanwhile, logged his second consecutive top 5 showing at an Elite Series event, the first time he's accomplished that feat since 2013. He struggled with the putter a bit in the final round as he attempted to chase down Wysocki, but he's already exceeding the modest expectations he brought into the season – and his fellow competitors are taking notice. 
"I didn't think it would be this soon but I gave myself a little bit bigger window of opportunity as far as...goals and being in the top 10 was more or less my goal," Gurthie said. "These guys are tough. I told Eagle yesterday, just walking through the campsite, I said 'You're tough.' He said, 'No, you're tough.' I kinda felt that was a compliment."
Other standout performances on the weekend came from JohnE McCray, who finished in eighth place with a 21-under par 171, and Tim Barham, who shared ninth place with Freeman at 20-under par. Will Schusterick notched a 13th-place tie in his first premier event back from injury, a spot he held alongside Paul McBeth, Austin Hannum, and Arkansas native Kevin Jones.
The biggest final round move went to Nashville pro Brandon Brown, whose 8-under par finish found him rocketing 22 slots up the standings and into a tie for 34th place.
Now that he's landed his first W of 2018, Wysocki is on the hunt for more. He'll play the Vintage Open this coming weekend in Russellville, Arkansas, before heading to Emporia, Kansas, for the PDGA National Tour's Dynamic Discs Glass Blown Open. Trekking back to the site of his first world championship in 2016 brings not only fond memories, but also a sense of purpose.
"It's always fun to go back and relive that moment, and for me it's motivation," Wysocki said. "I got that moment, but I've gotta work for it again."