Wysocki, Anthon Jump into Lead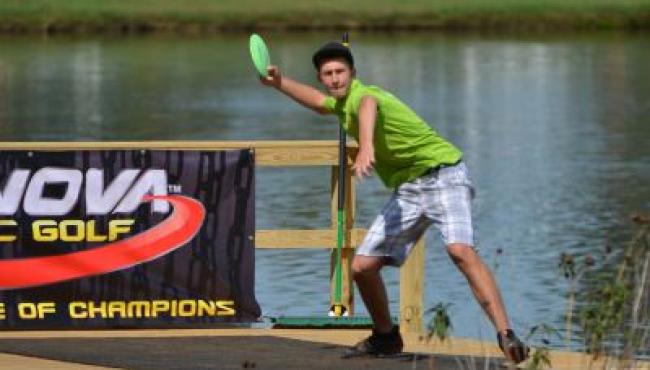 Fireworks were launched from the Pro Flight lead card during Thursday's Round 2 of the USDGC, when Ricky Wysocki and Josh Anthon shot a lights-out 55 (-13). The pair now find themselves tied atop the leader board at (-24).
Wysocki was in route to tying Anthon's 2009 course record of 53 (-15), however, he threw OB twice and made bogey on Hole 18. "He was throwing like a genius. He should have shot a 52," said 2009 US Champion Nikko Locastro, who was also on the lead card and is only two back after Thursday.
Others still in the mix include: 2010 US Champion Will Schusterick (-20), Cam Colglazier (-18), and three others are tied at (-17).
Anthon definitely liked where he sat after two rounds and felt confident in his approach to the course. With the softer OB rule, he said he can really rip into Winthrop Gold. "You can go for a lot of stuff and not mess up your score," said Anthon.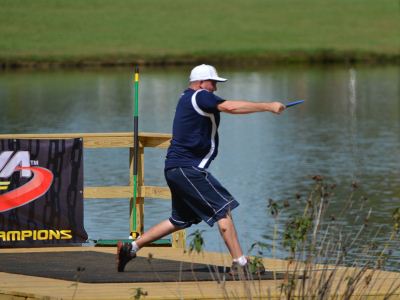 Anthon said he knew things were shaping up well with some clutch early putts including a 45-foot jump putt that was stuck near a tree. He also seemed impressed with Wysocki's play, commenting after the round that he almost watched Wysocki break his course record.
Wysocki, the 2011 PDGA Champion, said he generally avoids keeping tabs on his score to ensure a tough mental game, but he knew he was playing well as he approached Hole 18.
"Hopefully, I'll have the same situation and deal with it better," said
Wysocki, who is able to dispatch his powerful backhand or sidearm depending on the hole.
Only in his second USDGC, Wysocki, who lives in nearby Fort Mill, SC, said he played 10-12 practice rounds as soon as the yellow OB ropes were put up this year.
Performance Flight
Thursday's Round 2 was again the Jared Neal show as he bested his projected 74 by 10 strokes and now leads the Performance Flight by 10 strokes as well.
Still in the hunt are Clayton Nash of Mississippi and Kevin Tritten of North Carolina who are beating their projection by a total of 13 strokes. Austin Krise of Pennsylvania is not far behind, shooting 11 strokes below his projection for the tournament.
For the second day in a row Neal was also the Daily Performance Winner.
The highlight of Neal's round was undoubtedly '888', the par 5 Hole 13, where he blasted a 490-foot drive that hit a light pole far down the fairway, than skipped on the road bordering the fairway, and finally landed safely in bounds. Nearly making eagle on the hole, he settled for birdie.
The 963-rated Neal said he's still maintaining that happy, relaxed feeling from Wednesday.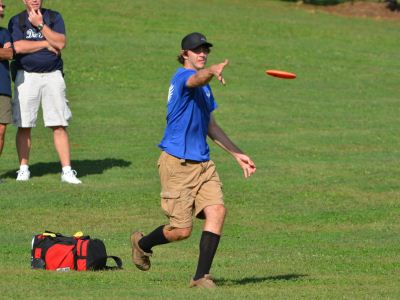 "When I play with a fun group I play so much better," said Neal, who is a senior at the Univ. of Alabama Huntsville and plays on their disc golf team.
Nash, who bested his projected score of 70 by 8 on Thursday, didn't know how he was going to catch Neal since he believed he was playing some of his best golf.
Nash said Neal would have to fall apart, but he doesn't want to see that.
"I don't want to cheer for other people to do bad. I just want to shoot good," said Nash.
Further down the leader board, the Performance Flight players are still giving their all.
Never seeing the course, Jester Wilson, who lives in England, felt pretty good about shooting four over his projected 72 on Wednesday.
Armed with course knowledge, he felt he could do better on Thursday, but that was not the case.
"Just goes to show you that a little knowledge is a very dangerous thing," said a joking Wilson, who shot nine over his projected on Thursday.
He said the closest thing England has to the USDGC was the European Championship held in Colchester, but it doesn't quite have all the details like golf cart shuttling, complimentary food, and the caddy book, among others. He hopes to bring more of those details back.
Written By: Todd Harrell
Photographs by: John Whinery