Wysocki, Allen Shoot Hot In Record Jonesboro Cold
Wysocki, Allen Shoot Hot In Record Jonesboro Cold
Pierce still paces women, while defending Open champ takes the lead
Sunday, April 8, 2018 - 00:41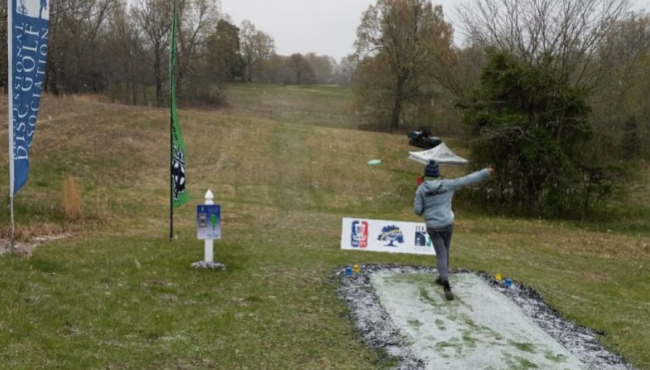 If the story from day one of the Jonesboro Open was course records, Saturday was about weather records.
Springtime in Arkansas turned into a winter wonderland overnight and the mercury dipped to 28 degrees, matching the record low for the same day from 1994. Morning tee shots resembled slap shots as players slid across pads, and even when the snow let up the wind did not.
When all was said and done and players finally thawed out, the two Jonesboro Open defending champions sat atop the leaderboard in each division.
Sideways snow slowed scoring in the Open Women's division, but Paige Pierce still holds a six-shot lead heading into Sunday's final after her 4-over par 70 Saturday. Her 8-under par 124 total has her up on Catrina Allen, who tossed the day's figuratively hot round with a 2-over par 68 to move into second place with a 2-under par 130. Sarah Hokom stayed in third place at a 1-under par 131 overall, while Jennifer Allen (+1) and Madison Walker (+2) are in fourth and fifth place, respectively.
The white stuff melted in time for Open division play, where Ricky Wysocki bundled up on the way to a 1072-rated 10-under par 54 that put him into sole possession of first place. His 22-under par 106 total finds him clear of Garrett Gurthie, whose 6-under par 58 Saturday dropped him to second place with a 20-under par 108 overall, and James Conrad, who fell to third at 19-under. Colorado pro Colten Montgomery matched Wysocki's round score to climb 10 slots on the leaderboard and into fourth place with an 18-under par 110 total, where he is tied with Eric Oakley.
Even after he heated up the course, Wysocki still couldn't get over the unseasonable conditions.
"I woke up and saw the snow and I was like, 'Wow, I didn't expect that,'" he said. "I didn't think it was gonna be sticking."
The two-time PDGA World Champion said his approach to the day was, simply, to layer up. He revealed that he suffers from Raynaud's syndrome, a circulatory disorder that inhibits blood flow to his hands when it is cold.
"Not many people know that, but I got that from my mom," Wysocki said. "She's got it, so in cold weather I definitely prepare more than others."
Still, he didn't let the extra clothing – he said he wore thermals and shorts under his pants, along with "two or three" jackets, compression sleeves, and a beanie – hold him back. Instead, he opened the round with a 50-foot putt for birdie and never looked back.
"When I first made the putt I was like, 'Alright, here we go,'" Wysocki said. "Started to feel like I was in the groove…and doing what I do best."
What Montgomery did best, meanwhile, was put his shots close to the pin. The almost-24-year-old slayed Disc Side of Heaven with precision accuracy, parking five holes and landing in circle 1 in regulation on 61 percent of his opportunities. He's first and second in the field in those metrics, respectively, and is connecting on 95 percent of his putting chances from circle 1. The performance was his highest rated of the season.
The conditions made those numbers harder to come by on the women's side. Though Pierce notched an early birdie on the 605-foot 2nd, she logged four strokes over par on holes 5 through 8 before limiting the damage through the course's midsection. Even Catrina Allen stumbled en route to her 977-rated showing, going 3-over on the first eight frames before finally settling in with a park job for birdie on the par 5, 715-foot 9th.
Hokom, who shook off an early triple bogey after three-putting on hole 5, took solace in some heavy winter boots and the assistance of a volunteer caddie named Casey, a spectator who had driven from two hours away to watch the tournament. "I bet he saved me 10 strokes," Hokom said.
She also praised tournament staff for their preparation for the weather, which included passing out hand warmers and putting out buckets of fresh towels every few holes.
"I've never seen that," Hokom said. "If you're a TD and you know it's gonna be a super rainy day, having a tub of towels available for the players – I've never thought of that."
Hokom admitted that, with Pierce out to a substantial lead, Sunday would likely be a race for second place. Still, she was undaunted by the prospect of trying to come back while battling another day of near-freezing temperatures.
"The harder the conditions, the better it is for me, probably," she said. "I'm experienced. That matters."
Wysocki, meanwhile, is looking to get the monkey off his back. The reigning PDGA Player of the Year is still seeking his first win in 2018 and said he knows that, by his standards, he is in a slump. But now that he has the putter going – he landed another from 50 feet for his final birdie of the day on hole 17 – and is up on the lead card, he feels comfortable he can take home the hardware.
"Putting myself in position near the lead with the pressure of the lead group, I thrive off of that, and I've never put myself in that position all year," Wysocki said. "…That's something that's changed [this weekend], I'm in position. I'm looking forward to the challenge tomorrow, for sure."
The Open Women's lead card tees off at 9:00 a.m. CT, while the Open division's showdown is set for 3:15 p.m.