World Rankings 10-10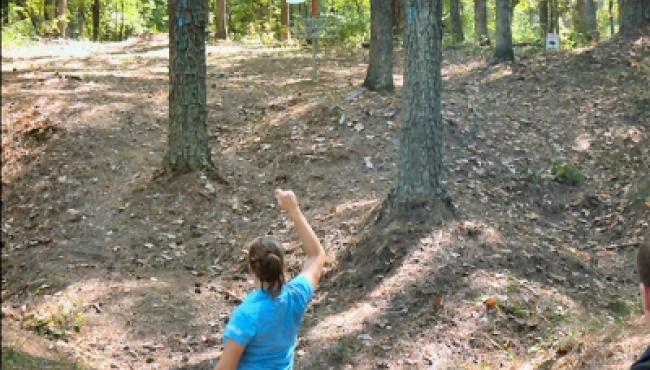 Valarie Jenkins regains top spot with recent wins over Sarah Stanhope at U.S. Womens Nationals and the Augusta Classic (pictured).
Valarie Jenkins won her first U.S. Womens National title in September and that was enough to pass Sarah Stanhope for the top World Ranking even though Sarah finished second. Not much movement among the top 10 women although Paige Pierce, Elaine King and Sarah Hokum broke into the top 10 on the strength of participating and doing well at the U.S. Womens Championships. Melody King has been steadily climbing and jumped from 20th to 13th. Kathyrn Manley jumped from 35th to 17th primarily on the strength of her ratings improvement.
Nikko Locastro narrowly slipped past David Feldberg for the top spot among men even though neither won the USDGC. Nikko's lead of 0.02 points is literally a one or two putt difference separating them. Feldberg made the big one on 18 at the USDCG to secure the NT Tour victory. But one or two more and he might have the lead over Nikko by a sliver. But then Nikko had his "coulda, woulda, shoulda" moment on 14 at the USDGC and possibly secured a more comfortable World Ranking lead with a win.
Steve Brinster's strong play finishing third at the USDGC has moved him up four spots into third in the World Rankings, his highest ranking ever. Top International players, Jesper Lundmark and Jussi Meresmaa made big moves into 5th and 6th respectively but by different routes. Jesper has usually been penalized for not playing enough major events even though he has sometimes had the highest rating in the world. This year, he did well overall along with winning the European Championship. Plus, his relatively low finish of 43rd at the 2009 USDGC fell out of the calculations in this latest update. Jussi finshed 4th at the USDGC which was the main contributor to his big move into the top 10.
The USDGC is still the "elephant in the room" where a player's results significantly impact their World Ranking even more than Pro Worlds. Good or bad, there's no question that the unique format for the USDGC this year created more churn in the World Rankings than any other rankings update since they started in 2005. Take a look at the significant moves up or down that many top players made. Even several players who didn't play the USDGC this year made big moves up or down when their results from the 2009 USDGC dropped out.
It's a reflection of our youth as a sport where we don't yet have enough top level events globally to dampen some of the volatility that occurs when individual events carry so much weight in the calculations. Now that the Major and NT season is over, it will be difficult for anyone to take over the top spots from Jenkins and Locastro by the time yearend calculations are made. Only ratings changes from late season events will occur by then. With Feldberg currently on top for ratings, he'll need some help where Nikko either falters before yearend or someone close by like Climo, Brinster or Anthon passes Nikko's rating. The other X factor that might swing yearend standings is that more recent events during 2010 do not get slightly higher weighting like they do in updates during the year. We'll have to wait and see.