Women's Global Event Returns In May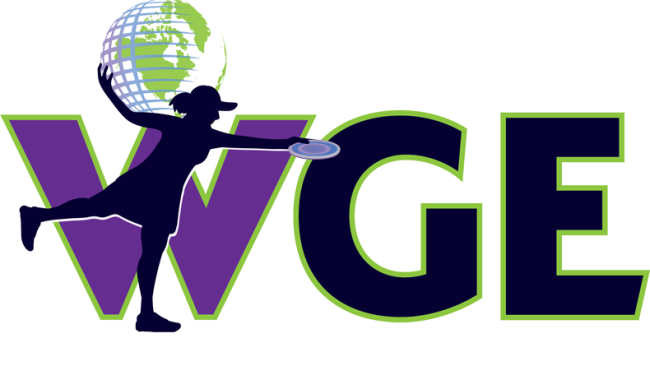 Mark your calendars, ladies: The PDGA Women's Global Event is back!
Join us on May 12, 2018, as the PDGA continues to encourage more women across the world to get out to the disc golf course. Tournaments will be hosted around the world, scores will be collected, and player ratings will be calculated to create this single-day virtual tournament. By allowing participants to compete at their local WGE event under the WGE requirements, we are able to create a competition amongst all divisions for female players across the globe, making this the largest women's tournament in the world. This biennial event continues to grow in popularity each year, and its numbers prove that it's a successful way to get ladies out playing disc golf.
Our inaugural event in 2012 laid the foundation with almost 600 women participating in 41 events across 24 states and four countries. The second Women's Global Event, in 2014, shattered those numbers with 1,060 female competitors playing in 60 events across six countries. We continued to see steady growth in 2016 as the event hosted 1,437 female competitors across 26 states and 10 countries. Our goal for 2018 is to reach 2,000 players, 89 events, 39 states, and 15 countries, and we know we can do it. We just need your help to continue to spread the word.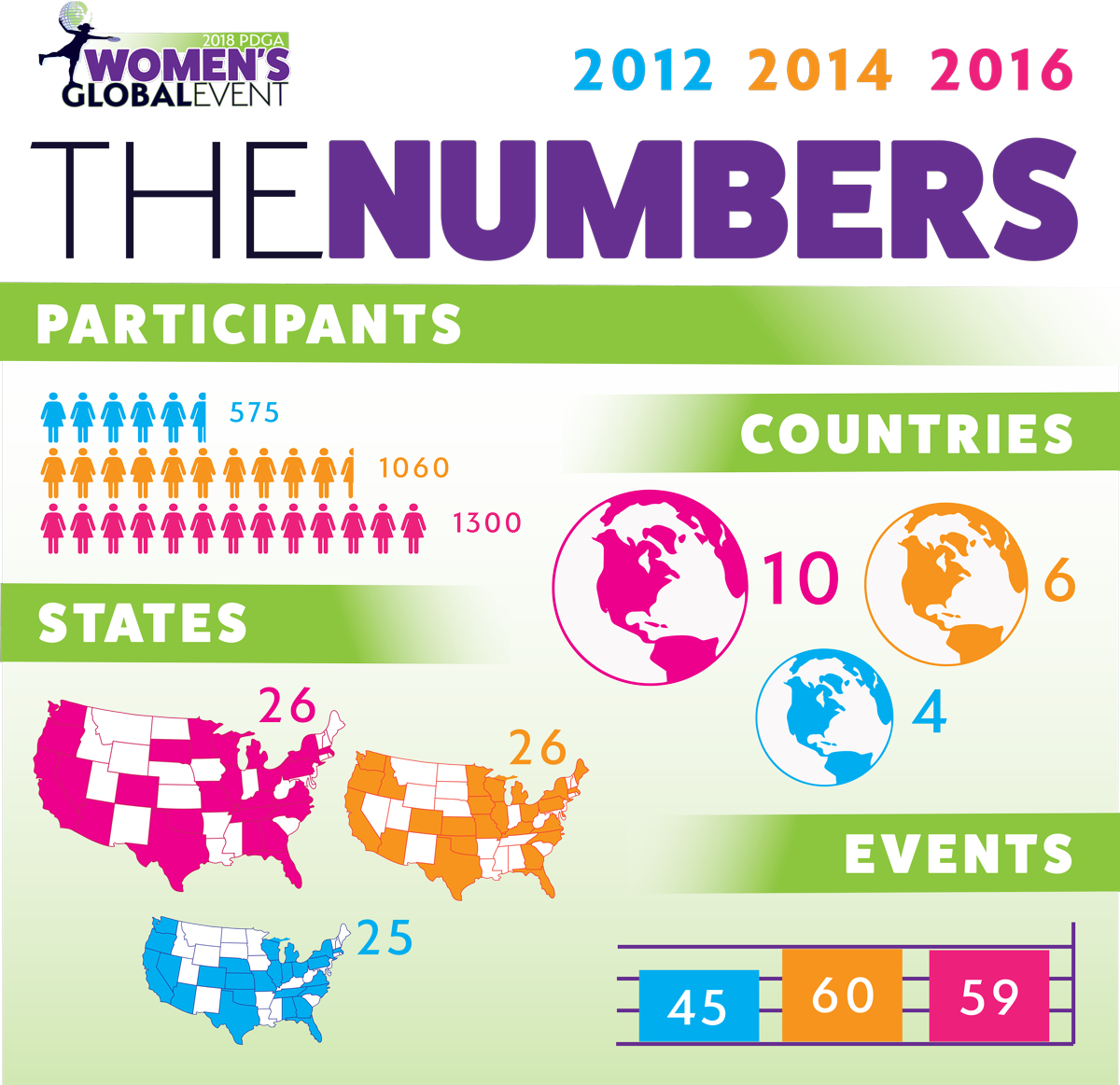 New to the Women's Global Event this year:
DiscGolfScene.com
We are encouraging all of our WGE TDs to use The Disc Golf Scene for their event's registration.  The Disc Golf Scene has developed an incredible platform that will help you streamline your event and help you communicate with WGE competitors to claim prizes and/or to assist with necessary event information.
Virtual Player's Pack
For 2018, we have transitioned to a Virtual Player's Pack which will be available to every WGE participant. A link to the Virtual Player's Pack will be sent to all competitors via email on or before April 30, 2018. More information will be released about the Virtual Player's Packs in the weeks to come. 
Updated WGE TD Requirements
Propagators: For scores to be eligible for ratings, three propagators must be playing the same format. These propagators may be women or men who have at least eight officially rated rounds and have a PDGA rating of 700 or higher (in 2016, ratings needed to be above 800).
Deadline to submit the scores from the two rounds of your WGE will be Monday, May 14, 2018 at 11:59pm EST. Scores submitted after this deadline will not be included in the overall Global Standings and your players will not be eligible for prizes or trophies. Please be diligent and include your scores as soon as possible.
For Juniors 12 and Under, we understand that playing two rounds in a day can be a lot of disc golf; especially for the youngsters. This year, Juniors 12 and under will only be required to play one round to be included into the overall Women's Global Event. However, there is still the requirement to have 3 propagators (with 8 officially rated rounds of 700+) playing on the same layout as them to get an accurate rating for the Women's Global Event.
Disc Golf Foundation
The 2018 WGE is switching gears to support a non-profit PDGA entity called the Disc Golf Foundation (DGF). This organization has been involved in our sport for more than 15 years and is motivated to make a big impact in 2018. We look forward to supporting their mission to facilitate more female disc golf players by introducing disc golf to Girl Scout troops across the U.S. and internationally! More information about DGF can be found on the official Disc Golf Foundation website and DGF Facebook page.
Register your WGE Event
WGE events are already rolling in and we can't wait to see how long the list will be by May! If you would like to run a WGE event or if you are already running a PDGA-sanctioned event on May 12th and would like for it to be included, you're just a few clicks away. Get the ball rolling by reviewing the information on the WGE page and the WGE FAQ to make sure your event can meet the requirements.
Want to sponsor the 2018 PDGA Women's Global Event?
There are many different ways to be a sponsor and supporter of the PDGA Women's Global Event for both individuals and organizations alike. More information about becoming a sponsor, sponsorship packages, sponsorship levels, and sponsorship benefits can be found on the WGE Sponsorship Info page. 
Find Us and Like Us!
Follow along with the PDGA Women's Global Event on social media to keep track of all event updates, giveaways, and announcements:
Please use #2018WGE so we can all stay connected!