Waterworks...for some.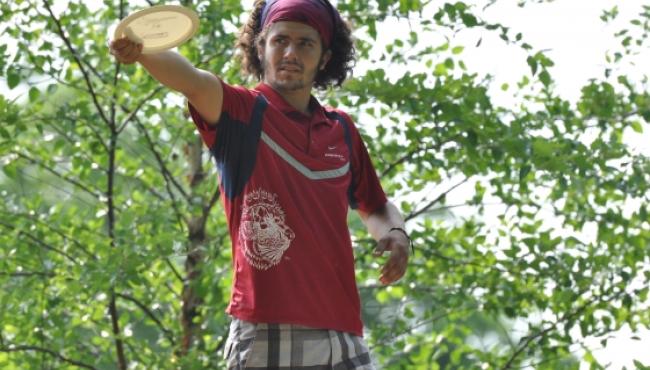 The 2013 Kansas City Wide Open presented by Grip EQ kicked off today at the beautiful and infamous Waterworks Park disc golf course in Kansas City, MO.  The holes at Waterworks DGC are a unique blend of carved and manicured fairways, difficult elevation changes, awe inspiring views of the Kansas City skyline, and pin positions that can shake even the best of the best.
Garrett Gurthie, AKA Double G, and Matt Orum dominated at Waterworks during round 1.  They worked their way through the hills and tough pin placements with a steady morning breeze and both finished with unofficially rated 1062 rounds at 9 under par.  Nate Doss and Steve Brinster, both of which have missed much of the pro tour thus far, both posted unofficially rated 1053 rounds just a stroke behind the leaders.
The Women's Open division started the day at Waterworks as well, and Paige Pierce finished the day in the lead at 2 under par.  Catrina Ulibarri was right on her heels after shooting an even par 54, which was unofficially 974 rated.  The women's field is stacked full of world champions, touring pros, Europeans, and locals.
Day 1 of the Kansas City Wide Open is the only day of the 3 day tournament in which 2 rounds are played. The MPO and FPO divisions both played their second round on the upper 18 holes at Rosedale Park DGC. Cale Leiviska and Nikko Locastro both shot the hot rounds for the second round and they will be joined on the lead card to start the day tomorrow with Will Schusterick and Steve Brinster. Paige Pierce, Catrina Ulibarri, Sarah Cunningham, and Sarah Hokom will be on the lead card tomorrow in the FPO division.
Blue Valley will be the course tomorrow on an extended layout for the MPO and FPO divisions, both of which will have a shotgun start at 11:00 AM CST. The normal layout alone is enough to break some of the best disc golfers in the world. It will be interesting and exciting to see how the top pros take on such an enduring layout.
Follow the throw-by-throw action live tomorrow on Twitter via @PDGAlive and keep up with the scores on pdgalive.com. With only a few National Tour Elite Series events left for the year, the Kansas City Wide Open can make or break those players who are teetering on the edge of success or failure.