Vibram Open - Day 2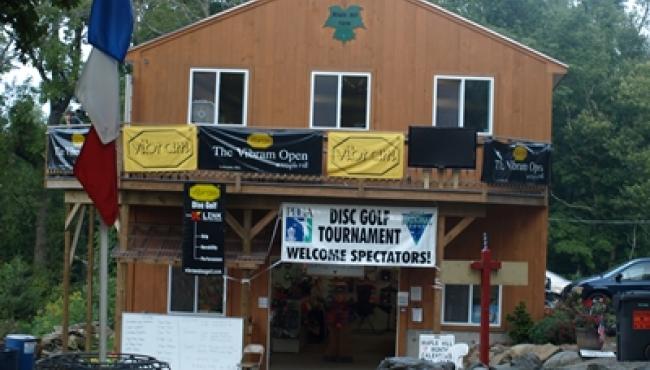 Doss remains in lead at $50,000 Vibram Open
Reigning World Champion Nate Doss shot a 5-under-par 55 Saturday to keep the lead after the second day of the Vibram Open at Maple Hill Disc Golf Course in Leicester, Mass.
Doss finished with six birdies and one bogey to tie with four others for the lowest round of the day. Doss opened the tournament with a 53 on Friday and is at 12-under-par 108 for the weekend.
Doss ended the day by sinking a putt of about 70 feet for a birdie three on the 605-foot 18th hole.
"I was two strokes worse than (Friday), but the conditions wind-wise were more difficult," Doss said. "To shoot a 55 and be tied for the best score of the day, I can't be disappointed."
Putting and his short game were strong points Saturday, Doss said.
"Overall, it was the long putts again," he said. "I was hitting basket from everywhere. The putting for me – especially outside 33 feet – was a strong point again."
Defending Vibram champion Nikko Locastro is in second place after shooting a 4-under-par 56. He is at 110 for the tournament, two throws behind Doss.
"I started off by hitting a 75-footer on No. 1 and then had an early out of bounds stroke on No. 2," Locastro said. "It was up and down for me. I felt like I had half good shots and had some get away. I left a couple of shots out there."
Locastro has seven birdies, a bogey and a double-bogey.
"I, for sure, didn't shoot myself out of it," Locastro said. "I feel like I left a lot of shots out there. I don't feel like I have played my best golf yet."
Richard Wysocki is in third place after a shooting a 57. He is four back of Doss. Josh Anthon, who has an opening-round 58, finished with a 55 Saturday and is fourth place with a two-day total of 113.
Steve Brinster, Paul McBeth and Gregg Barsby each tied for the best round of the day with a 55 Saturday.
Sarah Stanhope remained in the lead in the women's tournament, shooting a 6-over-par 66 for the second straight day for a two-day 134. Stanhope entered the 18th hole tied with Sarah Hokom and birdied. Hokom bogeyed for a two-throw swing.
Hokom finished with a 67 for the second straight day and is at 136 for the tournament.
"I played the opposite of yesterday," Stanhope said. "I played a bad front nine and a good back nine."
Val Jenkins shot a 67 and is three throws behind with a 135 total. Reigning World Champion Paige Pierce also shot a 67 and is five throws back.
Stanhope, who won the Vibram last year, said she is hoping to be able to put a good full round together Sunday.
"I can't let the nerves get to me," Stanhope said. "I have to play the way I can play and I have to put it all together."
Play resumes at 7:40 a.m. Sunday at Maple Hill. The men's leaders tee off at noon and the women's leaders go off at 11 a.m.
For full scores and tee times go to: Vibram Scores

For the Vibram Open web page go to: Vibram Open