Veteran Course Designers Gather to Share Secrets
Veteran Course Designers Gather to Share Secrets
Course Design Conference at IDGC, May 3-4. You're invited.
Thursday, March 6, 2014 - 11:51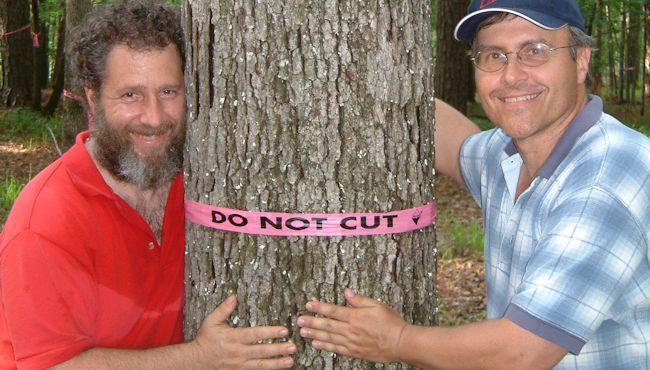 This inaugural Course Design Conference May 3rd-4th, 2014 will bring together several of those veteran designers you have come to know and maybe some newcomers you haven't. Some session leaders will be John Houck, Harold Duvall, Chuck Kennedy, Pat Farrell, Brian Giggey, Tim Kopacz, Allen Colp and Steve West. They'll lead both indoor classroom and outdoor course tour sessions with help from some up and coming designers from around the country and maybe overseas. Presenters are members of the 175-member Disc Golf Course Designers (DGCD) group founded by Steady Ed Headrick, John David, Tom Monroe and Chuck Kennedy. More on the DGCD below.
Many players and budding designers have a sense for the art and creativity in hole design. They see potentially cool holes everywhere as they travel around. It's learning to apply the science behind hole design, risk and reward elements, understanding foliage and environmental issues, learning construction and installation procedures, validating your designs and following good business practices to not just design holes, but to design quality courses and facilities where every element works in harmony, that can truly define the professional designer.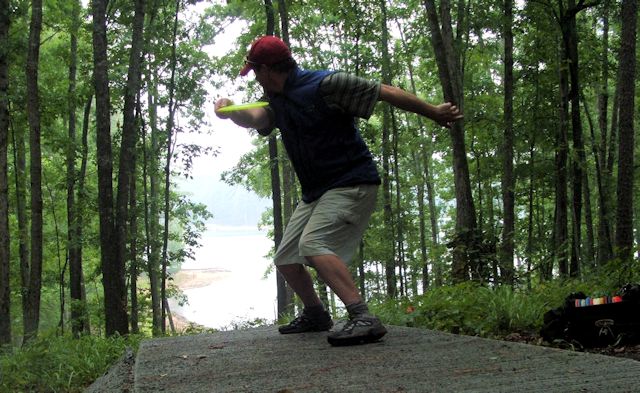 Course builder and installation session leader, Pat Farrell, throws from the tee pad he poured on the scenic Steady Ed hole #5 at the IDGC.
There are no college classes yet for disc golf course design. The designers in our sport going all the way back to Steady Ed had to develop course design knowledge and gain experience from many years of real world trial and error, testing and feedback. This Course Design Conference is where much of that experience will come together for the first time in a college type environment. Here are titles for some of the sessions planned:
Skill Design, Forecasting, Set Par, Course Validation, Tweaking
Course Building: How-to, Environment, Water Issues, Sustainability
Designer Techniques & Examples during their IDGC Course Tour
Risk and Reward at USDGC
Mapping & Marking plus using GPS
Preparing Course Proposals & Grants
Designer Business Topics
Manufacturer Roundtable & Course Equipment Future
The Manufacturer Roundtable will be a forum for manufacturers who provide equipment for courses like targets, signs and rubber tee pads to discuss their products and support programs for course development. In addition, we'll discuss future directions and possibilities for course development and equipment which should be an interesting view into the future. If you have ideas to share on all things related to course development, here's a great place to be heard and perhaps make a difference.
It's not all classes. We've got semi-organized play on some courses at the IDGC and the Hippodrome included in the schedule. Plus you'll also have time to explore on your own with greens fees already included in your registration fee. Playing the courses can be worth the effort to travel to the IDGC even without the bonus to attend the CD Conference.
Fees range from $49 to $99 for 1-day to all weekend with greens fees included. Discounted fees for PDGA and DGCD members. The initial cap on registration is 72 attendees. Register soon to reserve your place.
Disc Golf Course Designer group co-founders, Tom Monroe and Chuck Kennedy, finishing work on the Steady Ed course at IDGC with course builder, Pat Farrell, working the heavy equipment.
The DGCD was formed in late 1994 to bring together players actively designing and installing courses. As the sport grew, we also included people just interested in course design but not actually doing it actively or perhaps just helping with a local design project. It's $49 to become a lifetime DGCD member with our primary mission: "Pursuing excellence in disc golf course design to serve players of all ages and skills." 
The main benefits are connecting with other experienced designers via online discussions to share knowledge and experiences, and to provide some credibility that you attempt to follow accepted design practices in course development projects when discussing work with potential clients. For more on the DGCD, check out our website and see where your name could show up among our members with a direct link to your individual or club website. DGCD Website
If you join the DGCD in connection with the registering for the CD Conference, you'll save $30 on your conference fee. We welcome those seriously interested in enhancing their design knowledge to join the DGCD and/or meet with us at the Course Design Conference.