Frost Valley - Epic New Course Needs Your Help
Frost Valley - Epic New Course Needs Your Help
Tuesday, September 29, 2015 - 14:20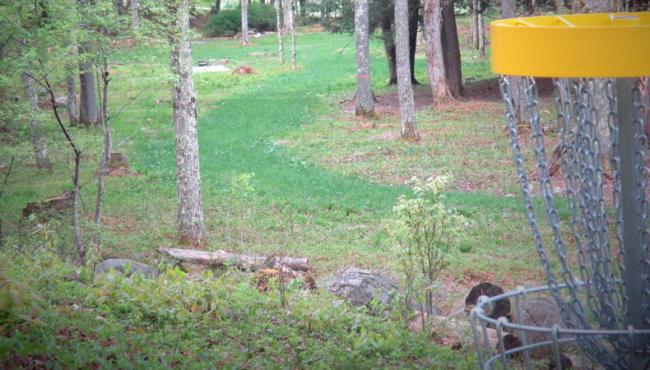 The Frost Valley YMCA, with almost 6,000 acres in the Catskill region of New York, is the biggest YMCA camp in the country.In 2014 they had nearly 40,000 visitors to their amazing property, which is just two hours from Albany and two hours from New York City. This year, they are adding a world class disc golf course to their offerings.
In 2013, they opened a 3-hole disc golf "mini course" to accommodate campers and other visitors with mild disabilities. Each hole has three tees, at about 50', 100', and 150', so new players can gradually work their way up the ladder of disc golf skills.
After mastering that course, they may be ready for the big show, which course designer John Houck #1688 says is "as good as any course I've ever worked on – it's just spectacular."  From the Red tees, geared for newer players, the course is a par 67, 5847' walk up and down the hills of Frost Valley, with a couple holes down by Biscuit Creek. From the Blue tees, it's a par 68 excursion measuring 8,981' that Houck frequently calls "epic."  He adds, "There are several things that I've been able to do here that I've only dreamed about until now. Among other things, I love that we were able to create large, flat landing areas that give players good footing in otherwise rocky areas. I've wanted to do that for years."
Donations Needed
Creating a destination course like this one does require a substantial investment, and Frost Valley needs financial help to finish out the course. Frost Valley is a 501(c)(3) charitable operation, and its resources are limited. Anyone who would like to donate to help fund the creation of this unique course can do so by any of the methods below.
Online
Frost Valley Website
On your mobile device or computer, go to www.Frostvalley.org/donate 
Fill out your personal information. (NOTE: Do NOT choose a designation for your donation.) 
Click Submit.
When you are asked how you would like to be recognized, type "DISC GOLF COURSE" in the text area. 
Houck Design Website
A limited number of collectible packages are available on the Frost Valley page of HouckDesign.com. Each support level contains different gifts that you will receive as part of your donation. Donations can be made directly on the page via credit cards and PayPal. 
HouckDesign Frost Valley Collectable Packages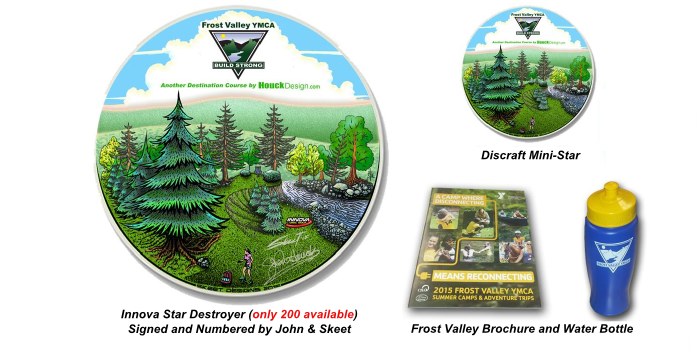 Phone
Donations are accepted over the phone via credit card at 845-985-2291.
Snail Mail 
Please send a check to the address below, made out to Frost Valley YMCA.
Frost Valley YMCA 
Attn: Development Office
2000 Frost Valley Road
Claryville, NY 12725
NOTE: Please specify "DISC GOLF COURSE" in the memo section of the check. 
Tom Holsapple, Director of Operations for the camp, expressed his excitement about the project. "We are big believers in disc golf, and we can't wait for our disabled campers to be able to try it. Of course, we think all our campers, conferees, staff, and visitors will soon be hooked on disc golf. Finally, we're looking forward to having disc golf enthusiasts from all over the country here to see what Frost Valley is all about." 
The first event at Frost Valley will be October 2nd-4th, featuring a HouckDesign workshop on course design and a PDGA-sanctioned event run by former commissioner Pat Govang #13902. After the event, players will be able to enjoy the course by purchasing an annual membership or a daily pass that includes lunch. Frost Valley also offers a variety of great lodging options for couples and families, so it'll be a first-rate place for a disc golf outing. There's even a "castle" that's available for lodging. The course will be closed during certain times of the year, including summer camp, so check the Frost Valley website for dates and times before making the trip.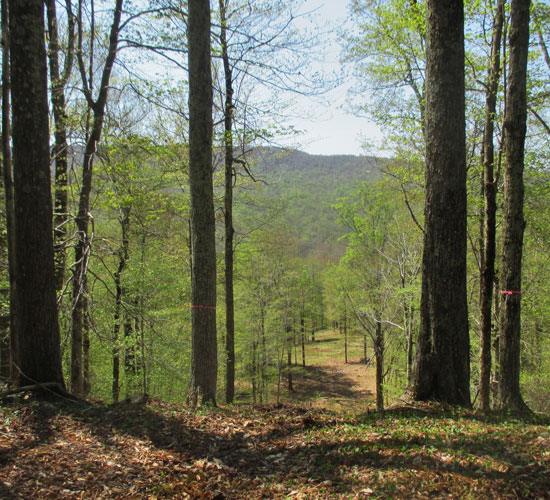 Comments
Thanks to everyone who has responded to this article. Please keep them coming!
Thanks,
John