14 States Represented at HouckDesign's ABCD Workshop
14 States Represented at HouckDesign's ABCD Workshop
Thursday, March 17, 2016 - 13:30
Designers, Park Planners, Landscape Architects, and disc golf players from around the country attended the second HouckDesign Art and Business of Course Design (ABCD) workshop at the International Disc Golf Center (IDGC) on Feb 26th and 27th. The IDGC, located in Wildwood Park in Appling, GA, was the perfect location for the workshop, as a HouckDesign course is already on site, the W.R. Jackson Memorial Course, alongside two other championship courses.
Hosted by John Houck #1688 and Dee Leekha-Houck #38087, this is the first of series of workshops to come which fill a growing need for education and instruction in disc golf course design.   HouckDesign plans to offer this and other higher level workshops across the country in an effort to share knowledge and expertise into the growing business of disc golf course design. 
PDGA Executive Director Brian Graham #5861 said that one of the organization's goals is to use the IDGC more as a teaching facility and that this event fit in perfectly with that vision.  "It was an eye-opening experience into the future of disc golf design and the 'how to' business principles to ensure success with our evolving sport," said Mike Williams #80629 of Texas, who tied for the Most Creative Award with TJ McCourt.
 "The workshop covers topics that include design principles, routing a course, how to determine design fees, to how to work effectively with clients which include Parks and Recs.  The sport has changed immensely in the past 11 years that I've been a part of this industry.  Course Designers have to wear many hats and educate themselves on many different topics. There is no formal education that was being offered to those who sincerely want to create a business or career in disc golf course design. That was the inspiration to offer these workshops," said Dee. "It's taken John over thirty years as a designer to learn what he does. He wants to offer that knowledge to those who want to benefit from it." 
Georgia's Ryan Harris #61358, a Registered Landscape Architect, who attended both this and the first HouckDesign event in the Catskills, said he believes that the HouckDesign workshops have given him a deeper knowledge and direction for course design. "The techniques and principles that John has developed and tweaked over the years are extremely beneficial when applying my own design projects," said Ryan.
"While the actual design of the course is critical for success, the process for designing each course is something not being taught in a formalized way. Aspiring designers have little or no resources available to them to learn what goes into creating a design and how much they should consider when designing a disc golf course for the public to play. It's much more than simply distance and safety. It's the ability to utilize the opportunity each piece of land offers to its full potential. This is what I hope to teach to those who continue to educate themselves with us over this series of workshops," stated John Houck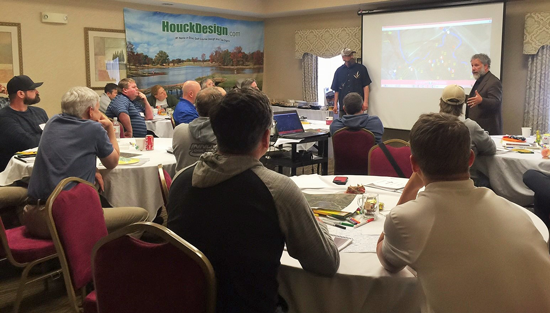 The workshop requires participants to perform actual exercises and present solutions. This creates an atmosphere of multi-dimensional learning. Unlike a conference, it's a hands-on approach where attendees work together to solve problems after hearing information on the topics presented. The two-day workshop is designed so that on day two, there is an actual hands-on design exercise outdoors after a full day of a variety of indoor exercises, including performances and role playing. 
Each exercise illustrated a different principle and allowed opportunities for each attendee to present and participate. Greg Dalsis #77340 voted the Most Friendly and Helpful by the other attendees, came from Colorado to attend this second workshop because he believes anyone can create, but not everyone can create at the highest level.
Traveling all the way from Martha's Vineyard, Massachusetts, Sean Patrick, #57947 who also attended for the second time, stated that playing WR Jackson course at the IDGC exemplifies John's design practices well. Shane Kruse #29558, who came from Minnesota, added: "It was an invaluable experience to learn about course routing and landing zones (among other topics) from the guru of course design. What I did not expect was to learn so much about the business and marketing side of course development from Dee. I'm confident that application of the principles discussed there will lead to an improvement in my ability to create the best course with the land provided."
"What Dee offers is equally important. It's one thing to know how to design; it's a completely different thing to succeed as a designer," added John. "There are business issues that range from sales and marketing to operational and legal.  Course design is no simple business, and in fact, her portion of the workshop is sometimes an even bigger eye-opener to the attendees,"
The workshop brought together 25 attendees from various walks of life, some who have designed as many as 50 courses and others who had only designed one.  TJ McCourt, a Park Planner, expressed that he was glad he attended as he was able to understand and speak candidly about issues on both sides of the table. "Everyone was able to understand the process from funding to design and construction better," said TJ.   
HouckDesign will be offering workshops throughout the country for those who want to learn how to design courses and how to succeed as a designer. The workshops will be hosted near premier courses that Houckdesign has designed in order to illustrate the design principles that John has promoted and/or created specifically for disc golf. 
Ball golf has been the inspiration from which John has developed his modified design principles. He was one of the first, if not the first, to innovate disc golf course design by creating more complex and longer fairways more than two decades ago.
Putter Paul Hopt #14723 may have summed it up the best way when he said, "Excellent workshop. It's high time we raised the bar and standards for true course design."
More information on upcoming HouckDesign ABCD workshops can be found on the official HouckDeisng website and the HouckDesign Facebook page.