There's Something About Barry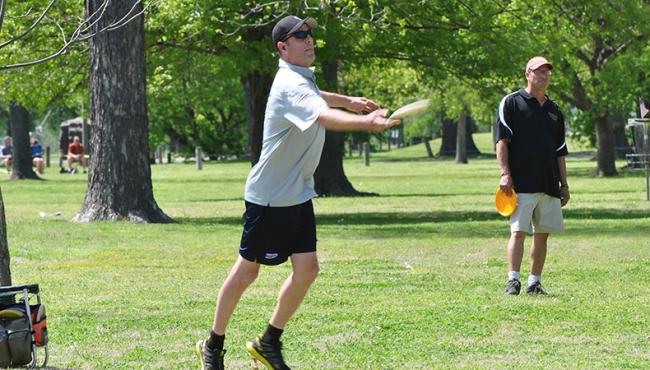 After a long day with surprisingly good weather, the frst two rounds of the 2014 Tim Selinske US Masters Championships are officially in the books. The Masters division started and ended the day at Mohawk Park, playing both the Blackhawk course and Redhawk course, respectively. When they weren't stepping over snakes or cheking their legs for ticks, they were crushing drives and slamming chains. Good company, sunshine, and fairly low winds kept a smile on the faces of the competitors throughout the day and the rounds finished with high moral.
Even though they're in the same park, Blackhawk and Redhawk feel like they're in two different parts of the country. A majority of Blackhawk is heavily wooded with tight tunnel shots that require precision and accuracy. Redhawk is mostly open from the tee pad with much longer holes and sporadically placed trees. The pins and tee pad placements are what make the holes difficult, as they are set up in such a way that the trees available force players to really think about the line they need to take.
The Masters morning round took place on the par 60 Blackhawk course with nearly perfect weather. After it ended there would be 5 players within 3 strokes of each other for the lead. Barry Schultz #6840 had the hot round after shooting 12 under par, unofficially rated at 1065. Brian Schweberger #12989, current world record holder for most sanctioned events played in a single year (62) and returning US Masters champion from last year, would finish just a single throw behind Schultz. Kevin McCoy #9453 finished just one throw behind Schweberger while Ken Climo #4297 and local pro Sam Nielsen #11175 both ended the round one throw behind McCoy.
The second round was a slightly different story. The wind picked up and the open layout of the Redhawk course slowed down the pace for some of the players. Schultz however continued to play lights out. His one throw lead would open up to seven by the end of the day and he will begin day 2 with a comfortable cushion over Climo, currently sitting in second place with several players on his heels.
The men will return to Blackhawk for their second round today after playing Hunter Park on a different side of town this morning. The wind is expected to be 20-30mph all day today and it's still anyone's tournament to win.
As usual, we'll have live hole-by-hole scoring and commentary for the lead card for both rounds today on PDGAlive.com. Tune in and watch the battle as the best Masters players in the world take on the Oklahoma winds for day 2 of the 2014 Tim Selinske US Masters Championships! Check out the PDGA on Flickr for high-resolution photos from yesterday's rounds.