One Happy Family!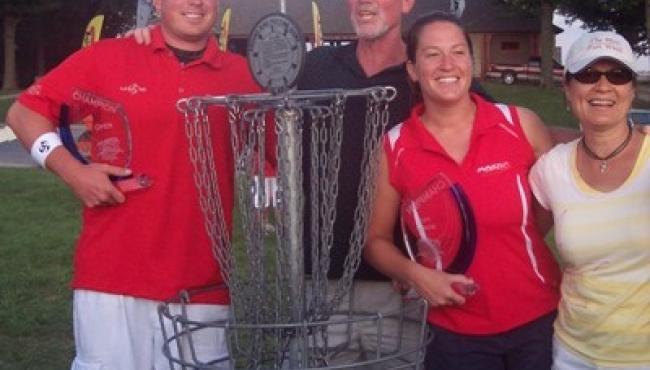 2009 PDGA World Open Men and Women Champions: Avery and Valarie Jenkins (with proud parents Leroy and Sharon)
Valarie Jenkins is no rookie to winning a World title. She stepped up her game to have a commanding lead going into the finals of the 2009 Disc Golf World Championships in Kansas City. Des Reading (3 X World Champion), who led the race early on in the competition, took second followed by Nicole Frazer and Birgitta Lagerholm (1 X World Champion).
Avery Jenkins and Josh Anthon went into a sudden death playoff resulting from their pars earned on the last hole of the final 9. After Avery's putt forcing a playoff, his words were, "Let's Go!!" He was ready. Little did he know that he would have to stick it out 5 more holes in a playoff before he could officially claim his title. He came to win. You could see it in his eyes. Josh forced some "should I lay-up or not" questions to float through Avery's head. He definitely wasn't going to just hand Avery the Championship. If he wanted it, he had to earn it. Avery did just that.
What excitement! There were hundreds of spectators. The roars could be heard all over the course. Blue Valley is a long, uphill, downhill with a side of blind shots course. You have to be on your game to battle it out there and these two men sure did give us a great show. Congratulations to you both.
Respectable followers were Matthew Orum, Mobile, AL who placed 3rd followed by Cale Leiviska, St Paul, MN in 4th. The card changed leaders and 3rd and 4th place switched back and forth a few times. It was a very mentally challenging final round.
History has been made: Largest PDGA World Championships (922 competitors), oldest (Olive Bolander, 81) and youngest (Ezra Hapner, 7) competitors, largest Women's (100) and Amateur (595) fields and siblings winning Open Men and Women titles.  
Please note: This is a brief recap of the top two fields from today. More details/recognitions/stories/blogs/pictures/videos will continue within the next few days. We hope you enjoy/enjoyed the Worlds Coverage this year. Check back soon!
What a Worlds!