Hosts Needed for 2019 PDGA Majors
Hosts Needed for 2019 PDGA Majors
2019 PDGA Majors' Bid Packages Released
Tuesday, September 19, 2017 - 11:00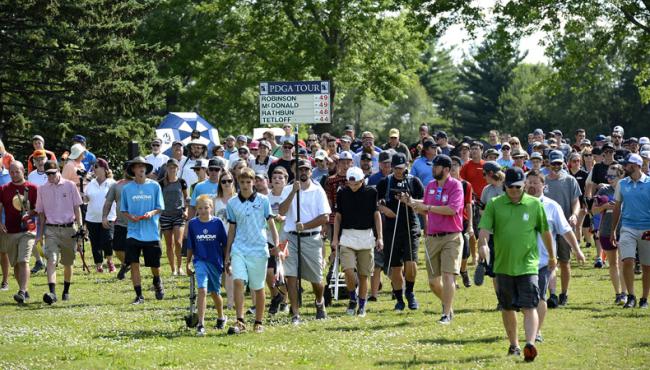 Time is running out! Proposals to host one of the five available PDGA Major Disc Golf Events in 2019 will only be accepted until November 1, 2017. The events up for grabs are as follows:
PDGA United States Women's Disc Golf Championships
PDGA Tim Selinske United States Masters Championships
PDGA Amateur Disc Golf World Championships 

No Junior division; MA1, FA1, & age-protected Advanced divisions only.
PDGA Junior Disc Golf World Championships to be held in Emporia, Kansas.

PDGA Masters Disc Golf World Championships
PDGA Professional Disc Golf World Championships
By awarding the bid to host these 2019 events by the end of this year, the eventual hosts will be provided ample time to ensure a high-quality experience for all PDGA Majors competitors, sponsors, and spectators. The PDGA will continue with this timeline moving forward.
For each of its three available World Championships, the PDGA seeks and encourages bids from across the Atlantic and beyond. Nonprofit businesses, individuals working in conjunction with a community sports commission, visitor's bureaus, facilities owners, etc. are all encouraged to submit a proposal, as being part of an experienced disc golf club or disc golf-related organization is not a requirement. United States Championships, on the other hand, must be contested within the US.
All bids are reviewed by the PDGA Staff and Board of Directors, and a host is selected based on a variety of factors, e.g. experience with running large PDGA-sanctioned disc golf events, contents of the bid, suitable facilities, the proximity of courses/venues to each other, etc. The 2019 PDGA Majors Bid Packages can be viewed and/or downloaded from the documents section at the bottom of the PDGA Major Events page. To submit a completed bid package, follow the instructions contained within each individual document. The deadline for submission of completed packages is November 1, 2017.
We want to thank the many dedicated volunteers, Tournament Directors, event sponsors, city hosts, and everyone else involved in making these events possible. We look forward to the future of these great PDGA Major Disc Golf Championships! 
Comments