Wysocki Leaps Into the Lead at the KCWO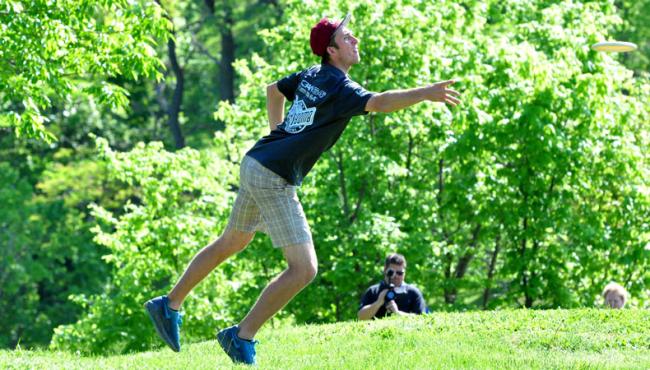 It's difficult to put into words just how enormous the disc golf course at Blue Valley Park in Kansas City, Missouri is. In its longest layout, the course distance surpasses 11,000 feet in just 18 holes, making it the single longest permanent disc golf course in the world. In the modified layout being played for the first Round of the 34th Kansas City Wide Open, it's still one of the longest courses in the world, measuring in at 9,800+ feet with a par of 65.
The extreme distance of the course is complimented by precipitous rolling hills. "I don't think I've thrown a flat shot yet," said Des Reading #15863 after teeing off on the absurdly steep uphill 457' Hole 10, two hours into her round.
The immediate question that comes to mind when considering a course of this magnitude is whether or not the big arms have an immediate advantage. In many cases, the answer is no. Look at the W.R. Jackson course at the International Disc Golf Center for example. "The Jackson", as it is commonly referred to, a course designed by the legendary John Houck #1688, is carved through the thick woods of Georgia, with several holes measuring in at 600' or more. But because of the design and the density of the woods, accuracy will always prevail over distance.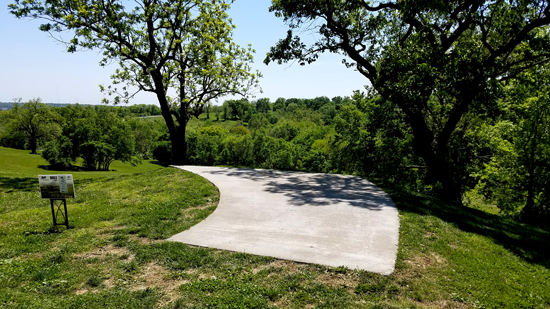 Can the same be said about Blue Valley? "People that can throw farther absolutely have an advantage here. Approaches become a lot easier when they are 100 feet instead of 200 feet, and there's not a lot of OB to prevent it. But the course could be longer, so the fact that it's not makes me happy. You just gotta throw as hard as you can, without hurting yourself," said Eric McCabe #11674.
"It makes a huge difference when you're throwing uphill. If you can get your drive 70 feet further than someone else, that distance adds up quick," said current leader of the Open Women's division Catrina Allen #44184.
In the Open Women's division, the argument leans in favor of the aforementioned comments by McCabe and Allen. Allen leads by four over the current Women's Distance World Record holder, Jennifer Allen #15354 and leads by five over the other biggest arm in women's disc golf, Paige Pierce #29190.
Allen has been in the lead for her last four rounds in a row now counting the three at the 2016 Glass Blown Open, and has been playing amazingly confident disc golf all year. She credits the boost in her performance to a change in her mental game, one that she has been working to improve since the end of the 2015 season.
"My mental game is really strong right now. One thing that's really helped has been listening to Bob Rotella. He's a sport psychologist. He wrote 'Golf Is Not A Game Of Perfect'. It's helped me change a lot of little things. I don't look at my phone at all anymore during my round, for one. But the biggest thing has been changing the way I think about my shots. Once it's out of my hand, I know there's nothing I can do about it. And I try to play with the same attitude whether I'm shooting like crap or I'm playing really well. I want my reaction to be the same if I make an 80 foot putt as it is if I airball a 12 foot putt."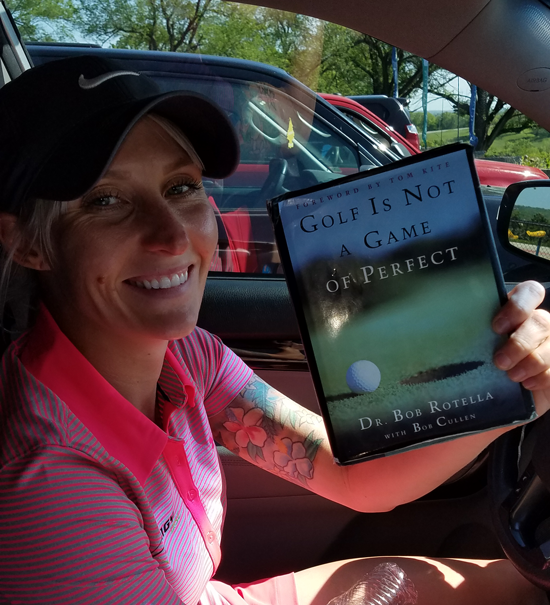 Madison Walker #59431 and Val Jenkins #17495 shared a birthday today for Round 1 of the KCWO, but Blue Valley is a special place for Val. "We have a lot of great memories at this place," Said Val, referring to her and her brother Avery Jenkins #7495 World Championship victory on the course at the 2009 PDGA Professional Disc Golf World Championships (Val's third in a row, Avery's first). "It's also where Nate [Doss] and I first started dating." On her 30th birthday, Val has now spent half of her life playing in PDGA events, and gets to celebrate it by being on the same piece of land where she won her third straight world title and met her now husband, another 3X PDGA World Champion Nate Doss #11794. Val is currently in 5th place, seven off the lead.
In the Open division, big arms once again rose to the top, with some new names making a big splash as well. To clarify, by new names we mean new to the top cards at PDGA National Tour event. These are all seasoned disc golfers with plenty of success stories on their resume.
Alex Geisinger #52063 came out strong, finishing with a bogey-free 12 under par while dozens of other players were still out on the course. Known for having a canon of an arm, this was no surprise to many. "This course was built for someone like him," said Cale Leiviska #34341 when he heard of Geisinger's score.
As more and more scores came in, there were other players on the board that had a shot at taking Alex's lead away, or at least tying him up. Ben Wiggins #38040 started the round in a way that no one else did, carding birdies on every hole of the front nine. Ricky Wysocki #38008 had a lot of momentum as well, finishing the front nine bogey-free with 6 birdies and an eagle on the downhill 618' Hole 7.
By the end of the round, it was Wysocki that would come out on top, ousting Geisinger by the slimmest of margins to tee off first tomorrow with a lead of one. Joining him will be Wiggins, Geisinger, and Nikko Locastro #11534, who finished with an eagle on 17 and a birdie on 18 to make the lead grouping.
Live scoring will be up and running as usual on pdgalive.com as the pros take on a completely different course style at Swope Park on the OB-plagued par 61 Gold layout. Pictures from the day are available for viewing and downloading on the PDGA Flickr page.