PW2010-Friday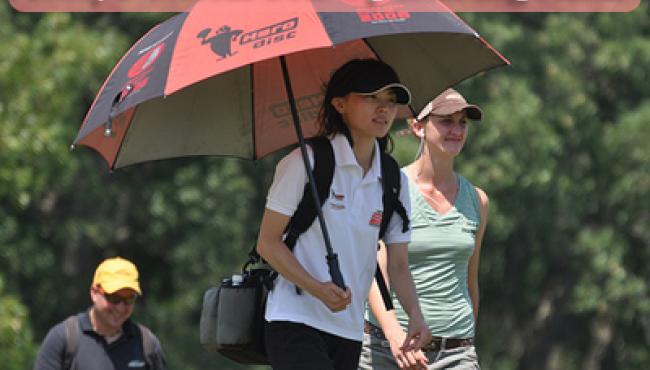 If there were any questions about how competitive disc golf has become or where the talent is coming from, then they need look no further than the top of the Mens Open leaderboard at the 2010 PDGA World Championships to find out.
After 108 holes played by each of the competitors at the Lemon Lake disc golf complex over the last four days, the World title is still very much in the balance.  The 21-year old Paul Ulibarri has shown great resilience, staving off challenges from Josh Anthon over the last two days to maintain a share of the top spot. Ulibarri and Anthon are joined by Eric McCabe, who has quietly crawled to the top of the leader board on the strength of his 1085-rated performance Friday afternoon. All three talents will be joined by David Feldberg on the leadercard. Feldberg is poised to do what he does best on the PDGA Tour--saving his best rounds for the end of competitions. And with a slim one-throw advantage over the number-one ranked player in the world, McCabe, Anthon and McCabe will get all they can handle during their morning semi-final round.
Yet, the lead card will be keeping a close eye on the foursome right in front of them, since Nate Doss is only three throws off the pace, with Nikko Locastro and Devan Owens four throws behind. But it was Steve Rico's 1095-rated round on Friday afternoon that had the tournament buzzing. Rico's score of 41 suddenly put him only five throws away from the lead, and, with Mens Open semi-finals going back to the blue course that Rico just conquered, things could still get a major shakeup from the Sylmar, California native, who is looking to play in the first Mens Open Worlds Finals of his career.
WOMENS OPEN
Sarah Stanhope is having the week of a champion, as she gained the lead mid-week at the Lemon Lake disc golf complex and has not yielded it since. Des Reading pushed back to within one-throw of Stanhope after Friday's morning round, but Stanhope pushed back in the afternoon to again distance herself from the rest of the Womens Open field.
Stanhope cannot just sit back on her six-throw margin over Reading, however, as this division is prone to significant swings in the scores and standings.  Reading is most likely looking forward, as well as backward, since defending World Champion Valarie Jenkins finally put a 1000-rated round together Friday afternoon, to pull within two-throws of Reading. Liz Carr completes the Womens Open leadcard going into Saturday's semi-final.