Pierce Comes Back - Twice - For Waco Victory
Pierce Comes Back - Twice - For Waco Victory
Hokom slides to second place
Sunday, March 18, 2018 - 09:46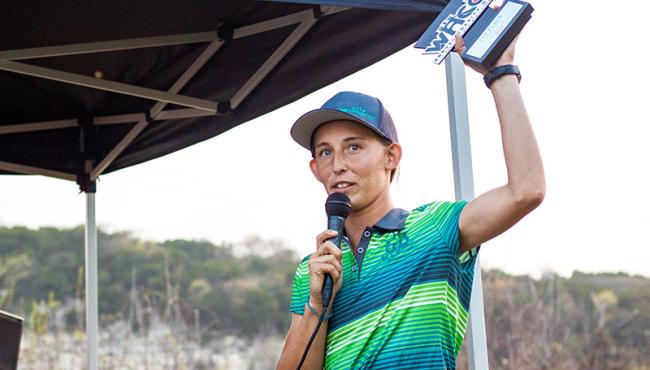 Paige Pierce had done everything she needed to – and then some.
Faced with a six-shot deficit to Sarah Hokom entering the final round of the Waco Annual Charity Open, Pierce said on Friday that she wanted to be within three shots heading into the final six holes of the tournament. She felt she had an advantage on Brazos Park East's open back stretch and wanted to be in position to strike.
So after Pierce traded volleys with Hokom through the woods and emerged only one throw behind heading to Brazos' 555-foot 1st, she'd already achieved her goal. And when she added four consecutive birdies to her tally, she entered hole 5 – the course's second to last in this week's layout – with a two-stroke advantage.
Then, all of her momentum came to a screeching halt.
Pierce thought she had a safe first shot on 5, but her lie left her debating either a jump putt or up-and-over shot to find the fairway. After settling on the jump putt, she couldn't decide if she should take a run up or just a step, she said, and the extra thought got in her way.
"It sailed right OB, and immediately I just thought, 'That's the worst thing I could have done, the absolute worst thing I could have done,'" Pierce said.
By the time she ended up on the peninsula green she was wide left of the pin, then missed not one, but two putts from within 25 feet on the way to carding a quadruple-bogey 8. "It was just completely mental," Pierce said. "...I really thought I knocked myself out of it after missing that one."
At the same time as Pierce was building her snowman, Hokom took a clean par and a two-shot lead into the final hole. It seemed as if Hokom had salvaged a round that went off the rails and would be able to secure the win.
Trying to seek control of the situation, Pierce did what came naturally: She sought refuge in herself.
"That walk up to the next tee pad, with a huge, huge gallery – everyone's trying to talk to me like, 'It's OK, it's OK,' stuff like that," Pierce said. "And those are the moments where I need to walk away...Nobody's a better pep talker than myself, because I know what to do in any given moment after playing hundreds of tournaments. I thought, 'It's a long shot, but if I get a 2 on this hole I could put it into a playoff. If I get a 3, it'll lose by one.'"
As it turns out, a 3 would be all she needed. Hokom could not execute her layup off the tee of Brazos' 492-foot 6th, and the shot faded left and caught an edge before rolling onto the sidewalk. Pierce did not see the awkward roll, but she was already determined to drive for the green. After she cleared the Brazos River and found how little ground Hokom had covered, she knew a door had been left open.
"In my head [before the drive] I still had to 2 it and she still had to make a mistake," Pierce said. "I tried to get it as close as I could and then after I threw my shot and we started walking, everybody paused then I realized she was out of bounds maybe only 150 feet off the tee pad, and I was shocked."
Hokom, not confident she could clear the water with her third shot, pitched up for a safer fourth attempt. She ended up within 25 feet of the basket and needed the putt to save par, while Pierce was left with another decision to make. This time, though, the choice was clear.
"Nate's like, 'So you're gonna lay up and go into a playoff, right?'" Pierce said. "And I'm like, 'I don't really lay up.'"
Pierce ran for the eagle and came up just short, leaving an easy birdie. If Hokom made her putt, the playoff would be on.
But after bringing a field-best 89 percent circle 1 putting rate into the round, Hokom continued the trend that dogged her final performance: She missed the par save – the eighth time during the round she two-putted inside the circle – and was left in second place. Pierce, who completed the comeback twice in the same round, tapped in her birdie for back-to-back Waco titles.
"It was a crazy, crazy day," Pierce said.
Pierce is now undefeated in 2018. She pocketed $1,185 for her 7-under par 194 weekend, while Hokom collected $830 for her 6-under par 195 showing. Lisa Fajkus moved into third place with a 4-over par 205, while Rebecca Cox and Ellen Widboom tied for fourth place with 7-over par 208s. Catrina Allen, who started the final round in third place, slipped to sixth with an 8-over par 209 total.
Pierce's final round stood in stark contrast to the rest of her weekend in Waco. Her final round circle 1 putting rate (89 percent) was her strongest of the tournament, and her ability to scramble (88 percent) kept her in contention down the stretch. The Texas native leads the Disc Golf Pro Tour's points competition, but is not signed up for any events until the PDGA National Tour kicks back up with the Dynamic Discs Glass Blown Open at the end of April.