Phee Phi-lo Phum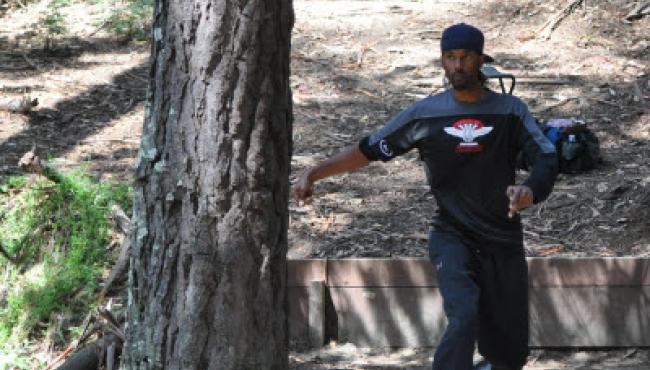 Day 2 at The Steady Ed Memorial Masters Cup was yet another gorgeous day with perfect weather. When the first cards of the day were teeing off it was brisk and foggy but by 9AM everything was back to the normal Nor Cal climate. The wind was again a non-factor today and one would expect scores to improve compared to round 1. Despite all odds, for the most part, they didn't.
Patrick Brown had the overall second best round of the day yesterday shooting an impressive 8 under par which put him 5 throws ahead of the rest of the group. Today, however, he finished with an even par. He is still in the lead going into the final round, but Micah Dorius is right on his heels only 1 stroke behind him. Jonathan Baldwin jumped to the lead card and is now tied for 3rd place with The Champ, 3 throws down from Patrick. Their card will tee off tomorrow at 10:30AM PST.
All 4 of the women on the lead card of the Open Women's division finished with a score that was anywhere from 1-4 throws worse than round 1. Catrina Ulibarri and Paige Pierce both started the day down by 2 to Valerie Jenkins. After the front 9, they were both tied for the lead over Val after an impressive 5 throw swing. It wouldn't last long...
Paige uncharacteristically carded 2 bogeys, a double bogey, and 2 triple bogeys in the last 11 holes. Catrina wasn't far behind as she carded 5 bogeys and a double bogey in the last 12 holes. Sarah Hokom and Val finished the round with consistent play leading to a few birdies and a lot of pars. They will all compete on the same card again tomorrow and it's still anyone's tournament at this point. Val will tee off first for the final round tomorrow with a 3 throw lead over Catrina. They are scheduled to tee off at 11:10AM PST.
The Open division results were all over the place. Many players shot much better rounds than yesterday. But, just as many players, if not more, didn't. One man stood out above all the others, shooting the best round of the tournament thus far with an unofficially 1087 rated 11 under par for the day. Philo Brathwaite was on fire. He improved by 7 throws compared to his 1st round and is now sitting in 1st place going into the final round tomorrow.
He'll be joined by Nikko Locastro, Steve Rico, and returning champion Paul McBeth. Nikko is only 1 off the lead while Paul and Steve are tied for 3rd place 3 throws off of Philo. The 2nd and 3rd cards in this division shouldn't be overlooked as they are all only a handful of throws off the lead as well. The lead card in the Open division is scheduled to tee off tomorrow afternoon at 2:00PM PST.
We will have live scores going on pdgalive.com for the lead card of the Open Masters division and the Open Women's division. Due to overwhelming requests, we will also be doing our best to have live scores for the Open division's lead, chase, and possibly even 3rd card. If you are planning on being a spectator for the Open division's final round tomorrow and you are willing to help out, please talk to the tournament director. They can always use volunteers, big and small tournaments alike.
Follow all of the action live on Twitter at www.twitter.com/PDGAlive. The Open division will be live tweeted from hole 1 all the way to the finish. The Open Master's and Open Women's division will have as much Twitter coverage as possible as well.
This course has proven time and time again that the question of who will win or lose is more about who gets beat up the least by DeLaveaga. It's not often that an even par on a course with perfect weather at an NT event would be over 1000 rated. At DeLaveaga today...it was rated 1014. Tune in tomorrow for the exciting finish of the 3rd stop on the National Tour Elite Series!