PDGA Awards First Round of 2016 Innovation Grants
PDGA Awards First Round of 2016 Innovation Grants
Friday, July 8, 2016 - 10:00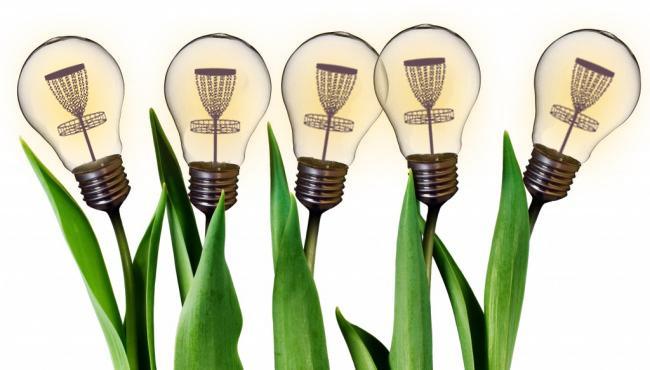 The PDGA Innovation Grant Program was created to increase and promote the awareness of the sport of disc golf and the Professional Disc Golf Association. Applicants are encouraged to think outside of the box to develop innovative and unique programs which will promote the sport and increase participation. 17 applications were received by the PDGA office prior to the June 1st deadline for consideration for the first wave of these $500 grants to be awarded in 2016.
We're extremely happy and proud to announce the recipients of the five PDGA Innovation Grants have been selected!
2015 PDGA Innovation Grant Winners
Mobile Recreation: Play on the Way
The Mobile Recreation: Play on the Way program will launch this summer with a focus on providing recreational activities to underserved and rural families who do not have access to programs within their own neighborhood or pocket community in the Central Michigan region.  With few opportunities to recreate in a safe and healthy fashion in Central Michigan, Play on the Way will give youth and families a safe and comfortable location in their own neighborhood or community to enjoy physically, mentally, and socially stimulating activity.  With the inclusive nature of disc golf, Jordan is aiming to display disc golf at the forefront of this program.
Jordan Bruursema #36532, along with Dr. Lori Irwin from the Central Michigan University Recreation Department, Craig Clingan #27771 from the Mount Pleasant Disc Golf Club, Ryan Longoria -- Mount Pleasant Recreation Director, and the Central Michigan University Disc Golf Team will be working in a collaborative effort to ensure the successful implementation of this initiative.  As the first university-based program of its kind in the United States, this program will surely set a standard that other universities can follow.
The grant funds will be used to purchase two portable baskets, with the remaining funds being used to purchase discs and minis.  Additionally, the Mount Pleasant Disc Golf Club will be hosting a "disc drive" to gain access to additional discs to be used for clinics and demonstrations at each stop.  In the Fall, Winter, and Spring months, these baskets and discs will be used by Central Michigan University and the CMU Disc Golf Team to hosts instructional clinics until the Mobile Recreation Truck heads back out again next summer.
If you live in rural Central Michigan, keep an eye out for the Mobile Recreation: Play on the Way program.  It may be making a stop in your community!
Disc Golf Equipment & Rules Support for the First Players in Ukraine
If you recognize Aleksandr Makarov's name, it could be from the Innovation Grant he was awarded in June of 2015. After traveling all over Russia to promote disc golf, he has now taken an interest in introducing our favorite sport to Ukraine. Aleksandr stated that he is familiar with about 10-15 active disc golfers in Ukraine, however, they play the game with no rules or baskets.  Their involvement in disc golf mostly amounts to throwing Ultimate Frisbees at object courses where they utilize colored sticks as targets.  In an effort to introduce disc golf in a more professional light, he sent some of his personal discs to players in Kiev in 2015 to introduce the bevel-edged discs as an alternative to their current Frisbees. 
The grant funds will be used to purchase one basket and about 20-30 discs to bring to Ukraine.  After introducing the sport with an official target and PDGA approved discs to the Kiev community, he will work with some of the locals to find a motivated and suitable Ukrainian Country Coordinator to continue the positive development of disc golf in Ukraine.  Additionally, Aleksandr will use some of the grant funds to help the PDGA translate our Official Rules and Competition Rules to Ukrainian.
With Aleksandr's efforts to promote disc golf in Ukraine, hopefully we will see the Ukrainian flag waving proudly at one of our World Championships in the future!
Adam Rhoades, Port Angeles, Washington
Olympic Peninsula Youth Disc Golf Initiative
Adam Rhoades, along with Ashley Woolsey, BGCA Unit Director for Port Angeles, and PDGA Consultant Sara Nicholson #33589 aspire to bring disc golf to the Boys and Girls Clubs of the Olympic Peninsula in Port Angeles, Washington.  The Port Angeles Club serves an average of 120 youth per day with ages ranging from 6-18, and the Sequim Club (both part of the Boys and Girls Club of the Olympic Peninsula) reaches an additional 300 youth per day.  This Innovation Grant will allow them to introduce a pilot disc golf program with an eye towards a larger compounding experience moving forward.
Starting in mid-June of 2016, youth in this program will receive roughly 12 weeks of progressive curriculum and clinics throughout the summer with a culminating tournament this fall with the hopes of it becoming an annual event.  The goal is to teach etiquette, throwing techniques, and sportsmanship throughout the 12 weeks of instruction.  The grant funds will be used to purchase one portable basket, discs for the kids to use during the clinics, and some tournament prizes for their end of the year, youth only disc golf tournament.
For our sport to continue to grow and thrive, we must get our youth involved.  They are the future of our sport, and Adam intends on sharing our passion with hundreds of kids per year!
Dean Schaub #60749, Amsterdam, Netherlands
Teaching Disc Golf to International Youth – Science and Sport
Have you ever wanted to learn the physics behind how different golf discs fly?  With Dean Schaub's instruction, some gifted students at the Amsterdam International Community School will get to realize this question.  Dean is a primary school teacher at AICS, and teaches an affinities based program on Wednesdays in five week blocks.  This class will take place in front of the World Trade Center in Amsterdam, and will teach the kids everything from flight numbers, to stability, to different types of plastic – all while the kids are thinking scientifically and predicting what each different aspect means to the actual flight of the golf disc.  With help from Dawey Teeling #51955, Chris Clausing #31635, Hans Nagtegaal #44969, and the Innovation Grant, this program will expand to feature monthly youth disc golf days on the weekend for students and club members.
This program is especially impactful due to the demographic that will be involved in this class.  The students are from all over the world.  Some students will live in the Amsterdam area for an extended period of time, while some will only stay for about 3-5 years before traveling to a new destination.  This will allow the sport to follow each student to their new destination, and with their knowledge gained in this class, each student will be able to teach about our sport in areas that may have not yet been exposed to disc golf.  The grant funds will be used to purchase a variety of discs to study, promotional materials for youth days at the course, and physics equipment for the class such as distance measuring wheels and measuring calipers.
This program will not only expose a unique and talented demographic to disc golf, but could also pave the way for new golf disc innovations through their studies!
Jeff Shattuck #23454, Fredericksburg, Virginia
Therapeutic Disc Golf
Jeff aspires to introduce disc golf to military veterans who are recovering and recuperating from various injuries and illnesses while being treated at the Hunter Holmes McGuire Veterans Affairs Medical Center in Richmond, Virginia.  Having served 20 years on active duty in the United States Marine Corps, and now currently working as a government employee for the Marine Corps, Jeff has seen first-hand the impact that both physical and mental injuries can have on our veterans.  With the inclusive nature of disc golf, Jeff believes this is the perfect program to help veterans enhance hand-eye coordination, build comradery, and get involved in a competitive activity that allows all levels of injury to compete.
With help from Jennifer Purser, Preston Curry, Tai Cleveland, and the Spotsy Disc Golf Club, Jeff will introduce disc golf to both inpatients and outpatients to both McGuire VA Medical Center and the Paralyzed Veterans of America – Mid-Atlantic Chapter as a form of rehabilitation, recovery, and recreation.  Through introducing this sport to this demographic, Jeff will also gain insight on the needs to create courses that are wheel chair accessible for our friends with limited mobility.  The grant funds will be used to purchase a portable basket and discs to be used by all participants.
This program will highlight how inclusive our sport is, and will give our veterans a chance to get back to their everyday activities through using disc golf to help them recover from their injuries!
The PDGA office wishes to thank everyone who submitted an application for this round of grants. Applicants who were not chosen this time are encouraged to re-submit their applications for consideration in December 2016. Five additional grants will be awarded in mid-December of 2016 with an application deadline of December 1. Information, guidelines, and an application can be found on the PDGA Innovation Grants page.