Another $5K Awarded to PDGA Innovation Grant Program Winners
Another $5K Awarded to PDGA Innovation Grant Program Winners
Creative events and programs look to grow the sport
Monday, August 6, 2018 - 15:04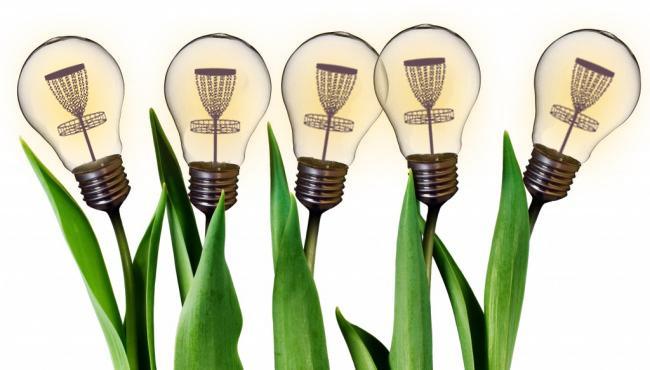 The PDGA Innovation Grant Program was created to increase and promote the awareness of the sport of disc golf and the Professional Disc Golf Association. Applicants are encouraged to think outside of the box to develop innovative and unique programs, and the PDGA office received dozens of applications for this wave of the grants, which were doubled in both funding and number of winners in a decision made by the PDGA Board of Directors in 2016.
The next round of PDGA Innovation Grants will be awarded in December of 2018. More details about how to submit a grant application will be released in the weeks to come. For the moment, we are delighted and proud to announce, in no particular order, the next five recipients of the PDGA Innovation Grants, as told in the words of the applicants themselves:
A Positive Spin
Union Gospel Mission; (U.G. M.) is a Residential Treatment Center located in the Downtown Eastside of Vancouver, British Columbia.  U.G.M.'s six-month intensive D and A Rehabilitation Program offers men a chance at recovering their lives through a solid connection to the community, faith in a higher purpose and helps teach how to live one's life without the use of harmful substances.
We recognize the value of having healthy and positive activities as an integral part of long-term recovery and as such, disc golf provides a distinct opportunity to get up, get outdoors, have some fun, challenge oneself and build new relationships.
Having equipment available that can be easily accessed by the men in the program, as well as a membership for a representative here to allow for continued communication with the PDGA. would be a great asset.
Adrienne Lacy - Marinette, Wisconsin, USA
Marinette Kids' Day
The City of Marinette will be hosting its 3rd Annual Kids' Day on August 10, 2018. In addition to free swimming, bowling, food, and arts and crafts, this year children will be able to try disc golf for free in City Park courtesy of a grant from the Professional Disc Golf Association (PDGA). Children can stop by the Civic Center (2000 Alice Lane, Marinette, WI 54143) from 9 am – 4 pm on Friday, August 10th, to pick up their free disc and scorecard. While a round of disc golf is always free, players without their own discs have to pay a $20 deposit in order to rent discs from the Recreation Department. With the grant from the PDGA, children will now be able to have their own disc to play anytime they want. The grant will help grow the game of disc golf with the next generation of players in Marinette, Wisconsin.
Jeff Miller - Winder, Georgia, USA
Russell Middle School's New Disc Golf Club
Russell Middle School, a Title 1 school in Winder, Georgia with more than 900 students, prides itself on their after-school clubs.  These teacher run clubs include sign language, Chinese, chess, sports, art, writing, as well as other nationally recognized programs.  Russell can now add disc golf to its after-school club list.  Thanks to the PDGA Innovation Grant Program, Russell can now purchase the necessary equipment to not only have a disc golf club but to be able to incorporate disc golf into its PE curriculum.  Russell Middle teachers Jeff Miller, Paul Batchelor, and Clint Deaton will lead the club.  They will share their knowledge and passion for disc golf with a new generation of potential disc golf enthusiasts.  The club will meet two days a week (per school guidelines) beginning in March of 2019.  The club will be open to both boys and girls from the 6th, 7th, and 8th grades.  Looking to the future, Miller, Batchelor, and Deaton hope to inspire other middle schools in Barrow County to create their own clubs and perhaps make this a middle school sport.  This club would not be possible without the generosity of the PDGA and their grant program.
Tom Wehrli - Naperville, Illinois, USA
Frisbee/Flying Disc Convention
You've all heard about each other from all the different aspects of flying disc life. Now is the time to gather and meet in one place! Come in and buy, trade, and/or sell some of your discs, but more importantly, come meet some of the "who's who" in the world of flying disc sports whether you're a disc golfer, a crazy GUTS player, an athletic Ultimate player, or a K-9 player. With help from the PDGA, I am hosting a three-day convention here Naperville, Illinois, just a 30-minute drive from Chicago O'Hare International Airport. For the K-9 Frisbee fanatics, the K-9 Frisbee Museum is a short, five-minute drive from the convention site.
Scheduled to attend amongst many disc sport legends are Dan " Stork " Roddick, one of the founding fathers of flying disc sports and Alex Stein, owner and trainer of the most well-known Canine Frisbee Disc World Champion, Ashley Whippet!
Come join in the fun before some of us are " landing on a roof, and just laying there", so to speak. Vendors are wanted. If you have a stash you're ready to part with, bring it in! For more info, email [email protected].
Alan Arnett - Brookville, Ohio, USA
Brookville Elementary
During the last few decades, we have become a society that is less and less active, leading to alarming obesity rates. As a physical education teacher and role model at Brookville Elementary in Brookville Ohio, my goal is to inspire students to lead healthy active lives to combat this trend. To achieve this goal, students are exposed to a variety of sports, games and recreational activities. Not only does physical activity contribute to healthy bodies, but also plays a huge role in academic achievement.
 As a successful grant recipient, I will introduce the sport of disc golf to my elementary students, in physical education classes. In addition to introducing the sport, student will also learn about the many physical and mental health benefits of disc golf. After experiencing success and enjoyment with the sport in my class, my hope is students will take this excitement home where they can also play and even get other family members involved. The second part of my project deals specifically with family involvement. I plan to host a family fun night where students can bring a family member to learn about the sport, practice with disc golf equipment and play a course I set up.