Paul McBeth Wins First Disc Golf World Tour Event
Paul McBeth Wins First Disc Golf World Tour Event
Saturday, March 12, 2016 - 22:14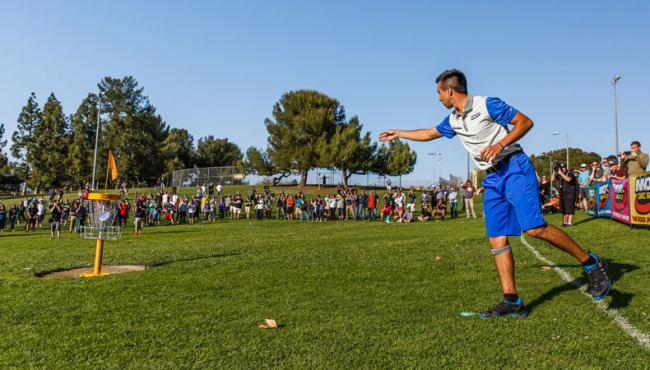 Story: DiscGolfWorldTour.com,  Photo: Stu Mullenberg, The Flight Record
Coming into the final round of the La Mirada Open, Paul McBeth #27523 held a five shot advantage on the field. That lead quickly shrunk and the story turned to the final nine holes of the tournament. If McBeth wanted to walk away with the win, he needed birdies to keep a handful of competitors at bay, and that is exactly what he got.
Birdies on four of the final five holes was enough to finish the round at 57 (-6) and stake claim to the first win on the Disc Golf World Tour.
"I let a few go early. My putt was really bad today," McBeth stated. "I had an airball from about 20 feet. I was driving well though and throwing my upshots well. I knew I needed to keep giving myself opportunities and sooner or later I'd start making them. I was never worried about the competition today. My sole focus was my game."
"This has been a great experience. From all the media before the tournament, the showcase card for Round 1 was fun. I never get to play with Catrina Allen #44184, except for some finals from time to time. Karl Johan Nybo #28903 and Andreas Gertsch #13808 rounded out a great card," McBeth reflected. "Day after day the crowds got bigger and even in the rain yesterday they were here. I'm excited to see the Disc Golf World Tour grow on future stops. I can only see it getting bigger from here."
After the first nine holes of the day, McBeth's lead shrunk to just two with local favorite Bobby Musick #15911 and Will Schusterick #29064 with the most momentum.
As McBeth was even par for the round through Hole 8, Schusterick was further ahead and sat at six-under-par for the for the round as he began the back nine. Soon the birdie-well dried up for Schusterick as he could only muster par on the next seven holes. It wasn't until Hole 17 when he could grab another birdie and finish his round at 56 (-7) and ultimately in a tie for fifth.
Earlier in the week, McBeth stated he feels as if he is at home at the La Mirada Disc Golf Course. For the man known as the "La Mirada Legend," this course is literally home for Musick as he grew up across the street from the course.
Musick was playing on the chase card and hit a groove early on which propelled him to second place midway through the afternoon. Musick birdied seven of the first 11 holes en route to a 55 (-8). The 55 put him in second place overall as he waited for the lead card to finish.
Meanwhile, Ricky Wysocki #38008 missed a birdie attempt on Hole 18 which would have given him sole possession of second place. As Wysocki and Musick will officially be listed in a tie for second place, a playoff was used to determine strictly the trophy distribution.
The pair returned to Hole 17 where Wysocki threw out-of-bounds twice which allowed Musick to claim the second place trophy on his home course.
When asked about having the first Disc Golf World Tour event at his home course, Musick couldn't help but smile, "La Mirada is the center of where it all started. This is where I got my career started. It's been great seeing all the development and all the world class players coming to have a great time."
Final Leaderboard
1. Paul McBeth (-23)
2. Bobby Musick (-17)
2. Ricky Wysocki (-17)
4. Dave Feldberg (-16)
5. Will Schusterick (-15)
5. Nate Doss (-15)
7. Simon Lizotte (-13)
7. Paul Ulibarri (-13)
7. Karl Johan Nybo (-13)
10. Jeremy Koling (-12
10. Zach Melton (-12)
Comments
That was awesome Congratulations Paul Mcbeth on your win!!