No Practice, No Problem For Pierce At Jonesboro
No Practice, No Problem For Pierce At Jonesboro
Four-time world champion breaks course record, takes early seven-shot lead
Friday, April 6, 2018 - 20:44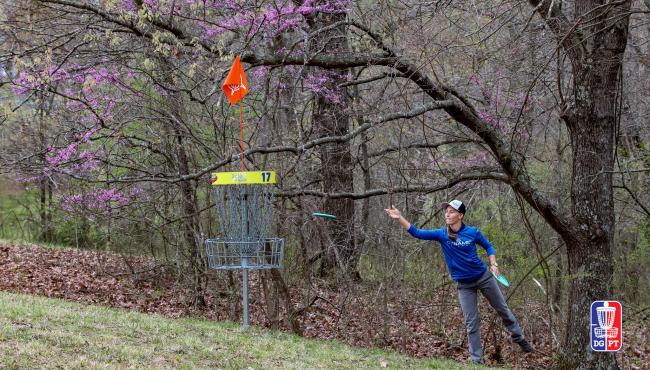 Paige Pierce wasn't even supposed to play in the Jonesboro Open.
Now, the defending tournament champion has a seven-shot lead after the first 18 holes at Disc Side of Heaven, as her 12-under par 54 Friday morning established a new Open Women's course record. Madison Walker tossed a 5-under par 61 to land in second place, while Sarah Hokom and Catrina Allen are tied for third with 4-under par 62s. Kona Panis rounds out the top five after a 3-under par showing.
Pierce's 1025-rated effort topped her best showing from last year's tournament, where she fired off a 4-under par first round. Though the Open Women's field is playing from shorter tees on nine holes, her tally also matched the second-best round score logged by the Open field in 2017.  
The four-time PDGA World Champion was out in Nantucket this week helping with plans for Tina Stanaitis and Eric Oakley's wedding later this year, and the trip was going to keep her from defending her Jonesboro title because she wasn't going to make it back in time for the start of the tournament.
That is, until she found out the event started on Friday.
"I thought it started on Thursday, actually," Pierce said with a laugh. "But then Nate [Perkins] was like, 'Why wouldn't you play if your flight lands on Thursday? You could still make it here.'"
So, after a last-minute add to the roster, Pierce headed back to the Midwest. Even after her and Stanaitis' flight was delayed two hours, the duo made it to Jonesboro after a six-and-a-half hour drive from Kansas City and pulled in around 11:30 p.m. Thursday.
Naturally, a boost was in order for Pierce on Friday morning, but that didn't go quite as planned when she spilled her coffee all over herself before the round. Combined with not knowing that the opening hole had been shortened from the prior year – the tee sign still read 450 feet, Pierce said, but it actually plays at 380 for the women – and Pierce started the day inauspiciously: She completely misfired her drive high into some trees off the right side of the fairway and settled for one of the field's two bogeys on the hole.
A teammate came to the rescue, though, and she was able to get back on track.
"Peter [McBride] actually brought over a green tea," Pierce said. "So I got a little caffeine in."
Perhaps Pierce needs to switch her morning beverage, then, because the elixir paid dividends on her scorecard. Pierce didn't register another blemish the rest of the round and paced the field with a 67 percent circle 1 in regulation rate. She parked the 715-foot, par 5 9th for a tap-in eagle, then parked four more shots down the stretch to cruise to the clubhouse lead.
More important than her accuracy measures, though, was her success from close range.
"I think it was putting," Pierce said. "It was one of those rounds where nothing was really going wrong…I was just playing, you know? …I didn't have to make any comebackers. It was just smooth all around." She canned 94 percent of her circle 1 putts and leads the field in circle 2 putting at 40 percent.
The top circle 1 putter for the day, meanwhile, is in second place. Walker is coming off three consecutive wins, including a playoff triumph over Elaine King at the Throw Down the Mountain VI, and continued her momentum with a hot back nine that included six birdies. It was during that same stretch that Walker was handling UDisc Live scoring for her card, and it turns out it was a welcome distraction.
"I took the phone, and once I got the stats thing in my hand I don't know what happened," Walker said. "I lost control and I kinda black out and was doing the stats. I literally had no idea I had that many birdies until I got done."
Throwing primarily backhand as she continues to recover from elbow tendinitis, Walker said her approach game was the weakest part of her game, as she had difficulty dialing in her Rhyno touch shots.
Still, a trip to Augusta National Golf Club for a Masters practice day earlier this week left her inspired. She's spent the time since Tuesday watching videos of Jordan Speith, the world's fourth-ranked golfer, and his penchant for talking to his shot while it's airborne.
"I do that, too," Walker said. "So it's been making me laugh, which keeps it light."
The Open Women's lead card tees off at 9 a.m. CT Saturday for another tilt with Disc Side of Heaven, with real-time statistics and scoring available at UDisc Live.