Wysocki, McBeth Set For San Francisco Showdown
Wysocki, McBeth Set For San Francisco Showdown
Gibson eagles his way to final round lead card, while McMahon lurks on the chase
Sunday, May 27, 2018 - 11:57
SAN FRANCISCO – Lined with windswept cypress trees and graced with stunning vistas of the San Francisco Bay, Gleneagles Golf Course proved to be an idyllic playground for stunning flights and heartbreaking putts Saturday afternoon. After the final scores were tallied and spectators were treated to a post-round freestyle session by five-time PDGA World Champion Juliana Korver, it was two players with a combined six world titles who, like many times before, stood together at the top of the leaderboard.
Ricky Wysocki launched a 9-under par 53 from the third card, while Paul McBeth tossed another 7-under par 55 in the lead group as disc golf's top two rated players find themselves locked up at 14-under through 36 holes of the San Francisco Open. Drew Gibson climbed the ladder with an 8-under par 54 that moved him up 10 slots and into a tie for third place with Nate Doss and Eagle McMahon at 12-under overall, while Eric Oakley and Cameron Sheehan share sixth place with 11-under par totals.
Wysocki has been battling a gash on the ring finger of his throwing hand, an injury he sustained Wednesday by throwing too many shots during practice, he said. The issue lingered throughout his time on Friday's feature card, as he indignantly ripped a bandage from his finger after sailing his tee shot on 10 out of bounds.
Saturday, then, brought challenges beyond this 9,998-foot track. Wysocki stopped at a park before the round with trainer Seth Munsey, where they tested if the damaged digit would hold up to the rigors of another 18 holes. They implemented a plan that clearly paid off. Minus a bogey on the daunting hole 4 – the 507-foot par 3 finds its pin encircled with mature cypress trunks, and as a result has only yielded six birdies on the weekend – Wysocki buckled down and got hot late. He birdied seven holes on the back nine, including a 70-foot connection for deuce after laying down a roller on the 444-foot 12th and a park job on 16's island green.
"I had to use super glue to keep my finger from bleeding and re-opening after every throw like it did day one," Wysocki said. "So I'm feeling like I've got a good recipe for success tomorrow."
For McBeth, the round was one that brought an even keel demeanor, and with it an even keel performance. While fellow lead card competitors like McMahon and Simon Lizotte struggled to connect on the putting green and often showed their frustrations, McBeth weathered his hiccups with casual aplomb. After his drive on the 1,033-foot 5th – a booming downhill shot that led to many a dropped jaw among a strong day two gallery – faded early and ended outside the ropes, he recovered with another big hyzer that landed 15 feet from the pin for an easy par save.
McBeth then employed a variety of shots as he carved up the course's midsection. He had an eagle look after a flexing crush on hole 9 – Gleneagles' signature shot, with a view that rivals, and possibly beats, DeLaveaga's Top of the World – and used a high, floating turnover midrange to park the 302-foot 11th. Though he took a double bogey after his drive on 16 just skipped up and over the island's backside border wall, he recovered to close out with consecutive birdies. His approach on 18, in which the pin is flanked by two bunkers and an OB golf green, was perhaps his most impressive shot of the day, understated as it was: A simply Firebird toss that skipped just off the back of the golf green and nestled gently under the pin.
"It's moving day so people are gonna be moving up and down the board. I just had to stay where I was, you now?" McBeth said. "I was in second, one back, and now I'm tied for the lead. I did that, now it's off to Sunday and hopefully some fireworks out there. I got the same stretch – I only got four [birdies] in a row this time, but two of them were eagle putts – missed two eagle putts in there. There's a lot of potential for a great round going into Sunday."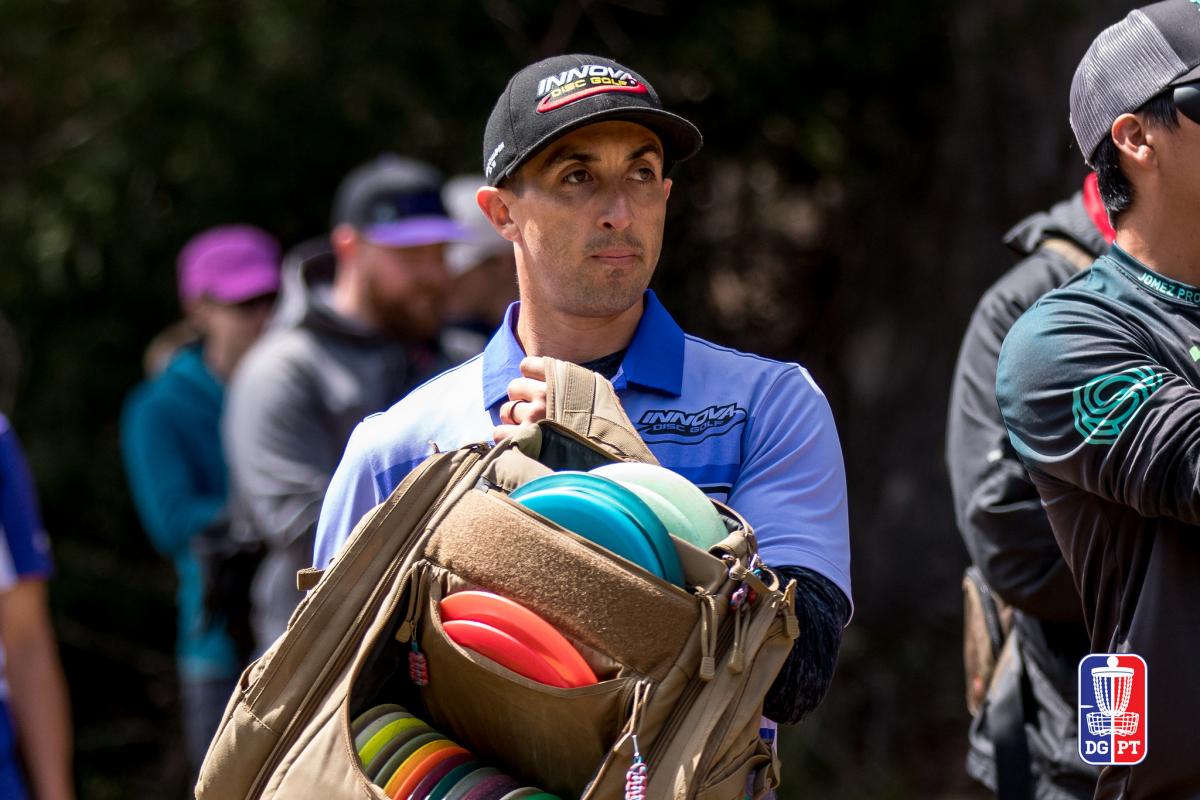 Speaking of eagle putts, Gibson didn't really need one for his 2 on hole 9, as he parked the huge downhill bomb. He also mixed in three putts from 40-feet and is second in the field in both parked shots (19 percent) and circle 2 in regulation (75 percent). This all came, mind you, after he chided himself on hole 4's tee pad after missing a long run at birdie. "I suck," he said with a shrug and a laugh.
While Gleneagles, on paper, looks like a crusher course, one player who says he has "just enough" distance to keep up continued to impress. Doss parlayed a bogey-free showing into his second straight 6-under par day, a score he attributed to a change in strategy during a Thursday practice session. He had come out to Gleneagles trying to throw too hard on Wednesday and was wildly inaccurate, he said, so he re-tooled his game and took a more "technical" approach in subsequent runs.
"It's all about kind of plotting your way around the course, putting the disc in the right area to give yourself an opportunity," Doss said. "The one thing is, the pars are very aggressive out here. So sort of – par is good on most of the holes. I've kind of taken that and stuck with it."
Elsewhere on the lead card, McMahon again struggled through the course's middle stretch, getting a brutal spitout on the 644-foot 6th that led to a bogey and sailing his second shot on the uphill "boomerang" hole 8 for another 5. Still, he gathered five straight birdies on the back nine and is well-positioned for a final round charge from the chase card. Indeed, his standing there made McBeth focus not just on his usual lead card adversary.
"Eagle's still there, two back – he's on second card. [Gibson] jumped on the lead card, Doss is still there," McBeth said. "So it's still so tight, so it'd be hard to say it's Rick and I until the last few holes. So we'll see."
The lead card tees off at 2:45 p.m. PT, with real-time scoring and statistics at UDisc Live and a live broadcast on the Disc Golf Pro Tour's YouTube channel.