Two vintage matchups on tap for MVP Open Finale
Two vintage matchups on tap for MVP Open Finale
Pierce, Hokom, McBeth, and Wysocki to headline Disc Golf Network's free Sunday broadcast.
Sunday, September 13, 2020 - 10:33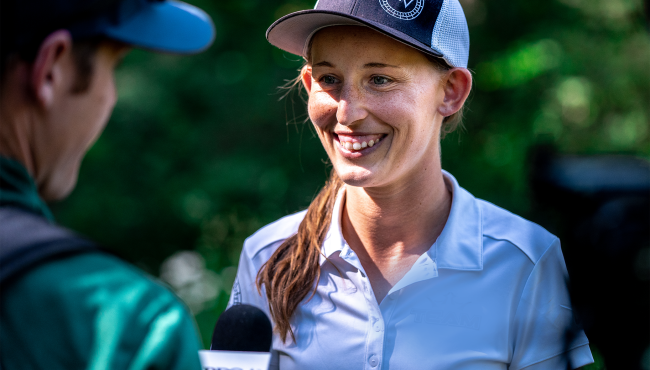 Paige Pierce has more or less owned Maple Hill since she won her first National Tour event here at the Vibram Open in 2014. Since then, only one woman has interrupted her dominance—Sarah Hokom, who took home the MVP Open title in 2018.
It will be Hokom, once again Sunday, trying to wrest the crown from Pierce as the two find themselves separated by a single stroke and three ahead of third-place Lisa Fajkus.
The two traded blows during Saturday's round, with Hokom extending her lead to four shots in the early going before Pierce stormed back over the final nine holes to take the lead and the momentum into Sunday's finale.
"It definitely feels familiar battling with Hokom out here at Maple Hill," Pierce said after matching Hokom's birdie on hole 18 to maintain her one-stroke advantage. "This is a course that she plays super well— especially on the front nine. She's a very dominant force on the front, so I think going into tomorrow I need to tell myself that even if she does gets me on that front nine, I need to stay calm because I know I play the back nine better."
The stats bear this out—Pierce has played the front nine at 1-over par for the tournament, while Hokom has played the same stretch at 4-under during the first two rounds. If Pierce can keep her nose ahead, it would be her sixth win in seven years at Maple Hill.
"I feel very comfortable on this course," she said of her success here. "Not just confident, but I feel like the course loves me back. Every year I play night golf out here, just to kind of familiarize myself with the tight lines— holes 4, 5, and 6. I just love this place so much, I can't get enough of it."
MPO's most storied rivalry returns
If any pair knows how to divide and conquer, it's Ricky Wysocki and Paul McBeth, who have combined for seven out of the last eight PDGA World Championships and who will face-off Sunday for a shot at another DGPT tour title.
Wysocki and McBeth have also had their fair share of success at Maple Hill, with each grabbing two wins since the venue became a regular stop on the professional tour (Wysocki 2015,2017; McBeth 2013, 2019).
If Wysocki can hold on to his lead on Sunday, he will become just the second player on the men's side to claim multiple DGPT victories this season after Eagle McMahon went back-to-back at DGLO and Idlewild; a stark contrast with the FPO standings, which have seen no-such parity.
He improved on Friday's 6-under with a tournament-best 9-under par during Saturday's moving day that proved that he did not—despite suggestions from the broadcast booth—require a triple-bogey in order to find the motivation to mow down birdies on the back nine.
"I was just playing my game plan," Wysocki told DGPT CEO and Tour Director Jeff Spring. "I feel like I can be pretty consistent out here and shoot nine under — a score I can repeat. And if I do, obviously, I can win the tournament."
"I'm playing with a high level of confidence right now and that's when I play my best. I even think there's room for me to improve—on the front nine I've only been one or two under, and think I can improve there. And the back nine is where I really do my damage."
Joining Wysocki and McBeth on Sunday's lead card will be Memorial champ Calvin Heimburg, who will be looking to add a fourth podium finish to an already-excellent season, along with 2020 PDGA Rookie of the Year frontrunner Kyle Klein.
The final round of the 2020 DGPT – MVP Open at Maple Hill will be broadcast live, and will be free for all viewers on the Disc Golf Pro Tour Youtube channels beginning at 10:35am ET.