Tattar Remains Unbeaten In 2019 After Kokkedal Open Win
Tattar Remains Unbeaten In 2019 After Kokkedal Open Win
Estonia swept the Open Women's podium at EuroTour #3
Tuesday, May 21, 2019 - 23:02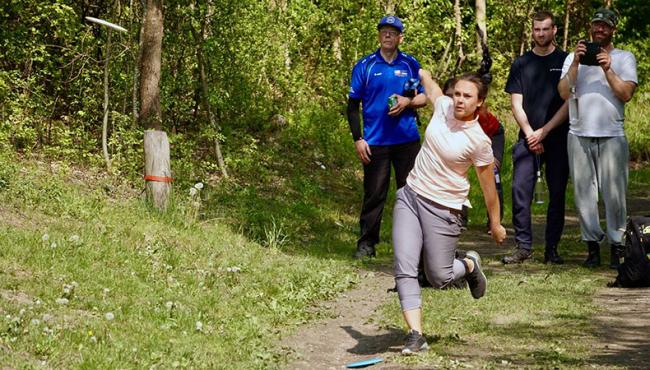 Before last weekend's third EuroTour event, Denmark's Kokkedal Open, Estonian Kristin Tattar had won the previous two stops on the circuit by margins of 18 and 26 strokes. The weekend before Kokkedal, she earned a victory over both Eveliina Salonen and Henna Blomroos -- the only two European women rated higher than her -- at the Prodigy Disc Pro Tour 2019 - Helsinki.
At Kokkedal, Tattar showed no signs of slowing down.
Going into the finals, Tattar led defending Kokkedal champ Maris Perendi by 14 strokes. After nine holes on the relatively open Fredtoften course, that lead was up to 18. Tattar's final score was a 3-under par 217, and she coasted to the victory. Perendi, however, had a much tighter battle to worry about and only took solo second place by one stroke over Kersti Miller. Perendi ended with a 15-over par 235, and Miller took home a 16-over par 236.
Notably, the entire Open Women podium consisted of Estonian competitors.
Tattar On Her Hot Start, What to Improve, and Kokkedal's Organization
With her huge margins of victory at EuroTour events and a statement win in Helsinki, Tattar admitted that this season start is something unique in her career.
"I would say it is my best season start ever," she said. "I'm also happy that I've played all the rounds over my rating so far, and that makes winning even more special."
When asked what has helped her find the new level of play she's achieved thus far in 2019, Tattar couldn't quite put a finger on it. But she certainly knew what she wanted to do to push her game even further.
"To be honest I don't think that I've done anything differently than in previous seasons," she said. "I guess I've just been able to focus better and avoid big mistakes during tournament rounds…Still, I feel like every round I make at least one rookie mistake. I somehow lose my focus and rush a little bit, so I make a mistake that could have easily been avoided. After I've messed up, I'm usually pretty disappointed in myself, but it also is a good reminder not to get distracted anymore."
Tattar also discussed how pleased she was with the organization and courses at the Kokkedal Open, a change from some issues she believed were present at previous EuroTour events this year.
"They had taken really good care of the courses, and all the holes made sense, if you know what I mean," she said. "They also had a lot of spotters…I know all of the players are so grateful for that because a lot of us know what it means to get a lost disc in the middle of a tournament—it feels horrible. All in all, you could see in every aspect how much effort they had put into this tournament and it really did go very smoothly, so I think all of us can learn from that."
Tattar will next compete June 7-9 at EuroTour #4, the Sula Open in Langevåg, Norway.
The Fight for Second Went Down to the Wire
Though any tension surrounding who would take the Open Women's crown was gone after Tattar opened a commanding lead through the first two rounds of day one, Perendi was still intent on finishing as high up the leaderboard as possible.
"I had a rough first day," Perendi admitted. "I was not able to hit the fairways, and I had to scramble a lot…[but] I did not lose hope of getting second place. I knew I was able to catch Kersti, as she was leading me only by four strokes."
After thinking hard about her strategy and changing her previous game plan on "more than half the holes" in the third round, Perendi was able to take a one-shot lead over Miller into the final nine. However, she slumped again in the final, and going into the last hole—the 183-meter (600-foot) par 4 called simply "XXL"—she and Miller were tied.
"I just knew that I needed to take a birdie to secure my second place," Perendi said. "My first drive landed on the edge of the fairway where I was able to make a perfect standstill forehand approach over the valley, and it landed inside the circle. I had a nine-meter putt for birdie and I just told myself that I cannot miss this after such an approach, and luckily I hit it dead center."
With Miller carding a par, that putt earned Perendi the outright claim to second she had been aiming for.